Financial Liberalisation: More access to Chinese assets
Florence Chong explores how China is opening up its bond and equity markets to foreign investors
At a glance 
• Less than 4% of Chinese equities (by value) are held by foreigners.
• China's 'alphabet soup' of share classes could eventually be replaced by an all-China label.
• Some are sceptical about the convergence of Hong Kong and mainland Chinese markets.
• The Chinese government has been much bolder in liberalising the bond markets than the equity markets. 
Slowly, but surely, China is lifting the bamboo curtain that has kept its massive bond and equity markets out of reach of global investors. In two highly significant initiatives since 2014, Beijing has started to pave a way for foreign investors – although it is a path still strewn with obstacles.
Beijing in 2014 opened its Shanghai Stock Exchange to foreign investors based in Hong Kong (and vice versa) with the introduction of Shanghai-Hong Kong Stock Connect. In August, China's State Council approved the launch of a Shenzhen-Hong Kong Stock Connect, widely expected to start trading later this year.
Daily trading on Shanghai-Hong Kong Stock Connect is capped at RMB13bn (€1.74bn) northbound (Hong Kong buying China) and RMB10.5bn southbound (China buying Hong Kong). Shenzhen-Hong Kong Connect is expected to have similar daily trading limits.
Previously, Chinese stocks could only be accessed through a convoluted quota system available to qualified foreign institutional investors (QFIIs) and renminbi-qualified foreign institutional investors (RQFIIs). This offered limited access to Chinese equities.
At the time of writing, the combined value of China's stock and bond markets was estimated at $11.7trn (€10.4trn).
Total market capitalisation of Chinese stocks in China was $4.6trn at the end of September. But add up foreign participation today through QFII, RQFII and Shanghai-Hong Kong Stock Connect, says Chi Lo, BNP Paribas Investment Partners' senior economist, Greater China, and it accounts for less than 4% of Chinese stock (by value).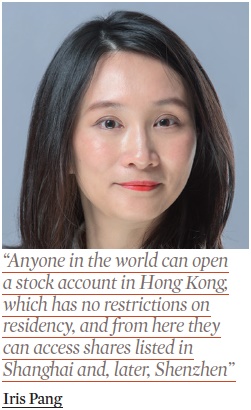 Iris Pang, senior economist, Greater China, at Natixis, parent company of Natixis Global Asset Management, says the Chinese government is aiming to widen its capital channel through Stock Connects. "Anyone in the world can open a stock account in Hong Kong, which has no restrictions on residency, and from here they can access shares listed in Shanghai and, later, Shenzhen," says Pang.
"The daily quotas apply to the market and not to individual investors," Lo says. "If aggregate net buying hits the ceilings one day, trading automatically stops and resumes next day." Investors who spoke to IPE say that, so far, the daily limit on the Shanghai-Hong Kong Connect has only been breached on "a couple of occasions".
It is even more significant that the annual quotas on Stock Connect trades have been removed. "This is very material," says Bill Maldonado, chief investment officer, Asia-Pacific, for HSBC Global Asset Management.
He says: "It is more than symbolic. It is a very clear sign of the opening up of the Chinese equities market.
"I would suggest that, within the next three to five years – and possibly sooner – the Chinese equities market will be completely open." Maldonado says the Chinese market will evolve to look to other Asian markets.
"The closest analogy may be Taiwan, India or Korea, where you have an ID market," he says. Local regulators issue a unique identification number to foreign investors registered with them.
Maldonado describes the existing classifications of Chinese stocks – A Shares, B Shares, H shares, Red Chips, S-Chips, P-Chips and N-Chips – denoting their place of listing (China, Hong Kong, Singapore or New York) – as an "alphabet soup" that could eventually be replaced with an 'All China' label.
"We are now moving to a position where, if investors want to capture China's growth or its economic rebalancing, they will have a single allocation to Chinese equities, irrespective of where they are listed," he says.
Maldonado says this is a trend already emerging. HSBC, one of the largest managers of China products, today manages "under $1bn" in all-China mandates – but it is a figure, he says, which accounts for nearly 20% of HSBC's total China assets under management. Some observers say it is debatable whether China's new initiatives indicate a maturing financial market.
Some sell-side brokers claim that the day when the Hong Kong stock market converges with Chinese markets is getting closer.
But Lo is sceptical. "Convergence is still a long way away," he says. The reason is that hedging or arbitrage is not allowed on dual-listed stocks under the Stock Connect schemes. "An investor who buys a Hong Kong (Chinese) stock via the Stock Connect must sell it back in the same market where he/she bought it. He/she cannot buy in one market and sell in the other market to arbitrage/hedge any price differences."
He also wants "to straighten out" the claim that Stock Connect initiatives will lead to the opening of China's capital account.
He says: "The Stock Connect system is a closed-loop design, meaning that money that leaves China for Hong Kong has to go back
to China after the investor closes his/her position. "This is not capital account opening. This is just an extension of capital control from China to the southern border of China down to Hong Kong." 
Natixis' Pang describes China's control on fund flows as "stringent". "When you sell the stock, you must remit the money back to Hong Kong to prevent an investor using the proceeds for other investments in China," she says.
At its peak, the Shanghai Composite index was 152% higher than a year earlier. Then came the crash, with shares plunging by 32% in less than three weeks in July 2015, wiping out about $4trn of the total value of equities in China.
China's army of retail investors, estimated at 92 million, was blamed for speculating on shares. In recent months, the market has stabilised, the Shanghai Composite index now hovering around 3,000 – compared with 5166 at its peak last year. The Shanghai Exchange is home to the largest Chinese banks, corporates and state-owned enterprises.
But Lo describes them as "old economy" stocks. So, unsurprisingly, they continue to trade at a low price to book.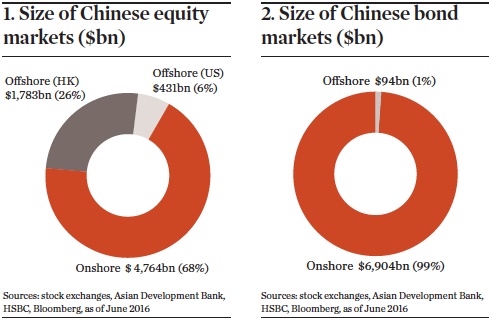 Maldonado says they are among the cheapest stocks in the world today, trading at 300-750bps  price to book. 
In contrast, the average earnings multiple of stocks listed on the Shenzhen Exchange is about 65 times, according to Chi Lo. "I believe the Shenzhen trade link could be a real game changer," he says, adding that the real growth driver of China's economy is the new economy.
"This is quite encouraging. A crucial issue is price. The stocks are expensive."
Pang says foreign investors will look to what she calls China's "extremely new" sectors, such as industrial robots, biotechnology, and other new technology companies. She urges investors to be highly selective in their stock-picking, suggesting that they look for well-known names.
While China's government tinkers with liberalisation of the equities market, it has made a bold and huge move in opening the interbank bond market.
Until this year, China's onshore bond market – the third-largest in the world, worth an estimated $7trn – was closed to foreigners. Lo says foreigners could only buy exchanged traded bonds on Chinese exchanges. He estimates that just 2-3% of China's exchanged trade bonds are held by foreigners.
Maldonado says: "Chinese bonds are massively under-owned. Typically, Western investors have US, French, German, and Japanese bonds in their portfolios, but less than 1% in Chinese bonds."
He notes that Chinese bonds offer a higher yield, against zero to negative in developed market bonds. In most global bond benchmarks, for instance, he says, French bonds account for 15%, when its government bond market is about the size of the Chinese market.
The credibility of ratings on Chinese bonds, however, may be deterring foreign investors. Many Chinese corporate bonds are rated triple A or double A. "There isn't enough distribution of ratings and we don't see many bankruptcies in China," observes a China fund manager. An overhang of high corporate debt and rising non-performing loans continues to cast a pall over China's economy.
Francis Cheung, head of China and Hong Kong strategy at CLSA, a leading broking firm, says China's potential bad debt was RMB11.4trn at the end of 2015. That is equivalent to 16.9% of GDP.
That said, Cheung echoes the views of an increasing number of economists and analysts who argue that China has averted a hard landing.
Like Maldonado, they are sanguine. "We started the year with investors worrying a lot about China," he says. "Now, it is not a big concern – and people are worried about other parts of the world."