Bank Credit: Look for the whites of their eyes
David Turner asks whether investors should shun bank credit or be prepared to grasp opportunities 
At a glance
• European banks are stronger than before and getting stronger still.
• Volatility will continue in both the short and long term.
• Brexit presents buying opportunities, but not until nearer the June vote.
• Some cocos offer good value, because spreads are high.
Even those investors who study European banking with particular diligence have felt a certain confusion in recent months as they tried to understand the price gyrations in bank credit. However, many credit analysts say that investors who show patience in the sector's promise over a longer period will be rewarded. "I don't see many reasons to underweight European banks on a fundamental basis," says Jozef Prokes, fixed-income portfolio manager at BlackRock in London.
The market is in a puzzling state this year, analysts agree. "I got a call from someone a couple of days ago asking: 'Is the AT1 [additional tier-one] market dead, given the volatility we've had?'," says Richard Thomson, financials credit analyst at Henderson Global Investors in London, speaking in mid-March. An AT1 is a form of contingent convertible (coco) bond. It is either written off or converted to equity if the common tier-one equity ratio falls below a certain level; the coupon is not paid if the ratio falls below another, much higher level. "I said 'no'," Thomson continues, "and today UBS announced an AT1 issue – the first in Europe since January." 
The high volatility that beset bank credit between late January and early March partly reflected falls in profitability as banks struggled with downward pressure on interest margins and fees, and wrote down bad loans to troubled commodity companies. This raised fears that banks would not have the money to pay coupons. 
Abrupt changes in the policy of European and national regulators also added to the air of crisis. In late December, the cash price of almost €2bn of bonds redeemable by Novo Banco, the Portuguese bank, plunged from 90 cents on the euro to 15, according to Thomson, after the country's central bank announced that these bonds would be transferred to a 'bad bank', which would then be liquidated.
Although the Novo Banco case involved senior bonds, the greatest price falls early this year were generally suffered by holders of AT1s and other cocos, because of the contingent nature of coupon payments and capital redemption. However, the value of these and other bank bonds recovered again after the European Central Bank announced on 10 March that it would provide liquidity to banks by lending money to them at rates as low as -0.4% – in effect paying them to borrow money. 
Thomson cites the case of an AT1 issued at par with a 7% coupon by the Italian bank Intesa Sanpaolo in January. Its price fell to as low as 83 cents in the euro, only to recover to par in the days after Draghi's announcement. 
Many investment managers claim that they had always felt that the sense of fear was overdone, even before they knew the decisive action that Draghi would take. 
Prokes of BlackRock says that the sector could still face trouble in the future, but adds: "European banks are better positioned than at any time in the past to weather [difficulties]. They're not engaging in excessive risk-taking in securities markets, they're still increasing capital to meet regulatory requirements, and they're still decreasing leverage", he explains. "This sounds to me the perfect opportunity to invest in credit from a fundamental perspective." He says BlackRock is overweight European bank debt.
Investment managers say that the banks are well placed to withstand future troubles because regulators have forced rather dull business models on them, largely through capital requirements that incentivise them to concentrate on safer markets such as retail banking. "Banking is more and more like a utility business, which is good for bondholders," says Grégoire Pesques, head of global corporate credit at Amundi Asset Management in London. 
But many of those who think banks are in healthy state, and getting healthier still, nevertheless argue that investors should be compensated for the volatility bank credit has shown. 
"On a medium-term timeframe, total return expectations for bank capital look fairly good," says Adam Smears, head of fixed-income research at Russell Investments. He notes the fat spreads offered by cocos – 520bps above similarly dated government bonds in mid-March, according to the Merrill Lynch Contingent Capital index, adding: "You don't just have to be compensated for the risk that you don't get money back, or you miss coupons; you also have to be compensated for the fact that it's a volatile asset class." 
It might seem anomalous that many investors complain about volatility in bank credit while also enthusing about banks' safe business models. This can partly be explained by a short-term unease about particular issues, such as regulatory policy, and partly by technical factors that have created structural volatility. These include the thinner liquidity of bond markets, now that the banks that used to act as market makers have to earmark more capital to support their bond inventory. 
One response to the volatility is to stick with safer banks. These banks' yields are not high in absolute terms, but some investors still see value, on a case-by-case basis. This is, generally speaking, Pioneer Investments' approach, according to Ciaran Callaghan, senior credit analyst at the firm in Dublin. He cites Dutch banks with simple business models based on retail as an example. 
Another response is to take advantage of the volatility. A classic opportunity for this is Brexit – the 23 June vote by the UK public on whether to remain in the European Union. Despite many other negative ramifications for the UK and the wider EU in the event of a vote to leave the UK, some analysts are unconcerned about the impact on the UK's banking sectors.
"The UK regulator has taken banks through two very stressful tests, including one in 2014 that modelled a very stressful domestic economic environment," says Beate Muenstermann, senior investment analyst at JP Morgan Asset Management in London. "Having looked at the capital drawdown of that test, and at banks' capital positions now" – which have improved since the test – "I feel very comfortable."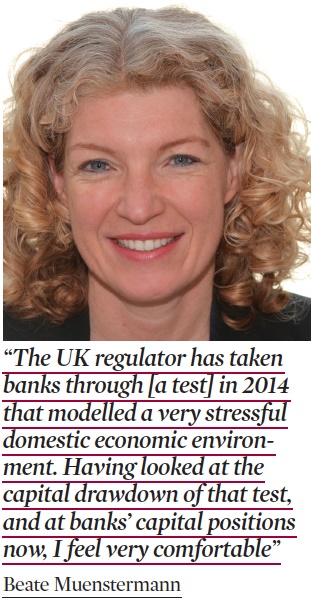 Ed Farley, head of European corporate debt at PGIM Fixed Income, part of the Prudential Financial Group, in London, says that if the UK voted for Brexit, investment would fall, hitting gross domestic product and increasing the amount of non-performing loans. On the other hand, he says, "no one is predicting Armageddon. It could cause an outright recession, but not a major one." 
Farley adds: "The overall spread more than compensates for the fundamentals if you can ride the short-term volatility." His interest in UK bank debt is also sharpened by his view that Brexit is unlikely, although not impossible.
However, investors in bank credit must learn to respond to the volatility intelligently. "No matter which way the vote goes, I struggle to see a questioning of the soundness of UK banks' balance sheets to the degree that we saw during the financial crisis," says Prokes. "But I still don't see anywhere near 10 to 15% of that risk priced in – the spread is where it should be, assuming a very benign market outlook." Spreads will, he thinks, widen as the market focuses increasingly on the referendum – but as of mid-March, "the market is not yet focused enough on that to present opportunities".
Investors are advised to exercise the financial market equivalent of the instruction given to soldiers in the days of serried ranks and full frontal assaults, before modern weaponry made such fighting obsolete: don't fire until you see the whites of their eyes.