Credit Outlook: Selective opportunities
Investors are re-examining credit fundamentals following the strong market gyrations of early 2016. But, as Joseph Mariathasan finds, there are still concerns about spread levels, liquidity and on-going concerns about the macroeconomic environment
At a glance
• Credit outflows have given way to strong inflows. This looks like a good time to look closely at the fundamentals.
• The ECB's decision to buy corporate credit makes the search for yield even harder for European investors.
• The long end of the US dollar market seems to offer the most value.
• Long-standing concerns about liquidity have not abated in assets such as US high yield.
• Multi-asset credit approaches are gaining ground as investors seek to navigate a complex array of credit markets and sub-sectors.
Buoyant markets at the end of 2015, following the end of quantitative easing and the Fed's first rate hike, rapidly gave way to fear and uncertainty in the opening weeks of 2016 as investors were spooked by concerns about lower Chinese demand and a US recession. This triggered strong outflows from fixed-income funds, including high yield, according to Bank of America Merrill Lynch. But strong inflows soon followed as spreads widened.
Because of these gyrations, some are sounding a note of caution. For Willis Towers Watson, the central macro-economic outlook raises a reasonable probability for a recession, with higher default rates. "Credit investors need to be adequately compensated for that," argues Chris Redmond, global head of credit at the firm.
A central issue for investors is whether the recent market corrections have driven prices to levels where they are adequately compensated for that risk. "We had been relatively bearish on the outlook for credit for over a year," Redmond continues. "This reflects the fact that valuations have been relatively tight and spreads were narrow, so the implied defaults rates were overly optimistic." 
Many investors have agreed with that sentiment, with the oil price collapse last year acting as a catalyst for spread-widening across the board. But Redmond also believes the market has become more accurately priced in the past seven to eight months as events have unfolded. 
The key factor appears to have been the energy price collapse and the consequent pressure on a number of energy-related borrowers, most notably in the US. "That has acted as a catalyst for the credit market to begin thinking about adequate compensation for the risks," says Redmond. "We are probably at the point now where we are closer to a neutral view and are happy to hold credit as we see we are broadly being compensated for the risks." 
Managers such as Stone Harbor Investment Partners are also becoming more aggressive, following a defensive stance in the second half of 2015. "The key driver leading us to increase risk is that the level of distress observable in the market has become very dispersed, rather than being heavily focused on energy, metals and mining," says portfolio manager David Scott. "Every asset class underperformed during January and the first half of February this year. We started to see the babies being thrown out with the bathwater. That suggested to us that there was indiscriminate selling and therefore it is not a bad time to start to add some value. We are now cautiously optimistic and starting to increase risk." 
For credit investors, this suggests that now is a time to re-examine the fundamentals.
Macro-economic backdrop
The ECB's announcement in March that it will purchase investment grade corporate bonds further exacerbates the relative unattractiveness of European bonds for most managers. Central bank QE programmes had previously been mostly focused on government bonds and mortgages, so credit had been relatively unaffected.
"That has changed a bit with the recent ECB announcement," says Jason Lejonvarn, global Investment strategist at Mellon Capital. "There has been quite a boost to European investment grade credit and you can see that in a pretty dramatic contraction of spreads." 
For European investors, that makes the search for yield even more difficult. "In the UK, we have seen a slowdown in allocations to credit, with a move from passive sterling mandates to more active global approaches," says Adam Whiteley, portfolio manager at Insight Investment Management. 
Overall, Europe does not look like the place to be in fixed income, since 40% of the euro-zone government bond markets offer negative yields, according to Deutsche Bank. But comparisons of credit indices might not tell the whole story. The wide dispersion in spreads within the European market and the very different sector compositions in the US and European markets can make straight comparisons misleading.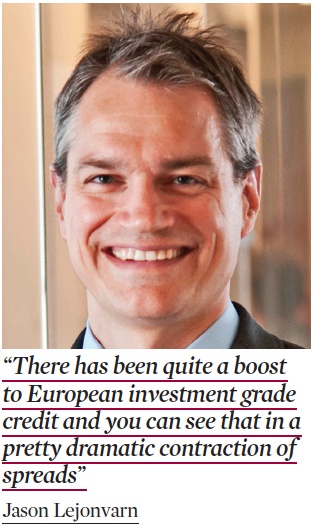 Dedicated stock pickers may be able to find opportunities, although European credit has looked relatively expensive for some time, even prior to the ECB announcement. The entire euro-zone liquid credit market essentially looks more expensive in comparison with the US and UK as a result of ongoing European QE, according to Redmond: "The key factors for this are the energy price collapse and the end of the US QE programme, and the resulting contraction of dollar liquidity." 
Whiteley agrees: "Our unconstrained global mandates are currently 90% US dollar bonds as the US market is showing higher government bond yields and higher credit spreads," he says. In mid-March, the US 10-year Treasury bond was yielding 2% versus 1.6% for UK Gilts and an average of 0.3% for 10-year euro-denominated government debt. On top of that, credit spreads were also generally higher in the US and UK than in the euro-zone. 
The long end of the US dollar market is where Whiteley perceives most value: "The credit curve is very steep and by moving from 10-year to 30 years, you pick up an extra 50bp in spread from, say, 175 basis points to 225 basis points in the same credit."
The elephant in the room for credit investors is the impact of a Chinese slowdown on global growth, according to Stone Harbor's Scott. There are two transmission routes for Chinese weakness into the global economy: the first is through lower commodity prices; the second is the fear of some sort of aggressive currency devaluation.
"That became very pronounced after the August 2015 devaluation where the communication was very badly mishandled," Scott says. "More recent PBOC [People's Bank of China] comments have suggested they recognise there is more need to stabilise that transmission mechanism. Their recent actions suggest they accept they may have to accept equity market volatility as a quid pro quo for opening up the currency markets."
The big risk for credit investors is in misunderstanding China, Scott continues. "We would view China as subject to a secular slowdown, driven by a weakening GDP growth from the credit channel and therefore requires a rebalancing of the economy away from that." But China does, arguably, have plenty of tools in terms of monetary and fiscal policy to manage a slowdown: "The use of fiscal policy has been increased, and monetary policy in terms of lower bank reserve requirements, and so on, may provide some stability. We will see some cyclical stability against a backdrop of a secular downtrend in growth. The danger is that of misjudging the willingness of the Chinese authorities to use fiscal policy." 
Liquidity
An increasingly important concern for credit managers is managing the issue of insufficient and volatile levels of liquidity in credit assets. "All the liquidity in the corporate bond markets lies in a couple of CDS indices and three large ETFs," says Lejonvarn. "The liquidity of the ETFs will only be as good as the liquidity provided on the underlying stocks by banking market-makers."
That problem, Redmond explains, has led to many managers now describing themselves as liquidity providers: "When the market goes into risk-off mode and there are good assets being sold at a discounted price, they say they will be able to step in. In theory, that is fantastic, but how does that actually work? If you have to sell something to buy something else, you are in no better position."
Navigating that is a challenge – do managers hold a cash reserve or, as some of them assert, sell more liquid assets close to fair value while simultaneously buying illiquid ones at a discount? But even 10-year US Treasuries have experienced periods of poor liquidity, and the situation has been made worse by the emergence of ETFs and UCITS funds that buy high-yield bonds for sale to retail investors. "This creates a slightly more dangerous technical situation as high-yield suffers from imperfect liquidity," Redmond explains. "It can be strong and then quickly evaporate."
"I don't see any diminution of opportunities. There is a mix of non-domestic and domestic sectors of the market in developed markets, such as US high yield, and there was an element of indiscriminate selling in January and February, which created opportunities"
David Scott
Meeting demand for mass redemptions is hard and bonds may have to be sold at a discount which, in turn, creates forced selling and exacerbates negative sentiment. As far as Redmond is concerned, this means high yield experiences higher volatility than the fundamentals would suggest and even some large US funds have had well-publicised problems with redemptions.
Multi-asset credit approaches
Multi-asset approaches to credit have been gaining in popularity and this is likely to continue, given the market environment. "In the past, we have not been keen on such approaches but, more recently, we have been seeing much more significant dispersion across asset classes and managers. It is a great environment for active management for those skilled multi-asset managers capable of moving between loans, high-yield bonds and other credit asset classes," says Redmond.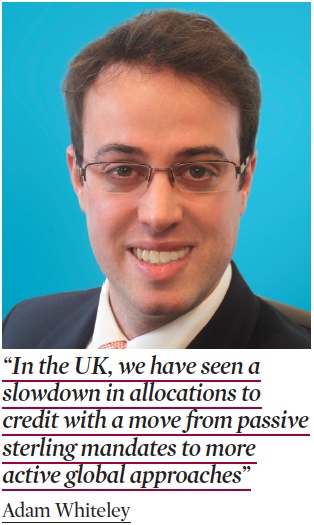 As Scott argues, the best opportunities arise after a period of dislocation: "If you look at 2008-09, you had very good opportunities for both beta allocation and stock selection. I think the same has been true over the last six months. Certainly, in our experience, stock selection has been rewarded much more. We are seeing much greater dispersion of returns across securities, which is always a good thing for generating alpha."  
Scott expects the current environment to continue: "I don't see any diminution of opportunities. There is a mix of non-domestic and domestic sectors of the market in developed markets, such as US high yield, and there was an element of indiscriminate selling in January and February, which created opportunities." Is now a time, then, for profiting from market movements or stock selection? Scott thinks managers should already have started focusing on security selection last year. "What is different between now compared to then is that now you should be upping beta as well," he adds.
Opportunities may still lie in parts of the marketplace that investors have shied away from. Private illiquid debt in developed markets and corporate debt in emerging markets are both areas of potential growth for multi-asset approaches. Willis Towers Watson has been enthusiastic about private debt, but less so about emerging market credit: "We have been generally neutral to slightly bearish on the broad opportunity set in the past," says Redmond.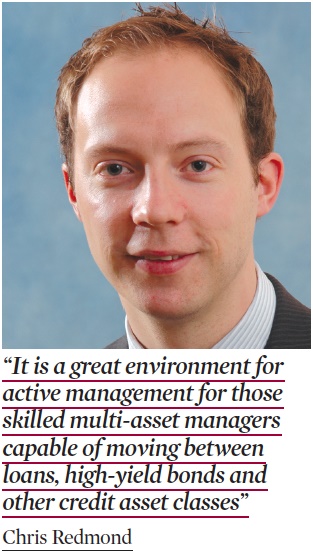 But this may be changing: "We have been working with clients to acknowledge the growth and investability of the corporate space, given the more attractive valuations you can get. That has happened over the past 12 months and we have identified some specialist emerging market corporate managers. Given the general economic backdrop, we have implemented the strategy in quite an unconstrained way to de-emphasise beta." 
The approach has, so far, been tilted towards hard currency debt primarily on liquidity grounds, although Willis Towers Watson sees opportunity in local currency corporate debt – provided there is sufficiently liquidity and confidence in corporate governance. Given the growth of the debt markets in China and India, this opportunity may be worth considering sooner rather than later.