Private market lending now faces an important turning point
KEY POINTS
The global financial crisis has been a boon for private debt
A large proportion of direct lending funds provide financing for private equity-backed M&A activity
Despite the pressures on asset performance the class is still achieving strong returns
How the industry can weather the next downturn will determine whether investors double down on their private debt allocations, or if it retreats to the fringes of the alternatives landscape
Much has been written about private debt recently. What was once a niche fund type pursued by a few specialists prior to 2008 is now an integral part of the alternative landscape with assets surpassing the unlisted infrastructure industry. As the asset class has grown, it has become more complex, particularly with the rise of direct lending strategies, and a discrete area of allocation for institutional investors.
Much of this has been as a result of historically high returns that private debt funds have provided. Distressed debt and special situations funds raised around the time of the global financial crisis in 2008 were able to take advantage of opportunities that resulted from the downturn, and while the asset class was still small funds were able to make double-digit returns. But as the industry has become more crowded, and the balance of loan terms has swung in favour of borrowers, private debt now faces a turning point that may define its future trajectory.
The global financial crisis proved a boon to the fledgling private debt industry. The number of funds closed since 2004 onwards had been growing, but it peaked in 2008 as 110 vehicles reached a close. Similarly, the capital raised spiked to over $100bn – a level not surpassed again until 2015.
Funds closed in that period managed to take advantage of distressed opportunities precipitated by the global financial crisis and posted strong returns. Funds with a 2008 vintage had a median internal rate of return of 12%, while 2009 vintage funds returned almost 15%. These strong returns released significant capital to investors, both prompting them to reinvest their gains and increasing their appetite for the class. Where once private debt vehicles were a specialised niche, in 2019 over a third of investors make allocations to them.
This increased investor appetite and strong performance has prompted new participants to enter the market, both as investors and fund managers. This has seen an influx of capital for private debt investments, as well as an ever-growing number of firms looking to make deals. This set the scene for
the circumstances driving the industry today: the influx of investors has seen the amount of capital available to fund managers (dry powder) balloon from $108bn as of the end of 2008 to $279bn as of the end of 2018. At the same time, the proliferation in the number of managers competing in both fundraising and deal making has sparked unprecedented competition.
These headwinds have produced several responses from fund managers but most notably it has affected performance. Where once the average private debt fund was able to achieve returns of almost 15%, funds of more recent vintages have struggled to return on average more than 10%. Without a change in the market, it seems likely that the performance of funds from the global financial crisis is unlikely to be repeated.
Despite the performance pressures, parts of the industry show few signs of slowing. Direct lending in particular has been a key driver of the private debt boom. Few funds had been raised prior to 2008, but in 2018 direct lending accounted for the largest part of private debt fundraising, securing $51bn of the $120bn raised.
A large proportion of direct lending funds provide financing for private equity-backed M&A activity. The strategy has been spurred by the retreat of banks as a result of legislation such as Dodd-Frank in the US and the Basel Accords on bank capital adequacy. As such, direct lending activity is linked to the overall private equity deals market. Given that 2018 saw an all-time high in the number of private equity deals announced, and that 2019 seems set to continue this trend, there are ever more opportunities for direct lending funding.
Unlocking Asian potential
The industry also has the potential to diversify regionally. Private debt generally, and direct lending particularly, has primarily been confined to the financial markets of Europe and North America, where loan opportunities are most plentiful. However, the economies of Asia are developing rapidly, with significant backing from private capital. At the same time, the regulatory environment in India and South Korea, which has traditionally proved a barrier to foreign involvement, has been adapted to provide a more friendly investment environment. As such, the region is likely to see the number of opportunities for private debt funds multiply in the months and years to come.
The crux of the issue facing the industry is this: can it transition from a profitable but small niche in the wider financial markets, to a standalone asset class generating consistent and diverse activity? This question is given more urgency by the widespread belief among both fund managers and investors that an equity market downturn is due soon.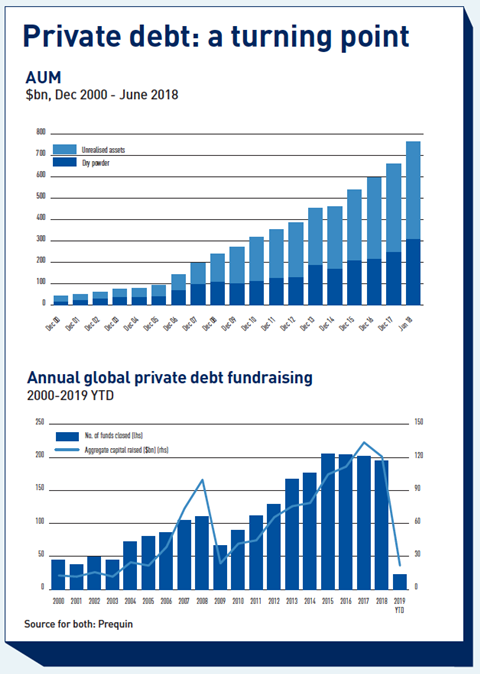 It seems unlikely that investors will retreat from private debt. After all, it offers several advantages – diversification, a regular income stream and high risk-adjusted returns compared to traditional asset classes. But fund managers will need to prove that they can absorb the influx of capital and competitors, and offer value to investors throughout the market cycle.
Signs that managers are looking to adapt are apparent: Oaktree has recently agreed to sell a majority stake to Brookfield Asset Management, giving the firm an unmatched economy of scale and global presence over every other firm. At the other end of the market, several firms are establishing vehicles targeting specific sectors or regions that have yet to become too saturated.
However the real test for the industry is yet to come. Private debt performed well through the last market downturn, but it did so as a specialised strategy with few competitors and plentiful opportunities. The opposite is true now, and how the industry can weather the next downturn will determine whether investors double down on their private debt allocations, or if it once again retreats to the fringes of the alternative assets industry.
Tom Carr is head of private debt at Preqin
Manager selection: Facing a difficult test
1

2

3

Currently reading

Market Trends: Critical point

4

5