SME lending is a crucial element in any developed economy. Charlotte Moore assesses the opportunities and risks for European institutional investors
At a glance
• Regulatory changes have radically reshaped the European SME loan market with institutional investors stepping into the lending gap.
• Many institutional investors have become active lenders in the smaller end of the leveraged loan market.
• Small, privately-owned companies still find it hard to access loans from institutional investors and problems with the ABS market are creating further difficulties.
Five years ago, mainstream provision of direct loans to European small and medium-sized enterprises (SMEs)by institutional investors was a quite radical suggestion. But today the private debt market is increasingly gaining currency, with institutional investors queuing up to offer funds to businesses.
For an asset class to thrive, there must be a match between supply and demand. In other words, SMEs must require access to finance from institutional investors and they, in turn, should be willing to provide that capital. The European private debt market would be much less developed if the global financial crisis had not occurred. Historically, European SMEs have been highly reliant on banks for their financing requirements. In the US, banks only account for around 20% of lending, while they account for 80% of lending in Europe.
The global financial crisis radically altered the European loan market. Anthony Fobel, head of private debt at BlueBay Asset Management, points to a dramatic reduction in lending by banks to corporates because of a number of factors. "In the immediate aftermath of the crisis, the ensuing recession caused a collapse in demand for credit," Fobel says; in times of economic contraction, there is no need for capital to fund expansion.
But even as the economic outlook for Europe has improved, bank lending remained relatively muted. One important factor is the continued poor quality of loan portfolios and Fobel points to the €1.2trn of non-performing loans European banks have on their balance sheets. Banks have held on to this bad debt, rather than selling it on, because realising the losses would have such a deleterious impact on their balance sheets. This, in turn, limits their appetite for making additional loans.
In addition, the introduction of Basel III regulations has forced banks to improve their equity buffers and the capital charge for loans to mid-market companies is five to 10 times larger than it is for investment grade loans. "Under Basel III, banks need to hold higher levels of capital against riskier assets," says Fobel. "This has disincentivised banks from making loans to these companies."
At the same time that banks were becoming more reluctant to lend to European SMEs, the market environment made lending to companies look more attractive for institutional investors. Ultra-low monetary policy pushed down bond yields, so investors had to look elsewhere for returns. Yields in the private debt market were higher than in the public fixed-income market. Nor is the more illiquid nature of loans a problem for institutional investors, as this is a good match for the longer-term investment horizon of pension schemes and life insurance companies.
This matching of demand for capital from SMEs and the willingness of institutional investors to supply this capital allowed the private debt markets to flourish. But, over time, the supply and demand dynamics have become more mismatched. "Institutional investors have set aside significant assets to lend to companies but are finding it harder to source the loans," says Olivier Rousseau, executive director at France's Fonds de Réserve pour les Retraites.
While European banks are still less willing to lend to SMEs than before the financial crisis, they have, in parts of Europe and to certain types of businesses, become more active lenders. Over the past three or four years, UK banks have started to offer competitive lending rates. Jo Waldron, alternative credit director, at M&G, says: "Banks are bidding much more aggressively to lend to mid-sized companies with strong balance sheets."
This is not just confined to UK banks. Rousseau says French and some other European banks have started to cautiously add to their balance sheets. This translates into more competition for institutional investors.
In 2009, M&G launched a fund which lent money to UK companies such as housebuilders and the haulage company Eddie Stobart. But today this is no longer an attractive proposition. Waldron says: "Banks are now lending to those companies at levels which are not as interesting for institutional investors." Typical rates can be as low as LIBOR plus 2%.
"While banks are happy to lend short-term capital, such as working capital, to a large well-financed company, they are more reluctant to provide any financing which will have a higher capital cost under Basel III," says Christophe Bavière, CEO of Idinvest, a private debt and equity specialist focused on SMEs.
The types of company finance that are no longer advantageous for banks to lend include debt to fund acquisitions, particularly bullet loans. These loans have a similar structure to a bond – the principal is paid back towards the end of the loan term. As the bulk of the repayment of these loans is at the end of the loan term, they have higher capital cost under Basel III as the regulation encourages banks to focus more on shorter-term capital.
"Banks and institutional investors are now working together to provide this financing, with the banks providing the shorter-term part of the loan while institutional investors provide the longer-term financing," Bavière adds.
The bullet structure is often used by private equity as the terms perfectly suit the cash flows of such a fund. By delaying payment of the loan until the end of the financing period, the fund can pay back the principal once the equity fund has realised the profits on its investment. These mid-sized private-equity-owned companies will typically have a higher ratio of debt in the balance sheet than family-owned or listed businesses.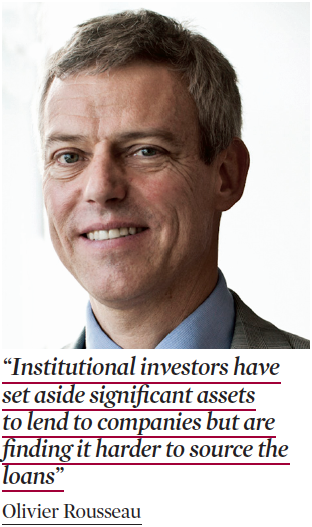 Private equity sponsors are now looking to institutional investors to lend to these mid-sized companies alongside banks which have, in some cases, reduced the amount they are able to lend. These companies will usually have a higher ratio of debt in their balance sheet than family-owned businesses. M&G's Waldron says: "If the private equity wants to raise financing against that business, they will usually take out debt in the leveraged loans market." But under Basel III, banks are now more reluctant to provide leveraged loans.
This has provided an opportunity for institutional investors to step up and fill the gap left by the banks. Waldron says pension funds and insurance companies have started to provide direct lending to the smaller end of the leveraged loan market."
Yet while it is possible for institutional investors to lend to the smaller end of the leveraged loan market, lending directly to small, privately-owned, businesses is much harder. "Unlike the leveraged loan market, small privately-owned companies could provide stable and long-term cash flows," says Laurent Gueunier, head for alternative debt at BNP Paribas Investment Partners.
There are a number of logistical hurdles involved. Most institutional investors simply cannot lend directly to smaller businesses – the sums of money involved are too small and fund managers do not have the resources to source multiple loans. European banks, however, already have large domestic networks and existing relationships with many small companies. "The banks also have access to the company's accounts and so can see when a business is starting to be stressed and when they are likely to default on a loan," says Rousseau.
Working with banks is the easiest way to access this market. "We need to persuade the banks we can provide complementary rather than competitive financing, " Gueunier says. For example, institutional investors could provide the longer-term financing or take on the less senior portion of the loan. "The current regulatory market should make such a partnership more appealing to banks but it will take time to develop."
Another solution would be simply to securitise the small company loan books of multiple banks and sell these on to institutional investors. Rousseau says: "When there is a large number of small companies, it is not so necessary to scrutinise the details of each and every loan – statistics works in the favour of the investor." But the problem is that there is little investor appetite for this type of asset-backed security. "Unfortunately the ABS market still has a bad reputation in Europe despite relatively few deals going bad at the time of the crisis," Rousseau adds. In addition, complex regulations have deterred banks from issuing SME loan-backed securities.
ISIF's alternative approach to financing small business
Sovereign-development funds like the Ireland Strategic Investment Fund (ISIF) not only provide an alternative source of funding to small business but also offer institutional investors a way to lend money to these hard-to-access companies.
Fergal McAleavey, head of private equity at the ISIF, says: "Our mandate is to provide commercial investments which will support economic activity in Ireland." In other words, the fund needs to both ensure its investment will generate decent returns and bring benefits to the Irish economy, such as helping Irish SMEs to flourish.
ISIF looks for co-investment partners where appropriate. "Part of our mandate is to multiply the returns on our investment, which requires using external capital," McAleavey says. Most of that third-party capital is coming from institutional investors.
For example, ISIF has a €300m growth SME fund, for which it provides approximately a third of the financing. The other two-thirds of the fund are provided by private equity group Carlyle and the Irish manager Cardinal Group.
Sovereign-development funds have the flexibility to initiate innovative investment structures. The ISIF, for example, recently launched Milkflex, which makes loans to dairy farmers and links their repayments to the price of milk.
McAleavey says ISIF is considering ways to find innovative solutions to fill the gap left by traditional lenders. The co-investment structure would allow pension funds to access these hard-to-access markets.
"Our focus on ensuring our investments are commercially viable means we and our co-investors require commercial returns. We are not funding vanity projects," McAleavey says.