China prepares for a bumpy road
The feeling in China is that President Trump is someone they can do business with, despite his tough rhetoric on trade, says Florence Chong 
At a glance 
• China is likely to try to avoid a trade war with the US, even if the Trump administration imposes trade sanctions and tariffs.
• Chinese officials are preparing for the worst in relation to a trade conflict with the US.
• A trade war could plunge China into a recession and financial crisis.
• Cynics argue that Trump's tough rhetoric is a negotiating ploy.
Over recent decades, an essentially symbiotic, if at times fractious, relationship has developed between Washington and Beijing.
But the accepted sense of a calm, business-friendly arrangement could soon be tested as President Donald Trump sets about stamping his mark on US trade and foreign policy. In the lead up to the election, Trump accused China of unfair trade practices, claiming it was stealing US jobs.
What is China to do if Trump carries out his election pledge to upend the US-China trade relationship with trade sanctions and high import duties? Apparently not much, according to informed observers who spoke to IPE. They say China will try to avoid a trade war.
The sources said the Chinese have been caught off guard. They did not expect Trump to win the election. They also continue to assume that presidential candidates change their position once they enter office – when they realise that too much is at stake to alter the established order. 
Andy Rothman, investment strategist with a specialist fund manager, Matthews Asia, says: "Almost everybody I spoke to in Beijing just prior to Trump's inauguration – government officials and economists with leading Chinese banks – were pretty relaxed about Trump becoming president. They believed that whatever Trump said before taking office was political rhetoric."
There is also a widely held view that Trump is a deal-maker and transactional politician, and that China can do business with such a person.  Nonetheless, China is preparing for worst-case scenarios.
Shanghai-based independent economist, Andy Xie, says Trump's victory came as a shock to China. "There is a bit of panic because Trump represents something totally different," he says. "Trump represents a political backlash by the American working class against globalisation and trade.
"China has always handled its diplomacy with the US by dealing with the elite – Wall Street and US multinational companies. Their interests are aligned with China's." Unfortunately, these are not the same interests as those of the US working class. Xie says China is now trying to send "positive signals" to the US.
One of these signals is halting the depreciation of the renminbi. And so far, official Chinese spokesmen have shied away from being critical of the new US president.
In a recent media briefing, Commerce Ministry spokesman, Sun Jiwen, said: "We've noticed the noise of trade protectionism in the US from time to time. What I want to stress is that Sino-US commercial co-operation, collaboration generates mutual benefits, whereas confrontation is lose-lose in the light of our interwoven interest."
Sun said his government was willing to work with the new US administration to promote healthy development of commercial ties.
"I believe China and the United States can resolve any disputes through dialogue and negotiation, and that the China-US commercial relationship will not significantly stray from the path of mutual benefit," Sun said.
He added that both sides benefit from co-operation, and that both are hurt by conflict.
The Chinese Foreign Ministry also emphasised the need to resolve any disputes through negotiation, and to avoid conflict which would damage both countries.
Both ministries seem to be taking their cue from Chinese President Xi Jinping, who appears to be showing patience in dealing with President Trump. Addressing delegates at the World Economic Forum in Davos in January, Xi intimated that, whatever Trump does, the Chinese response will be measured and pragmatic.
Rothman says: "I don't think the Chinese are looking for an opportunity to create – or escalate – tension in their bilateral relationship with the US" 
Xie says: "If there is a trade war, China will be plunged into a deep recession, and there will be a financial crisis."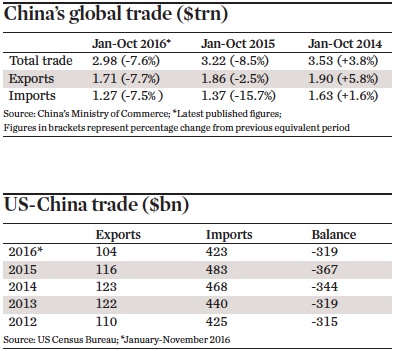 Francis Cheung, head strategist for China with brokerage CLSA – majority owned by China's CITIC – says if the US imposes an across-the-board 45% tariff on Chinese imports, China's GDP could contract by 1.3% through what he calls the "drag effect" on its overall economy.
China exported $423bn (€392bn) of goods to the US in 2016. The US is China's second-largest trading partner, accounting for 18% of its total exports. 
Cheung says it is likely the US will impose selective trade sanctions on high-profile sectors, such as steel, glass, auto parts and alumina. He calls this the "path of least resistance". Trump will appear to be delivering on his promise to be tough on China. "The Chinese will respond by making a lot of noise about it, but will more or less absorb the sanctions," he says. 
Such sanctions would not hit the Chinese economy hard, or hurt US consumers. Rothman recalls that, when the previous president, Barack Obama, imposed tariffs in 2009 on Chinese car and truck tyres, the Chinese retaliated with a 135% tariff on chicken feet imported from the US.
The upshot was a 90% drop in US exports of the product to China, costing the US poultry industry some $1bn, says Rothman. He points out that China has several options. For example, it can buy Airbus instead of Boeing aircraft, and purchase soya beans from Argentina or Brazil instead of the US
"And it is not easy for the US to say, 'we don't need laptops and cellphones from China'."
Cheung says Trump's key objective is to create jobs. But he questions whether low-end jobs assembling products are the kind of jobs he really wants for American workers.
China assembles products for American companies – like mobile phones and computers – and produces low-end goods for US consumers. Any supply disruption will hurt US companies, and US consumers will pay more.
US retailer Walmart is the world's single largest importer of Chinese products. Cheung says: "What is best for the US and its workers is to have access to China for American companies." He says the Chinese have two tools, which they use to negotiate with both friend and foe. The first is restriction on access to China's huge market. The second is money.
The Chinese can choose not to invest in the US. China has been rebalancing its economy. "Last year, about 65% of China's growth came from consumption. That is up from 40% 10 years ago," says Rothman.
China's manufacturing output is now more geared towards domestic consumption. Inflation-adjusted retail sales rose 9.6% last year. Consequently, China's reliance on exports has been dropping. 
Rothman explains that, before the global financial crisis, the value of China's trade contributed 1-2% to its GDP growth. Since then, that contribution has been small or negative.
Xie takes a different perspective. He says China needs its trade surplus of some $500m – of which more than $300m is with the US – to circulate money within its economy. "The Chinese economy is built on investment and exports and, ultimately, it depends on exports to pay for investment," he says.
Some may argue that Trump is simply laying the groundwork to be a tough negotiator, creating an environment in which to put more pressure on the Chinese to do more on both tariff and non-tariff-barriers. Rothman says the US could be positioning to extract more concessions for a bilateral investment treaty with China.
"The Chinese seem serious about opening up further in sectors which are really important to the US, like pharmaceuticals, software, entertainment and so on," he says. "Hopefully, a goal of the new US Administration will be to continue these negotiations and to look for progress there."
China is already on the winning side of the ledger, with Trump inadvertently delivering a regional trade bloc on a platter to the Chinese when he killed the Trans Pacific Partnership (TPP), a trade pact involving 12 countries on the Pacific Rim. Ironically, as with the World Trade Organization, it was the US that had largely written the rules for TPP.
Above all else, Cheung, says, in terms of priorities, trade is not foremost in the mind of the Chinese government.
Its focus is on geopolitics. "Trump's pivot to Russia against China – and using Taiwan as a bargaining chip – is far more worrying than trade issues," says Cheung. 
China would be genuinely concerned if the US blocks its access to islands in South China Sea. "Taiwan and the South China Sea are not negotiable for the Chinese," he says.