Special Report Emerging Markets: The global picture
A stronger dollar and higher US rates could create headwinds for emerging markets, finds Joseph Mariathasan
At a glance 
• Emerging markets have moved on since the taper tantrum of 2013.
• The trajectory of the dollar is uncertain.
• Local currency bonds look attractive. 
The world watches with trepidation how US policy will evolve under President Donald Trump. For emerging market investors, there is the spectre of a higher dollar and rising US interest rates. But how dangerous would these be for emerging markets and how likely are they to occur?
As Matthew Benkendorf, CIO of Vontobel Asset Management, points out, a stronger dollar generally causes headwinds for emerging markets. The performance of global markets is intertwined with the US risk-free interest rates. When US rates go up, it reverberates around the world: "The trillion dollar question is: How far and how fast will changes occur?" says Benkendorf.
But what also matters is how well prepared individual emerging markets are to cope with changes. Emerging markets have been in a protracted period of adjustment since the April 2013 taper tantrum, points out Ricardo Adrogue, head of emerging market debt at Barings. They have suffered recessions, in some cases economic slowdowns and current-account adjustments. The traditional channel for the US to affect emerging markets is financial – there is less funding available for emerging markets because US rates are higher, so investors demand higher returns from emerging markets. However, Adrogue argues that emerging markets will be much less sensitive to foreign flows in the future. 
Rose Ouahba, head of the fixed income team at Carmignac Gestion, agrees: "The taper tantrum was largely due to the dollar being a major financing currency. Now the primary financing currencies are the yen and the euro." She sees a moderate hiking cycle on top of economic growth and commodity recovery as being beneficial overall for emerging markets, such as Argentina, Brazil and Russia.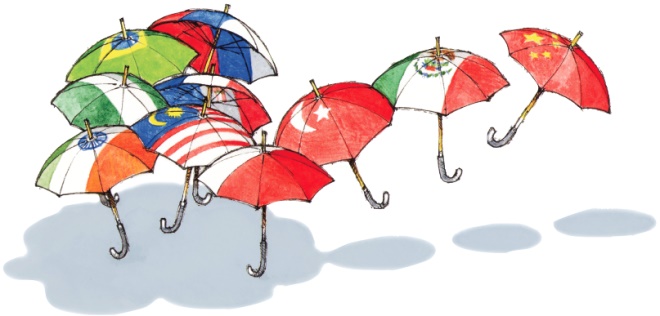 John Stopford, head of fixed income at Investec Asset Management, distinguishes  between emerging markets that are largely commodity driven, and which suffered tremendously when China slowed down, and the manufacturing economies, which have been beneficiaries of global trade. He sees their fortunes as possibly reversing, with commodity exporters such as Brazil and Russia experiencing a comeback. In contrast, countries such as South Korea are similar to Japan a decade or two ago, with ageing populations and reliance on heavy industries.
In summary, emerging markets do appear to look relatively stable against the prospects of rising US rates and a stronger dollar. In future, Adrogue sees emerging markets as much less sensitive to foreign flows: "Unless the interest rate hikes in the US are very disruptive, and here we are talking about 300bps or higher in 2017, which is a possibility, but unlikely, we don't see emerging markets having to make much further adjustment." The question then arises as to the likelihood of a stronger dollar.
Jan Dehn, head of research at Ashmore Investment Management, says the dollar rally against emerging markets is over. He sees three clear phases in the relationship between the dollar and emerging markets. The first was 2010-15 when the dollar appreciated 40% against emerging market currencies. That happened, Dehn continues, because of the global $15trn (€14trn) quantitative easing programme, with central banks buying nearly half of all developed market bonds, which led to institutional investors following suit and dumping emerging markets in the process. That activity is over. Inflation is steadily picking up in the US and is likely to increase, requiring the issuance of more debt with no inflation protection.
The second phase was a stable dollar, whose overvaluation prevented it from increasing any further. The third and current phase is dollar depreciation against emerging-market currencies. Trump's fiscal stimulus will occur at a time of full employment in the US. "The real policy rate is negative 170bps. The Fed can't hike rates high enough without triggering a recession," Dehn says. As a result, he argues, the US will see rising inflation and a fall in the dollar.
The main argument against Dehn's prognosis is President Trump's proposed border-adjustment tax, which he says could inflate the dollar by up to 20% and push the US into recession. Moreover, as Adrogue points out, markets appear to have ignored the limitations of the power of the US President. "Since Thomas Jefferson, power has been split with Congress. If Trump says he wants to impose a 20% tax on Mexican imports, he needs to get the approval of Congress. Maybe he will, but it is a much longer game."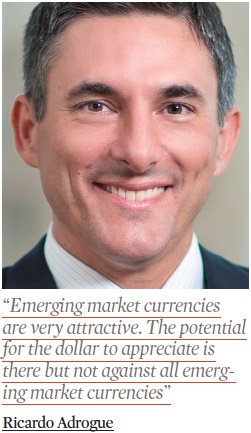 Such protectionism is the most significant danger for emerging markets. But, as Adrogue points out, it is also a danger for some large developed markets, with Germany and Japan particularly exposed to global trade. In contrast, many emerging markets are not. "Brazil is much less exposed, Russia is not open, China would suffer, but most of Latin America would not," Adrogue says. "Most of Africa would not [suffer] either as the countries are poor and have not engaged much in global trade."
Given this situation, it is not surprising that Dehn is enthusiastic about local currency debt. Adrogue is also a fan. "Emerging market currencies are very attractive," he says. "The potential for the dollar to appreciate is there but not against all emerging market currencies. Some are already factoring in a stronger dollar, like the Mexican peso." 
Mexico is the only country that faces a significant trade war with the US, says Adrogue, and he sees that as explaining why the Mexican peso is completely outside the range of all other currencies. In contrast, Brazil, Malaysia, Indonesia, Thailand, South Africa and Poland have attractive currencies. Countries with currencies likely to depreciate include Argentina, Uruguay, Korea and China.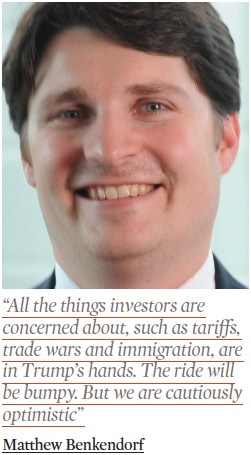 Dehn points out that local currency bonds are yielding just under 7%, although there could be material rate cuts in some countries, including Brazil and Russia, and he sees yields falling by 1%. As a five-year duration asset class, this would give rise to capital gains of 5% with a 10% return in dollars. Combining that with a 6.5% carry over a year, would give rise to 16.5% return in dollars for local currency emerging market debt in 2017. "There is nothing in fixed income that can beat that," Dehn says. "So investors will allocate more and we will see flows back into the asset class. That will ease financial conditions in emerging markets and push up growth".
Clearly, the pronouncements of the new US administration are increasing risks and uncertainties for emerging markets. But emerging markets are unlikely to see a repeat of the taper tantrum of 2013. 
Many would agree with Benkendorf's view: "With the Trump administration, all the good stuff rests with Congress in terms of regulatory reform, infrastructure spending and so on. But all the things investors are concerned about, such as tariffs, trade wars and immigration, are in Trump's hands. The ride will be bumpy. But we are cautiously optimistic." 
Pages in: Special Report Emerging Markets: The global picture