Diversification: Shelter from the storms
The benefits of diversification are not as clear-cut as investors often assume
KEY POINTS
Investors must seriously rethink portfolio diversification
AQR argues that diversification is more than just a way of mitigating losses
Equities and bonds can lose money at the same time
Diversification. It is supposedly the only free lunch in the investment world, the tried and tested method to protect a portfolio against a downturn by holding assets that behave differently.
It is often trundled out as evidence that a portfolio is prepared for the worst, and today institutional portfolios employ techniques r anging from basic 60/40 splits to hedge funds to put options. Yet the concept is rarely subjected to fresh review.
It is time investors give diversification just such a serious rethink, says Daniel Villalon, co-head of the North America portfolio solutions group at AQR Capital Management. That is what AQR did in a new study that used 91 years of data to evaluate the effectiveness of diversifying investments during the worst of times for most portfolios – equity drawdowns.
While there is some subjectivity in determining what qualifies as a "major drawdown" for equities, AQR opted to use minus 20% cumulative returns – over any time period – as the threshold. The rationale: losses of this magnitude wipe out years of typical performance, and prompt investors to make reactive, generally suboptimal, changes to their portfolios. The study found that diversification does not work every time investors need it, but it is still probably the best bet.
Villalon takes investors on a dive into the nuances of diversification, outlining the key decisions that investors need to make to determine what diversification can and cannot do for a portfolio. He also covers the tradeoffs required in deciding how and how much diversification to employ to make a portfolio resilient to drawdowns.
Overall, he says, the research suggests investors should not look at diversification solely as a technique to mitigate losses. They might be better served by using the analytical framework of diversification as an expectations management tool to better understand the range of outcomes that different portfolio allocations might experience during a downturn. Embedded in that approach is the acceptance that all portfolios will see value declines in a downturn, and so investors should remain focused on holding a portfolio to generate long-run optimal performance.
It is a way of thinking well-suited to the volatile market environment that has emerged in the past 18 months.
Most institutional portfolios are dominated by equity risk, AQR notes. That is not without reason – equities have had high historical average returns – but when equities have drawdowns, the overall portfolio will suffer, too. There are numerous potential triggers for a drawdown on the horizon: the US Federal Reserve's policy, oil prices, Italian fiscal stress, not to mention a trade war and Brexit. In short, "tail risk is in vogue again," says Villalon.
"Many investors are reversion-oriented," Villalon says. "This bull market has been going on for a long time, and investors think that that's got to change." High equity valuations have added to the renewed interest in preparing for a substantial drawdown. "Investors are starting to remember that equity returns don't have to be strongly positive," he says. "This was a paper, in a sense, written by popular request," he says of the diversification study.
The research was designed to evaluate how diversification might mitigate drawdowns by incorporating return sources expected to make money on average but with low correlation to equities. The reason for focusing on correlation to equity returns instead of correlation to rates or other sources of return is that equities are the single greatest source of return for investors, as well as risk. "Stocks are what matters," Villalon says. 
Study parameters
The analysis looked at several ways of diversifying a portfolio's equity risk: two traditional asset classes, bonds and commodities; two long-only portfolios of assets, the classic 60/40 portfolio and a hypothetical risk parity portfolio of stocks, bonds and commodities; and two hypothetical long/short alternative strategies, a relative-value styles strategy, and a trend-following strategy (figure 1).
The results displayed in figure 2 showed that bonds and commodities did not on average lose when equities sold off, as illustrated by the white boxes, but in fact made money on average, indicating that a strategic increase in exposure to these assets may be a step for investors seeking to reduce equity risk through diversification. 
Perhaps the most interesting result was how the pension investment industry's 60/40 portfolio performed during equity drawdowns. Every time equities have performed poorly, the 60/40 portfolio also performed poorly. "Even though it holds 40% in bonds, the 60/40 portfolio behaves like a little brother of stocks," Villalon says.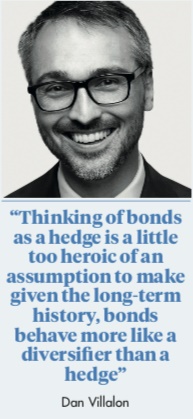 Looking beyond performance averages produces further insights, Villalon notes. "Often when investors think about diversification, they really just think of the average outcome for a return source," Villalon says. "One of the big takeaways from the research is what could happen around the average."
The chart in figure 2 displays of the study results show what could happen – and what investors need to consider. The blue boxes show the range of outcomes that occurred 80% of the time during market downturns, while the blue whisker lines show the extreme best and worst outcomes observed over the period of market history AQR evaluated.
One conclusion that emerges: bonds and equities can lose money at the same time. The same is true for commodities and equities. "This is sort of a foreign concept for people who have been investing over the past couple of decades, when bonds have been seen as a hedge," says Villalon. "But historically, that's not the case," he adds. "On average bonds have worked out fine when stocks have done poorly," he says, "but there have been times where bonds have actually lost money at the same time that stocks have as well."
In fact, the bond bull market of the past 30 years has resulted in fixed-income instruments behaving like pure hedges to equity risk such as gold, defensive trend and defensive long/short equity strategies, and put options, as shown in figure 3. The record is striking: bonds have posted positive returns in each of the equity drawdown periods from 1986 through 2017, while posting returns higher than their 30-year average return, resulting in bonds showing a negative correlation to equities during a period that has formed the analytical base and practical experience of many investors that are managing assets today.
But AQR warns against looking to bonds as a hedge against equity risk: the closer-to-zero longer-term correlation of bond to equities suggests that the post-1986 experience will not necessarily hold in the future. "Thinking of bonds as a hedge is a little too heroic of an assumption to make, given the long-term history," Villalon says. "Bonds behave more like a diversifier than a hedge."
Diversification and hedges
Telling the difference can be a challenge. "One of the bigger misconceptions I hear when I speak with investors is the difference between diversification and a hedge," Villalon says. It is critical that investors base asset allocation on a clear understanding of the actual performance of each. Explicit hedges cost money, such as the premiums paid for put options, which result in a negative average return of 4% between 1986 and 2017; the analysis of hedges was limited because options and some other hedges did not exist for the period AQR analysed. "Our hope is that investors consider what they are willing to give up on average in order to put a band-aid over a portfolio for the worst times," Villalon says.
They should not give up too much: looking at the full distribution of outcomes starting from when markets were expensive, AQR found that more than half of the time, equities still showed positive returns. The lesson for pension funds: despite there being a greater chance of a big drawdown from high valuation levels, more often than not, equities still make money. "An investor that trimmed equity allocations every time they observed rich valuations could miss out on a great deal of the long-term equity risk premium," he says.
Value creation
There could be other ways to mitigate downturns. Some managers are devising equity strategies that have the potential to improve the consistency of equity performance under adversity. William Blair's global equity team opted to search for companies that can deliver what it calls sustainable value creation: instead of focusing on defensive companies whose share prices are expected to weather a downturn better, William Blair's team contends that the best defence is a strong offence.
"Cash flow is the lifeblood of an organisation, but what's even more important is how thoughtfully management invests the cash flow"
Andy Flynn
Over the past decade, the William Blair team has developed quantitatively-verifiable proprietary indicators of equity financial performance that identify companies with the ability to sustain value creation in good and bad times, says Andy Flynn, a portfolio manager on the William Blair global leaders strategy. The one that has emerged on top: cash flow return on invested capital, an indicator within the team's quality factor model. This metric reflects how effectively a company deploys the money it generates by itself. "Cash flow is the lifeblood of an organisation, but what's even more important is how thoughtfully management invests the cash flow," says Flynn. "This is the metric that we found most closely matches an accurate measurement of a company's quality," he adds. "It has the largest weighting by far of any of the dozen or so factors in our quality factor model."
Some companies in the global payments industry generate strong positive cash flow returns on capital, says Flynn. The use of cash is declining across the globe, boosting demand for electronic payment methods no matter the economic backdrop. A sign that electronic payments are here to stay came when London's black cab drivers began taking digital payments. "Once consumers and companies get used to interacting online, we believe this is very much a one-way journey," says Flynn. "We don't believe there's a real risk the London black cab driver will go back to only taking cash."
While the AQR diversification study and William Blair's search for sustainable value creation started from different premises, both approaches illustrate that the search for shelter from the market's storms is in full swing.