Equity risk premium: The X factor
Although central to financial theory, the equity risk premium is hard to apply in practice
KEY POINTS
The equity risk premium is central to modern finance theory
It can be estimated by looking at historical averages or asking market participants 
Although important, the equity risk premium is difficult to apply practically
The concept of the equity risk premium (ERP) lies at the heart of modern portfolio theory and most systematic asset allocations. Yet while finding historical values may be a straightforward, of more importance are expected future values, and these rely on assumptions. So what use is it?
The ERP, is, as Norges Bank Investment Management (NBIM) describes in a 2016 paper, "arguably one of the most important quantities in all of asset pricing from both a theoretical and a practical standpoint". It is the premium above risk-free bond yields that investors demand to hold aggregate equity risk.
The excess return over bonds is the reason why Railpen's return-seeking growth fund has a strategic equity allocation of 65%, says Craig Heron, head of public markets of the UK pension fund. With bond yields historically low since the global financial crisis, the ERP has looked attractive throughout the subsequent equity bull market. Expected ERP is a big driver of how schemes such as Railpen strategically allocates funds. In the short term, though, the ERP has less value, as Heron points out, changes in the ERP are slow so that estimates do not affect quarterly portfolio rebalancing decisions. 
Indeed, Dimitris Melas, global head of equity research at MSCI, points out that over periods of a year or so, there is almost no correlation between the ERP and the performance of equities relative to bonds but, "if you extend the horizon to the next three or five years, you start to see a relationship".
The historical realised ERP can be calculated simply as the excess equity returns over cash or government bonds. Using a database of 21 countries going back to 1900 (see figure), the realised equity risk premium over government bonds has been 3.4% annually says Peter van der Welle, a strategist at Robeco. But as he points out, this geometric average masks variations across countries, with a low of 1.7% and a high of 5.5% with the US having a value of 3.2%. Does this mean that investors should be overweighting the US? Clearly not, as what is more important for analysis is the expected future ERP rather than realised ERP.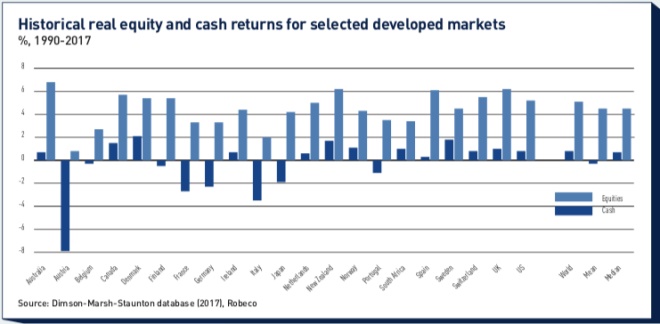 The simplest approach to estimate future ERP is to use a historical average. But the problem is that ERP has shown considerable variation. NBIM finds that it peaked after the end of the second world war, during the bull market of the 1990s and at the end of the global financial crisis. 
Taking even 20-year averages can show considerable variations. It was particularly low during the 1930s depression and the oil price shocks of the 1970s, when the US experienced low growth and high inflation. That resulted in exceptionally high short-term Treasury rates – the US Federal Reserve raised the federal funds rate, which had averaged 11.2% in 1979, to a peak of 20% in June 1981 – and low equity returns. 
Clearly, historical ERP values have shown high variability which some have attributed to shifts in non-diversifiable macroeconomic risks and others to behavourial biases such as overconfidence and "irrational exuberance". Another problem with ERPs is why are they so large relative to the underlying macro fundamentals? 
Productivity growth has averaged 1.8% to 1.9% and the ERP should be about the same figure, points out van der Welle. This gives rise to "the equity risk premium puzzle" – how can it be that equities look risky and the premium high, when the underlying productivity growth is stable, but low? 
Part of the solution can be seen if equity returns are broken down into dividend yields plus dividend growth plus changes in the price/earnings multiple. There has been, says van der Welle, a 0.5% average annual increase in the latter since 1900. But in a steady state world, one would expect zero change in the multiples. The reason for the rise, he argues, has been the historical success of the US equity markets driven by a highly performing economy.
As NBIM notes, many have argued that part of the large ERP can be attributed to windfall gains and luck arising from the upward repricing and unexpected capital gains during the later 20th century.
Expected ERPs rely on assumptions over future equity returns. But ignoring backward-looking approaches such as reversion to historical mean valuations creates requirements for forward-looking approaches. Calculating expected ERPs can be undertaken at one level by looking at the difference between equity dividend or earnings yields and bond yields. But, earnings yields are just a component of equity returns. Using more sophisticated approaches can be undertaken but, as Melas points out, such approaches end up introducing more assumptions. "Just looking at the gap between earnings yields and real bond yields today and comparing them with where they have been
in the past may give some useful signals about prospective performance." 
More sophisticated approaches are often based on dividend discount models and variations of the Capital Asset Pricing Model (CAPM). These all assume that the required rate of returns that investors expect equals the expected premium. Unsurprisingly, there is a variation in the figures produced, with world ERP being 6% in 2016 on one basis and 3-4% on another, according to NBIM. 
Another different approach to determining expected ERPs is to ask market participants. If this is done on a regular and repeated manner, is it possible that useful results can be obtained? 
For example, there have been surveys of US CFOs every quarter since June 2000, conducted by Duke University and CFO magazine. The results, according to Duke academics John Graham and Campbell Harvey were not conclusive. For example, the 30 November 2007 10-year annual forecast was 7.85% and the realised annual S&P 500 return to 7 December 2017 was about 6%. Their analysis showed some weak correlation between past returns, real interest rates and the risk premium. In contrast, they did find significant evidence that both the implied volatility on the S&P index as well as a commonly used measure of credit spreads are correlated with the measured ERP.