The EU wants to encourage environmentally friendly investment practices. Will its taxonomy stimulate the green bond market?
Key points
An expert group has produced a taxonomy of climate-friendly investments
Accompanying disclosure regulations should drive comparability and transparency on climate-friendly investment
The green bond market is set to respond first
From 2026, manufacturers of hybrid cars officially shed their green brand. From then, only vehicles with zero CO2 emissions will count as green. That, at least, is the specification in the EU's new taxonomy (classification) containing the definitive guide to what is environmentally sustainable and what is not. The objective is to help mobilise climate-friendly investment. It enumerates selected industries – for example, including hydropower but excluding air transport and nuclear power – while assigning performance criteria to a range of brown sectors such as aluminium production.
As a policy device, it provides satisfying marker posts staking out the high ground for the most responsible investors. At the same time, a new disclosure regulation will require investment firms making claims to show whether they match that standard to enable comparison. Criteria in the taxonomy are quantified, encouraging a binary screening approach. But might such parameters actually discourage green investment? Some investment managers might after all prefer to eschew the green label because of its restrictions.
Kajetan Czyz, sustainable finance programme director at the Cambridge Institute for Sustainable Leadership, suggests the reverse is true. The taxonomy, he says, is likely to release billions in investment in fixed income because the mechanics of the bond market adjust more readily to simple selection criteria.
"Bond investors will always compete with each other on returns anyway. Add another yes/no tag and they like it. If you have a similar return to your peers but your fund is green – that is as deep as they want to go", he says. With the emergence of a EU Green Bond Standard aligned with the taxonomy and similar to the Climate Bonds Initiative's updated Climate Bonds Standard, there will be less cause to doubt the environmentally friendly characteristics of future green bond issuances.
For these investors, the taxonomy works well in another way – its inventory of 67 activities eligible for green status slots neatly into Use of Proceeds descriptions by bond issuers, providing ready-made categories for identifying new projects. Among them can be found not just environmentally friendly processes such as the production of heat/cooling using waste heat, but industrial activities such as cement production.
According to the taxonomy, cement manufacturing mitigates climate change if it emits no more than 0.498 tonnes of CO2 equivalent per tonne produced. According to the taxonomy user's guide, a company looking to improve environmental performance could raise capital from the bond market using these criteria and label its bond as green.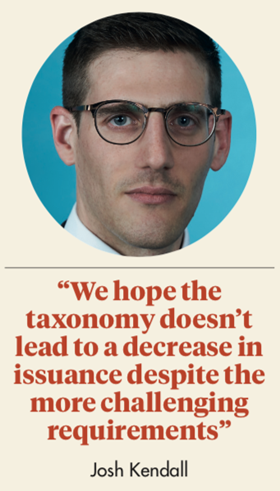 Josh Kendall, senior ESG analyst at Insight Investment, which specialises in liability driven fixed-income investment strategies such as bond investment, emphasises the branding, transparency and verifiability of green bonds arising from the taxonomy. "That a green bond has a higher standard is a good thing. It will prove to investors that a company is committed to using proceeds with tangible impacts," he says. But he suggests the number of investment grade companies issuing green bonds could diminish following the release of the taxonomy.
In order to disincentivise greenwash, this screens questionable claims such as green bonds issued to construct airports. "We hope the taxonomy doesn't lead to a decrease in issuance despite the more challenging requirements. If anything, it may encourage more issuance from companies that are unsure if their expenditures qualify for green bond status" he says.
Green taxonomy signals a bold agenda to mobilise capital
The European Commission released its taxonomy – or classification providing consistent definitions of environmentally sustainable investments – in June 2019. This identification and disclosure tool is intended to help redirect capital flows to meet targets in the Paris Agreement on climate change (maximum global temperature increase of 20C with the aim to restrict this to 1.50C) as well as the UN Sustainable Development Goals. Decarbonising Europe's economy would require annual additional investments of €175bn-280bn.
Developed by 35 technical experts from civil society, academia, business and finance, the taxonomy covers seven macro-sectors and includes 67 varied economic activities such as solar power production, steel manufacturing and perennial crop cultivation.
To qualify as green, an investment needs to comply with maximum criteria on emissions. It also needs to contribute to at least two of six environmental objectives: climate change mitigation or adaptation; sustainable use and protection of water and marine resources; transition to a circular economy, waste prevention and recycling; pollution prevention and control; and protection of healthy ecosystems. In doing so, it must cause no harm to any environmental objectives as well as comply with minimal social safeguards (such as core labour conventions).
A new sustainable finance platform aims to foster a dynamic approach, monitoring potential updates to the taxonomy in line with technology changes etc.
● EU Green Bond Standard
A draft voluntary EU Green Bond Standard also launched in June aligns with the taxonomy and determines which climate and environmentally-friendly activities should be eligible for funding via an EU green bond.
● New disclosure requirements
In a regulation under discussion at the European Council and Parliament, investors who market environmentally sustainable finds must disclose how they use the taxonomy when assessing whether an investment is environmentally sustainable. Alternatively, they can explain their own methodology. They also need to state the proportion of their fund that invests in taxonomy-eligible activities.
● New EU climate benchmarks
An agreed regulation also creates two new benchmarks using the taxonomy: an EU Climate Transition Benchmark and an EU Paris-Aligned Benchmark – the latter containing stricter criteria. The aim is to provide comparability as well as benchmark construction and identification tools for climate benchmark providers.
In addition, the regulation requires benchmark providers to state how ESG is reflected in benchmarks.
Positive signals are emerging. Invesco, for instance, is considering new products. "Currently, we have no fund in the EU that is dedicated to green bonds so one idea we had was to set up a fund targeting these types of investments", says Elizabeth Gillam, Invesco's head of EU government relations and public policy.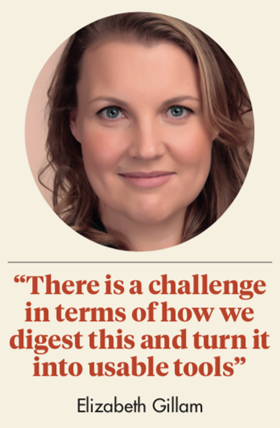 For equity portfolio managers, the taxonomy and disclosure rules present more complex evaluations and necessitate corporate engagement. There are some practical barriers: non-financial reporting by investee corporations does not necessarily align with the taxonomy's structure or detail, which suggests the sector may respond slowly – unless an asset manager demands data first.
"What is needed is to incentivise corporates to disclose their alignment of business activities with the taxonomy. This allows investors to navigate and consider corporates eligible for different degrees of EU taxonomy-compliant investments", says Steffen Hörter, global head of ESG at Allianz Global Investors and a member of the technical expert group (TEG) that produced the taxonomy. The Task Force on Climate-related Financial Disclosures is likely to encourage such changes alongside rules such as an EU ESG disclosure regulation aimed at institutional investors from March 2019.
Many asset managers running equity funds contest the ambitious character of the taxonomy, suggesting its definitions are so restrictive that they may only ever represent a narrow, unchanging band of perhaps 2% of investments. "We would like the taxonomy to be as inclusive as possible. There is a challenge in terms of how we digest this and turn it into usable tools; there is still more work to be done," says Gillam at Invesco. More might be achieved by stretching the boundaries of the dark green segment represented by the taxonomy, providing greater investment and more engagement with browner industries.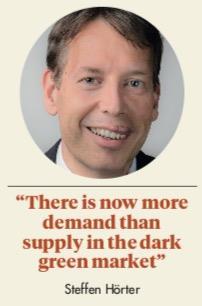 To expand the growth of the sector within the taxonomy, Hörter urges more public sector involvement. "There is now more demand than supply in the dark green market, thus yields drop, all other things being equal. So what is needed are more green projects that fit taxonomy criteria and are attractive from a yield perspective", he says. One way to achieve this, he suggests, could be to open up a stream of green EU projects through, for example, public private partnerships.
Without the disclosure obligations, the taxonomy would serve as only a useful tool. It helps construct green portfolios and climate benchmarks, illuminate and label environmental industries as a collective asset class, and extract potential investment opportunities.
Accompanied by the disclosure obligations, it causes discomfort. Investors have to acknowledge the taxonomy exists by comparing it to their own green portfolios. They do not have to change their investment strategies. However, the intensification of public campaigns by organisations ranging from the Church of England Pensions Board to Extinction Rebellion could raise the reputational risk of divergence. That may encourage some to jump over to the more ambitious side of the fence.
EU Sustainable Finance: The greening of Europe
1

Currently reading

EU Sustainable Finance: The greening of Europe

2

3

4