Institutional investors have under-invested in emerging market corporate debt so far, but Joseph Mariathasan finds the asset class's attractive fundamentals mean this may change soon
At a glance
• Corporate debt looks set to become the most important component of the emerging fixed-income markets.
• Investors in this asset class can benefit both from the higher yield on the currency and stronger underlying performance.
• Emerging market currencies have benefited from the depreciation of their currencies against the dollar.
• Investors in emerging market debt are reluctant to invest outside the main indices.
Emerging market corporate debt in its various forms will probably be the most important component of the emerging market debt markets in years to come. The dollar-denominated part of the market is already larger than hard currency sovereign debt (based on the market capitalisation in dollars of the JP Morgan CEMBI Broad index compared with the market cap of the JP Morgan EMBI Global index). While hard currency corporate debt has become a component of emerging market debt (EMD) portfolios, it does seem surprising that institutional investors have under-invested in this market as a dedicated allocation, despite the ongoing search for yield.
The size of the JP Morgan dollar-denominated emerging market corporate debt index (JPM CEMBI Broad) overtook the equivalent sovereign debt index (JPM EMBI Global) in 2012, points out Bill Perry, emerging market corporate debt manager at Stone Harbor Investment Partners.
The asset class has grown rapidly since 2000. Emerging market corporates started as an adjunct to sovereigns. There were several small issues in the 1990s sold to private banks and wealth managers. In the past two or three years there has been a significant increase in the growth of corporates. Annual issuance was above $300bn (€267bn) from 2012 to 2014 and the current market size is $1.7trn.
While there have been concerns over the rapid growth, with fears about a credit bubble, Perry, along with many EMD specialists, is more positive. He says: "The majority of the debt issuance has been refinancing opportunities driven by the low US Treasury yields and the market search for yield and, to some extent, the reduction in risk appetite by banks. High-quality credits are able to access seven, 10 and even 30-year debt, particularly as emerging market sovereign credit ratings have started to converge with developed market credits." Perry adds that while Russian, Brazilian and Chinese debt constitutes most of the asset class, the main indices used as benchmarks diversify away much of the significant concentration otherwise embodied in the total outstanding debt stock.
Why buy EM corporate debt? Perry argues there are two fundamental reasons for doing so. First, there can be a pick-up in yields over hard currency sovereign EM debt for EMD mandates.
Second, there can be a healthy pick-up in developed market corporates also.
Brigitte Posch, head of Babson Capital Management's emerging markets corporate group, finds that European retail and pension funds have been much more appreciative of this than US funds. European investors were active in emerging market corporate debt earlier than those in the US. They started on Eastern Europe when it opened up and have also been involved in frontier markets ahead of US investors. But she does find there has been growing involvement by some of the large US insurance companies in emerging markets.
What both creates opportunities and distorts analysis of emerging market corporates can be the sovereign debt rating ceiling placed on corporate debt. Many EMD investors adopt a top-down macro view of EMD. Until recently the correlation between corporates and country performance was high. There is still a correlation and an impact on the prices of corporate debt which is not necessarily based on the fundamentals of the companies themselves, but it is less than it used to be five years ago. More investors like Babson are taking a bottom-up approach to analysis of corporate debt.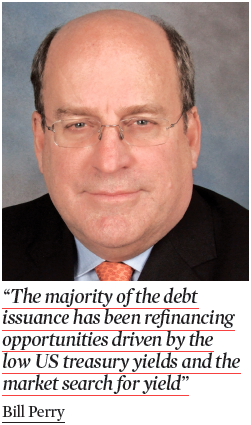 Perry argues that investors buying emerging market corporate debt rated anywhere in the range from A to B are buying a better quality credit for the same ratings bucket than a similarly rated credit in a developed market. "So, for instance, we bought a B-rated Argentine cable company that was 0.5 times levered. Single B credits in the US are 7.2 times levered. So we are buying a credit yielding 6.25% for a five-year bond that we think is more like single A or better, based on credit metrics apart from the fact that it is Argentina, which is a B3/B- rated country," says Perry.
As Perry admits, rating agencies ascribe other factors when assessing corporate credit risk in emerging markets including environmental, social and governance (ESG) risks. There are good reasons for saying that a BBB in the US should not be at the same level of leverage as a BBB in an emerging market.
Even so, investors often are paid a significant premium for buying EM corporates over developed markets, with a three-year running average for investment grade giving a 75bps premium for BBB (the effective rating for the CEMBI index) in the US, while, for BB, the premium is 200bps. The spread premium for the same credit quality and potential for further compression is the reason for buying emerging market corporates, says Perry.
Until recently, emerging market corporate debt has not been at the forefront of the alpha strategies that investors were willing to deploy in asset allocation. Jan Dehn, head of research at Ashmore Investment Management, sees the pessimism as being intimately linked with the appreciation of the dollar and the view that there are enormous foreign exchange mismatches caused by borrowing in dollars with revenues in local currencies. But six years after the dollar began to rally in 2010, default rates of EM corporates of 3.4% a year are below their long-term average of 3.9% and they have remained below that for the entire period.
In contrast, US high-yield default rates have been 5.77%, well above the long-term default rate, which has been similar to EM. What it suggests, Dehn argues, is that a strong dollar is not particularly bad for EM but is bad for US corporates. This is opposite of what the market had been assuming for the entire period. EM corporates are outperforming US high yield.
Dehn sees three reasons for this trend. First, emerging market currencies have cheapened dramatically, making their economies more competitive. "An emerging market company can now export 40% cheaper than before the dollar tantrum happened [in mid 2013]," he says."
Current-account improvements are dramatic: Brazil is running a surplus, while Turkey's deficit has gone from 10% of GDP to less than 5%. On average across EMs over the last couple of years, the current account deficit has improved by 3.5% of GDP across the recent business cycles. This is huge when a typical fiscal adjustment programme is 1% of GDP.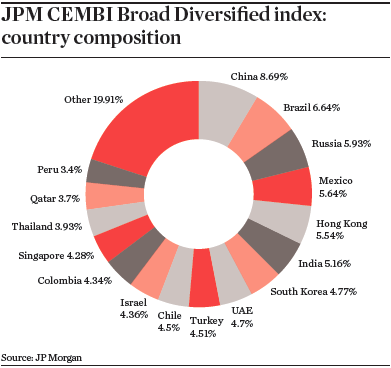 Second, the assumptions of foreign currency mismatches are generally wrong. Most emerging market issuers of dollar debt have been export-oriented companies with revenues in dollars. As a result, they need dollar liabilities to hedge out foreign exchange mismatches. Even those companies without dollar revenue streams would actively hedge their foreign exchange exposures.
Third, the property companies in China were issuing unhedged dollar debt. There were good reasons for doing so. With domestic bond yields much lower, they have mainly refinanced in renminbi.
Posch does see more recent evidence of increasing investor interest on the back of fundamentals and the future outlook.
Yerlan Syzdykov, head of EMD at Pioneer Investments, is not convinced. "We have been scaling back our exposure to hard currency corporate debt in our flagship EMD fund from 75% in mid-2014 to 50% in mid-2016 and we are planning to reduce it even further to a third. The reason is that we do not see valuations as attractive as they used to be and, given the refinancings required in 2017-18, we would expect to see default rates increasing."
What still lies barely tapped in the emerging market corporate debt universe are local currency corporate bonds. The local currency debt universe stands at $12.7trn, with half being corporate, Dehn says.
Managers such as Stone Harbor do often tactically invest in EM corporates as an alpha generator for local currency mandates but only a minute portion of the universe is held by foreign investors.
"Local currency corporate markets are large but generally less liquid, so not as actionable. We need to the ability to trade in and out of assets," says Perry. Moreover, he adds, to invest in local currency onshore-settled renminbi or Brazilian real, you have to compete with the locals and the information is skewed against you.
Many managers are prepared to trade in local currency euro-clearable offshore markets. These are, explains Dehn, issued by a small number of corporates in their own local currency offshore and can be treated like any other bonds. So investment banks do not have to set up local offices and find local pricing data because these bonds trade offshore. They are the only local currency corporate bonds that are in an index.
Bank of America Merrill Lynch introduced the world's first local currency corporate index a few years ago. But, as Dehn says, it only includes the 2% of the universe it is able to trade as euro-clearable local currency bonds. "So you have an asset class that is $6.3trn in size that basically has no index representation apart from the tiny amount that is euro-clearable. The rest is traded and held within EM by EM institutions."
It does seem surprising that institutional investors desperate for yield and with time horizons long enough to have no existential issues over liquidity are too focused on benchmarks to consider the asset class.
Ashmore finds most institutions are not considering investing outside the benchmark. It has over 1,000 clients and fewer than five are looking at it with a policy that is benchmark agnostic. "They are not pension funds but sovereign wealth funds who deliberately do not have a benchmark and want us to look at the entire opportunity set because they are protecting the wealth of many future generations and genuinely like the long-term approach of emerging markets," says Dehn.
Special Report Fixed Income Strategy: No more easy gains
1

2

3

4

Currently reading

Emerging debt attractions

5

6

7

8

9

10