The US bond market is benefiting from negative interest rates in Europe and elsewhere. Christopher O'Dea reports
At a glance
• The negative interest rate environment in Europe and Japan is causing investors to flee to the US where positive rates are still available.
• The capture of non-traditional sources of income is taking priority.
• The Federal Reserve's decisions are at present geared more to market sentiment than to fundamentals.
• The key question is when the Fed will choose to act.
The US has emerged as the only large developed market to offer consistently positive yields on sovereign debt. However, any discussion of how investors should position their US fixed income portfolios quickly turns to the challenges facing Europe and Japan. The shift to negative interest rates in those markets is causing investors to flee in favour of positive, if still paltry, yields on US debt securities.
Those inflows mean US bond markets will fail to keep pace with the gains they have delivered in the past several years. Most managers say US economic conditions justify the Federal Reserve normalising interest rates. However, the Fed is hemmed in by weakness around the world as well as by concerns that rate hikes might spark a sell-off in US bond markets. Such an exodus would impair the value of fixed income holdings for pension funds and individual savers in the US and abroad.
The design of strategies to capture non-traditional sources of income is taking priority with US policy rates stuck near historical lows. Consultants and managers are advising clients to shift capital to non-traditional fixed income mandates. These combine higher-yielding debt and credit instruments with yield enhancement and volatility reduction techniques. The latter approaches are based on derivatives, extending liquidity to property, and tapping spread relationships between credit default swaps and their underlying bonds to capture distortions at times of market stress.
Cash is also taking on renewed importance in portfolio management. It is acting as a buffer against volatility while giving managers a source of capital to invest as opportunities arise.
"The US fixed income market is standing on its own," says Kommer van Trigt, a fixed income fund manager at Robeco, where he oversees the total return and absolute return capabilities as well as emerging market sovereign strategies in local and global currencies. "The US is still a market where, at least in relative terms, the fixed income yields look more appealing."
The main purpose of fixed income allocations is to capture the term premium offered by taking on interest rate risk in the expectation of being compensated for the risk. But taking on interest rate risk has become expensive, says Gerard Fitzpatrick, global CIO for fixed income at Russell Investments.
"With a yield of about 1.5% on 10-year US Treasuries, investors aren't going to be paid adequately for seeking to capture term premia through traditional benchmarked strategies," he says.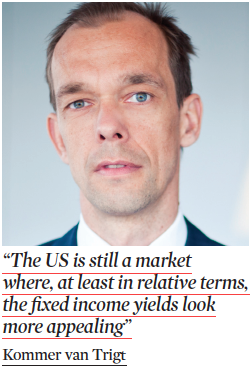 The global backdrop is certainly not traditional. Europe and Japan are pursuing extremely accommodative monetary policies aimed at spurring economic growth despite unfavourable demographic trends, says van Trigt. Credit-oriented investors in Europe are looking to the US high-yield market for favourable returns, encouraged that the rebound in crude oil prices has helped US energy companies stabilise.
At at the same time, purchases of corporate debt of European issuers by the European Central Bank (ECB) has kept yields in check, encouraging capital to flow to the US.
"Investors' concerns in the EU and Japan have centered on whether more stimulus would be added," van Trigt says.
In contrast, the economic news in the US has warranted a return to normal interest rate levels, but weakness abroad has checked the Fed's hand despite increasing sentiment to increase US base rates. The weak trends are most pronounced in Japan, where the ageing population, high debt-to-GDP ratio and low productivity are all factors in the central bank hewing to a zero interest rate policy. With inflation low – and even tilting towards deflation in some countries – the fixed income markets have become much more global, van Trigt says.
Opportunities in US fixed income have become more transitory. "The Fed is between a rock and a hard place," says Oksana Aronov, managing director and head of market strategy for the absolute return and opportunistic fixed income team at JP Morgan Asset Management.
The message from US economic data is clear, Aronov says: "We not in an emergency state, and emergency rates are not warranted." But while the US central bank would like to normalise rates, "the Fed doesn't want to create a panic in bond markets", she says. As a result, decisions are "geared more to market sentiment than to what the fundamentals are saying".
In fact, she adds, inflation pressures are building in the US, with the core consumer price index already ticking over the Fed's stated 2% inflation target, and other measures watched by the Fed getting near the 2% also. "I'm not an inflation hawk but eventually this will enter the conversation," she says.
Signs of inflation are typically supportive of rising rates, indicating that economic growth is robust and supporting the idea that higher rates will help pension funds in their core mission of earning sufficient returns to cover their liabilities. But the current environment, says Aronov, shows that "while central banks have shown they are extremely capable of driving rates lower, they have yet to show their ability to drive market rates up".
Central banks' control of the situation is tenuous at best, Aronov contends, and "this circumstance has significant implications for many investors". The most important is that the price appreciation component of bond returns has become the dominant factor in fixed income investing. "Only time will tell if central banks are able to find creative solutions in normalising interest rates without disastrous side effects such as a bond panic or a yield curve inversion," Aronov says. Either way, "eventually market forces will prevail and return the income component to bonds".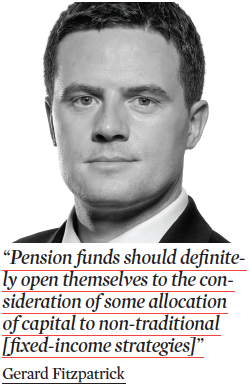 Actively-managed portfolios have the best chance to adapt to changing circumstances. One feature of active portfolios is that they typically carry less long duration than portfolios constructed to reflect indexes weighted according to the volume of outstanding debt in a given maturity tranche.
Some of the key opportunities in the US fixed income market are in credit risk premia, says Fitzpatrick. Credit offers the opportunity to diversify by geography, sector and manager, as well as by residential and corporate exposure and emerging market corporate or sovereign debt in local or other currencies. Those building blocks can be enhanced with opportunistic strategies and other overlays to reduce volatility.
"Many investors are looking at these alternatives," says Fitzpatrick. The ultimate aim is to generate income while preserving capital in a challenging environment. "There's an old saying that you invest in bonds to stay rich, not to get rich," he says.
Increasing the allocation to credit can have other implications as well, says Ashish Shah, CIO of global credit and head of fixed income for Alliance Bernstein. Because corporate debt introduces the risk the issuer might default, credit instruments have a lower effective duration than government debt of the same mathematical maturity. That results in credit providing a cushion during sell-offs, as corporate bond prices decline by a lesser amount than a given government bond when markets drop. "An investor will pick up yield by going down in credit quality simply because of the fact that you are taking on the risk of default in a corporate," Shah says, "and that is negatively correlated with duration."
In the current environment, Shah sees opportunity in securitised assets such as US residential mortgage exposure, and better-quality corporate bonds.
"We are not really reaching out the risk curve," he says, with the "sweet spot" being BBB- to BB-rated corporates. Shorter duration is also advisable. "The rally in risk and the rally in duration this year makes the long end less attractive," he says.
But until then, Aronov adds, "investors should consider diversifying into strategies with a much broader toolbox across traditional, alternative and private markets." JP Morgan has devised a strategy that encompasses global developed market fixed income assets and non-traditional components. The latter includes credit default swaps traded in relation to their spread against their respective underlying corporate bonds. It also harnesses yield enhancement from investing in middle-market commercial property loans that are overlooked by traditional property lenders which focus on either trophy properties or distressed situations.
Launched in 2017, the Strategic Income Opportunities fund is structured as a mutual fund, offering institutions daily liquidity into a portfolio that includes some illiquid investments. The fund uses cash to provide a source of liquidity to meet redemptions as well as to enable to the managers to deploy capital rapidly when relationships such as credit default swap (CDS) spreads change. The strategy is benchmarked to cash, using the BofA Merrill Lynch 3-Month US Treasury Bill Index, plus 2-8% over a market cycle.
At the end of the day, investors must face the fact that there are few secrets in the US fixed income market. "It's very much like a game of poker," Fitzpatrick says. "You have to look at your hand, and you have to assess your competitors' hands as well. Who's holding US Treasuries, and are they likely to sell those?"
In poker, of course, the house always has an edge. So as JP Morgan's Aronov says, the key question for fixed income investors is "what will make the Fed show its hand?"
Special Report Fixed Income Strategy: No more easy gains
1

2

3

4

5

6

7

8

9

10

Currently reading

US Bonds: The only game in town