We asked consultants how the job of choosing asset managers is changing
Key points
Consultants are changing the way they assess active managers
Building capabilities in private markets requires investment by consultants
ESG criteria are increasingly integrated in manager search process
Advisers are responding to demands for more transparency on fees and costs
Technology is influencing manager selection
Selecting asset managers on behalf of pension funds has never been more challenging. In the past decades, the number of asset managers in the market has grown rapidly. Investors have become increasingly discerning with their asset allocation strategies, which are often built on the basis of sophisticated sets of investment beliefs.
A new understanding of portfolio management in terms of factor allocations has challenged the perception of the value added by stock picking. Investors increasingly need to access illiquid assets to deliver the returns they need and consultants have been forced to build capacity to advise on private markets.
The spread of information technology has created opportunities for quantitative approaches but also led to a surfeit of information on investment strategies. Increasing public scrutiny means pension funds are urged to demonstrate that they are efficient, leading to intense discussions over the costs associated with asset management services.
Last but not least, public pressure to embrace sustainable and 'green' investment forces consultants to look at asset managers using an ESG lens. All this means consultants are under unprecedented pressure to identify the right opportunities for their clients.
IPE spoke to some of the leading investment consultants across Europe to identify key trends in manager selection and how these trends are shaping their organisations.
1. The new meaning of active management
A bull market in equities lasting several years has shaken the belief in active management, exposing the weaknesses of countless active managers that lack the skills needed to beat benchmarks. Active management may be coming back into vogue as volatility seeps back into the markets but most consultants recognise that assessing fundamental active managers has become more complex. This has partly to do with the availability of data on portfolios and strategies.
Paul Whelan, senior fixed income manager researcher at Aon, says: "Our framework for evaluating equity managers is similar today when compared to the process used historically. However, the data available and techniques used to evaluate strategies have evolved."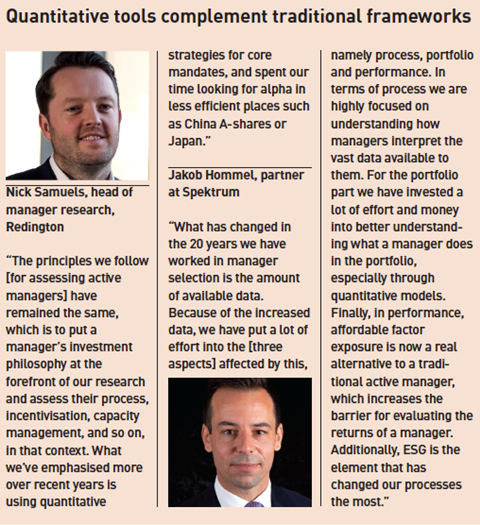 Indeed, the availability of data has opened new perspectives on active management. On one hand, it has become commonplace to evaluate managers based on performance metrics such as active share. Greater understanding of risk factors, or risk premia, as drivers of performance also puts data and quantitative modelling at the forefront of manager selection. "As factor investing has evolved into a more robust, economic and implementable investment alternative, a focus on the attribution of sources of alpha and return for a strategy has become more important," he says.
But this by no means levels the playing field between consultants. Quantitative models are an essential tool but they can be applied with varying degrees of success both in terms of accuracy and predictive power. At the same time, many consultants, while developing quantitative analysis skills, continue to cultivate their ability to assess managers based on qualitative criteria.
Some, such as Willis Towers Watson (WTW), emphasise loosely-defined but nevertheless revealing criteria such as culture. Luba Nikulina, WTW's global head of manager research, says: "We spend more time on evaluating the culture of asset management firms. It has always been an integral part of our due diligence but has now taken the centre stage. A separate culture assessment helps us focus on what we think is the most important and simultaneously most elusive factor that defines the long-term success of an asset management organisation and differentiates future winners."
Other consultants focus on high-conviction, concentrated mandates rather than factor biases. David Lewis, head of manager research at Barnett Waddingham, says: "We believe the quality of the team and the simplicity of the process should be the overriding factors in manager selection."
To many, the future lies in the combination of quantitative and qualitative analysis frameworks. At Swiss consultancy PPCmetrics, Oliver Kunkel, head of asset manager selection and Stephan Skaanes, partner and member of the executive board, say: "We doubt that any criteria or algorithm reliably identify funds with future outperformance. Instead, we believe in applying numerous qualitative and quantitative criteria to identify 'best fit' managers from an open universe."
2. Illiquid assets become a staple
Central banks' quantitative easing (QE) programmes have starved traditional fixed-income markets of returns and forced pension funds to push the boundaries of liquidity in their portfolios. Pal Sarai, head of client consulting at international consultancy bfinance, says that in 2017 and 2018, searches for illiquid investment represented more than a third of all new searches for clients. In Switzerland, allocations to alternative investments went from 1.3% in the year 2000 to over 10% last year, according to Heinz Rothacher, CEO of Swiss consultancy Complementa. The figures come from a yearly survey that the company runs among hundreds of Swiss pension funds.
For most consultants, adapting to the growing demand for illiquid assets has been a challenge. Researching private market strategies, from private debt to infrastructure equity, arguably requires more people power than traditional assets. Some larger firms, such as Aon and Mercer, have built capacity through acquisitions of specialist private markets teams to offer expertise on different market segments. Others, such as Hymans Robertson or Redington, have developed a particular focus on individual asset classes such as private debt.
Assessing strategies and managers, particularly from a performance point of view, remains problematic. Comparability of results is important in private markets across the whole spectrum. Bfinance's Sarai says: "The relative lack of data on the illiquid side gives greater importance to the qualitative research." Consultants therefore increasingly focus on qualitative criteria and operational due diligence but experience in this sector seems to be the only real competitive advantage.
PPC metrics leverages its investment controlling services, which gives the firm access to €400bn of real performance data on illiquid strategies. Kunkel and Skaanes say: "According to our experience, the real performances of illiquid assets is very often less than the stated performance data in RFP documents."
US-based consultancy Cambridge Associates has advised on illiquid assets for several decades, according to Alex Koriath, head of the European pension practice. He says: "From a manager-selection perspective, we believe that building out leading private markets knowledge requires decades of data to assess potential returns, underlying transactions and teams involved." Interestingly, Koriath adds: "After a multi-stage research process, we typically find that only around 2% of private assets are investable for our clients."
In new institutional asset classes, such as private debt, asset managers may be as inexperienced as consultants. Manager selection will be particularly crucial in determining which new entrants to these markets are likely to survive the next downturn. Hymans Robertson's Claire Cairney says one of the relevant factors in the firm's manager-selection process is a manager's competencies in workout in the event of default. "We require private debt managers to demonstrate superior default and recovery experience relative to the traded markets," says Cairney.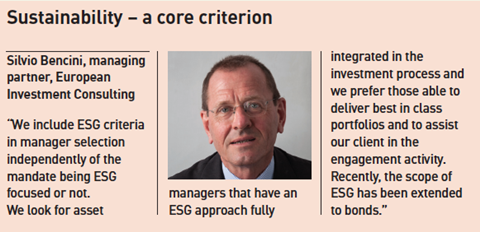 To gain a competitive edge, many large firms have developed an offering of pooled illiquid asset funds or offer clients other fund solutions, including fund seeding. Examples of firms offering these strategies are the 'big three' – Aon, Mercer and Willis Towers Watson but also Danish consultancy Spektrum. WTW's Nikulina says: "We have expanded our skills in direct asset due diligence to be able to invest directly into illiquid assets alongside asset managers, in order to give our clients more control via direct ownership and lower their costs."
3. ESG takes root
Judging by the responses from the consultants surveyed for this article, environmental, social and governance (ESG) integration has become one of the leading factors in manager selection. Bfinance's Sarai calls ESG "the most important driving trend in manager selection during the last five years".
The reality on the ground is probably more nuanced. Deb Clarke, global head of investment research at Mercer, confirms that clients prefer strategies that are rated highly in ESG terms. However, she points out that the level of assets allocated to highly rated ESG strategies was about 22% of the total search assets among Mercer clients. Claire Jones, head of responsible investment at UK consultant Lane, Clarke & Peacock (LCP), says: "So far, we have seen relatively few trustees use explicit ESG criteria in manager selection."
Aon's Whelan says: "In a recent Aon study, 11% of UK investors would remove assets from a manager that was otherwise outperforming based on the absence of a responsible investment policy, while 9% of continental European Investors and 5% of those in Canada would do the same."
It is not an overstatement, however, to say ESG has become a central focus for many asset managers. As a result, consultants have responded, either by introducing ESG rating systems for managers, proprietary or otherwise, or by hiring a separate ESG team. Many consultants have done both. LCP's Jones says: "Managers are already anticipating trustee interest in ESG by proactively covering it at pitches. ESG influences our manager recommendations and the shortlists being considered by our clients."
In our survey, there was a notable tendency to mention ESG in response to our question on active management. It suggests some consultants see ESG credentials as an integral part of assessing the quality of an active strategy. Bfinance's Sarai says: "Today it is rare that we do an active equities manager search in which ESG issues are not considered."
WTW's Nikulina says: "The notion of sustainable investment is fundamentally ingrained in our research process, which is centred on finding asset managers able to deliver a sustainable competitive advantage." WTW has also created ESG products in collaboration with leading index providers.
Regulation is contributing directly to the growth of an ESG focus among institutional investors. Complementa's Rothacher points to Swiss regulations, saying: "ESG has to be integrated into existing investment regulations and it has to become a part of the investment process itself."
In the UK, trustees will have to update their statements of investment principles to incorporate an ESG policy, according to LCP's Jones. "We expect many of them will strengthen their ESG approach and commit to considering ESG when selecting managers."
The industry is moving from ESG 'consideration' to integration. It will be crucial for ESG-focused manager selection processes to successfully establish whether their stated ESG policies live up to expectations. How alternative asset managers fare in terms of sustainability will also shift into focus.
4. Fee and cost discussions intensify
Consultants insist that selecting the cheaper manager may not be the best way to invest. Barnett Waddingham's Lewis says: "Ultimately, we want to put forward managers that we think can do the job. A mediocre or poor manager's performance could quickly wipe out any few basis points that were 'saved' by selecting them instead of a manager on which we had a fundamentally stronger view."
Their clients might agree in general terms, but reducing the costs associated with asset management has become a must for most pension funds. This is mainly driven by the expectations of lower returns, but there is also public pressure to reduce costs as a matter of principle.
Most consultants state that they are capable to obtaining discounts on fees from managers by leveraging the overall scale of their clients' assets. WTW's Nikulina says: "Aggregating our clients' assets allows us to have strong influence on how mandates are structured and the level of fees and costs they have to pay for asset management services." This is nothing new, while the significantly greater requirements for transparency over fees and costs represent a step change.
Clients are becoming more aware of the often substantial difference between headline asset management fees and total investment costs, and this is an important element in the manager selection processes. The key factor giving managers an advantage in searches is not necessarily the willingness to negotiate on fees, which is common especially in liquid strategies. Transparency in discussing the fine details of fee and cost structures seems to be the overriding factor.
Bfinance's Sarai says: "Investors do not want to see the headline costs only; they want to see total costs and they want managers who can explain those costs clearly and openly, including transaction costs, administrative expenses and any underlying fees. Value for money doesn't mean hiring the cheapest manager, but it means hiring managers who are willing to explain their costs properly and are open to scrutiny."
Some consultants are pursuing innovation in fee structures to achieve better alignment of interest between managers and their clients. Mercer's Clarke says: "We have seen a lot of innovation in recent times around more aligned fee schedules. What we are not looking to do is push managers' fees down to the point where it is not commercial for them, but rather looking to make the relationship more equitable for clients and ensure our clients are paying an appropriate price for alpha."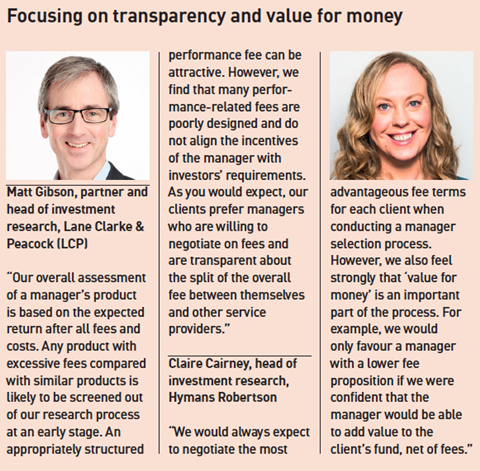 Mercer has proposed a 'guaranteed active management' approach whereby managers guarantee asset owner a fixed 25bps annual payout but keep all the alpha over an agreed benchmark.
5. The role of technology
Technological innovation affects change in manager selection on various levels. Greater data management capability facilitates manager selection as it allows greater coverage of managers and deeper understanding of their strategies, for instance through quantitative analysis models.
Asset managers are increasingly integrating new technologies within their investment processes and consultants must become familiar with those technologies as a result.
But technology also has more basic impact on manager selection. Barnett Waddingham's Lewis says: "The most significant and useful development in recent years is the greatly improved quality of video conferencing technology." Nick Samuels, head of manager research at UK consultancy Redington, says: "Video call technology has largely made the conference call introductory meeting a thing of the past, which enables us to get to know potential managers better and faster." Information technology also changes the way consultancy teams communicate among each other and with clients.
Some managers maintain that the core technology required to conduct manager research has not changed significantly in recent years, as it fundamentally consist of databases and performance analytics software. Consultancies also like to emphasise the 'human' side of manager research, arguing that getting to know the people behind the investment strategies and processes is still a fundamental step. Jakob Hommel, partner at Spektrum, says: "We do not believe that you should only aspire to have an informational advantage in manager selection, as this will seldom be the single driver of excess return. Manager selection has been and will be a judgement of organisation, structure, and, of course, people."
Arguably, technology frees time to focus on that human aspect, as it automates data management and analysis.
However, consultancies are eager to show that they can take advantage of new technologies to deliver better advice to their clients. Some large firms have made large investments in technology. In 2012, Aon set up an Innovation Centre in Singapore where technology experts work to improve the firm's data and analytics capacity. "Our manager research has significantly benefited from this investment as it has enabled us to drastically increase our breadth of product coverage," says Aon's Whelan. The company has migrated its due diligence questionnaires online and has set up a systematic, automated process for comparing managers. Some firms, such as bfinance, base their entire business around technology.
Mercer is exploring the use of artificial intelligence within its manager research process. "While this is still in its early days, a project to discover how this could potentially lead to efficiencies is under way," says Clarke.
AI and Manager Selection: Will your future consultant be a machine?
1

2

Currently reading

Five key trends shaping manager selection