Safer but less profitable
Europe's banks no longer seem to face a systemic threat but their profits are meagre. David Turner reports 
At a glance 
• Euro-zone banks are on the whole safer because they have massively increased their capital ratios.
• However, banks find it hard to make large profits because sources of revenue from lending, fees and trading income are all low.
• Costs can be reduced substantially to increase profit, but some cost savings must be re-invested.
• Tough regulations are also hampering banks' profitability, while increasing their safety.
• Analysts are confident about the state of northern European banks, but worry about non-performing loans in Italy and other peripheral member states.
The euro-zone's banks once seemed highly profitable but proved deceptively dangerous during the great financial crisis; now they eke out meagre profits but are regarded as increasingly safe. Their movement from one state to the other, impelled by the coaxing of national and international regulators, has been one of the great changes in the currency union's economic system over the past eight years.
Key to the banks' increasing security is the rise in their capital ratios. In the euro-zone the sector's average core tier-one capital ratio has risen from 7% to 8% of risk-weighted assets in 2008-09 to about 14%, says David Riley, head of credit strategy at the London headquarters of BlueBay Asset Management. Core tier-one capital is the amount of money a bank has in its coffers. "By historical standards, banks' capital positions have improved very significantly," he says. The higher the capital ratio, the less likely a bank is to collapse because it has run out of money. 
Claudia von Türk, global banks analyst at the Geneva headquarters of Lombard Odier, a private bank and asset manager, estimates that, since the financial crisis, European banks have raised about €800bn in capital. "From a capital perspective, the sector is, in general, looking quite good," she says. 
Analysts add that banks have greatly reduced the risk that capital shortages could cause a bank failure by issuing tens of billions of euros of contingent convertible bonds, known as cocos. If equity ratios fall below a certain level, the debt disappears – it is either written off or converted to equity.
Leverage ratios – total bank debt divided by equity – have also come down, because banks have both increased equity and reduced debt by trimming new lending and selling old debt. 
But although banks are generally safer, because of the combined pressure of the Basel Committee on international banking supervision, the European Central Bank (ECB) and national bodies, they are no longer the great profit generators of earlier years. Von Türk of Lombard Odier estimates that profit growth for the financial year 2016 will be "probably very low single digits". This raises questions about the long-term health of the banks. Those that are unable to generate substantial profits will find it harder to generate sufficient capital, through retained earnings, to keep regulators happy in the coming years. 
Paul Vrouwes, who manages global financial stocks at NN Investment Partners, the asset management arm of NN Group, the financial services company in the Hague, explains the banks' profit predicament by looking at both revenue and costs. 
He notes that trading income from banks is still falling, because regulators are demanding that they set aside large amounts of capital to cover the huge potential losses from this risky business line. As a result, the huge bond-trading desks that banks used to have, for example, have largely been consigned to the dustbin of history. 
He adds that net interest income is low because margins on loans and the volume of loans are both small. 
"Today there isn't a lot of demand for loans because the economy is not growing rapidly," says Vrouwes. The ECB forecasts euro-zone economic growth of only 1.4% this year. In particular, "business lending is not picking up", Vrouwes says. 
He acknowledges that lending to households is growing from a low base – with a 32% increase in demand for mortgages in the first quarter of this year, according to the ECB's latest quarterly lending survey. However, he warns that demand in this market could be hit because, before the end of the year, the Basel Committee is likely to call for further increases in the amount of capital to be set aside for household mortgages. 
This is one of a range of likely proposals in an expected further tweaking of the international banking rules, nicknamed 'Basel IV' within the industry, which are imposing further pressure on bank profitability in the cause of safety. Basel IV reinforces a sense that one reason why banks are no longer the great profit generators of the past is precisely because they are safer.
Vrouwes adds that the harsh economic backdrop is also exerting downward pressure on banks' fees.
Interest rate margins are low because of the ECB's ultra-loose monetary policy, which has left the euro-zone's bond market looking flat. "In general, banks make profits by borrowing at the short end of the curve, lending at the longer end, and taking the spread," says von Türk of Lombard Odier. "With a flat yield, that's going to be very difficult." Banks also find it hard to pass on the negative rates that the ECB charges them to deposit money, by levying negative rates on customers – in effect, charging customers to deposit money with them.
One way of responding to pressure on revenues is to crack down on costs. "Banks have worked very hard at reducing costs," says von Türk. "In the Benelux countries, for example, they've reduced branch numbers considerably." Further reductions are possible, she says: "We're seeing customers moving increasingly away from branches and towards mobile and internet banking. If this reaches a tipping point, it becomes very feasible to close a lot of branches."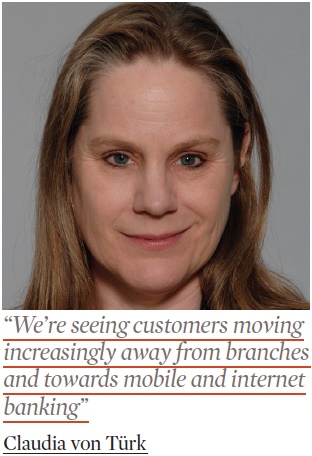 Vrouwes warns, however, of the limits to a strategy based on parsimony. "You can reduce costs, but the profits generated by a lower cost base probably have to be reinvested," he says. "You need educated personnel and new systems. You need to invest or you're out of business."
One bright spot, at least, in banks' quest for profit, is that in most cases the volume of their non-performing loans has come down since the financial crisis has eased – reducing the value of write-offs. 
However, a closer look at the euro-zone banking picture reveals some darker tones. Philippe Waechter, chief economist at the headquarters of Natixis Asset Management in Paris, enthuses about the balance sheet health of northern European banks. However, "the legacy of the past has left some banks in Italy and Portugal in a fragile state, because of their non-performing loans", he adds. The high number of bad loans in these countries has impeded banks' ability to sustain the economy with new loans.
One solution ardently desired by politicians and bankers in Italy and other peripheral euro-zone states is full banking union, including a pan-euro-zone deposit insurance scheme, to shore up confidence in peripheral euro-zone banks. Monica Defend, head of global asset allocation research at the Milan headquarters of Pioneer Investments, describes banking union as "a top-down game changer". She warns: "We need to speed up banking union or we will see an increased risk of collapse in the euro-zone's potential output"– the productive capacity of the economy. 
But not everyone sees the banks as the linchpin of the euro-zone economy. "In the world of information we live in now, it's much less obvious that banks have a critical function as intermediaries between borrowers and lenders because they understand what's needed," says Peter Westaway, London-based chief economist and head of the investment strategy group at Vanguard Europe, part of the US asset manager Vanguard. In the past few years, there has been a rapid rise in direct lending by private equity firms and asset managers in Europe. Westaway's conclusion: "In a very well-functioning market, you can almost say: 'Banks? What do you need them for?'"