Dutch funds slow on diversity
Some funds are making symbolic appointments as they struggle to meet requirements on board level diversity, Leen Preesman finds 
Board diversity is becoming an increasingly important topic for the Dutch pension sector. Most of the country's 320 pension schemes are far short of the requirement of having at least one woman and at least one trustee of under 40 on their board. Progress is painstakingly slow, and 'grey' men still overwhelmingly dominate boards, although the Pensions Federation is to publish guidance to assist pension funds in implementing mandatory diversity requirements.
A survey in 2014 into gender diversity at board level among the 200 largest Dutch pension funds – covering 99% of total pension assets – showed that more than 35% had no female trustees at all. Moreover, 60% of the schemes lacked trustees aged under 40 on their board. The situation had not changed since 2011, say the researchers – Fieke van der Lecq, professor of pensions markets at Amsterdam's Free University (VU), Lin Shi and Laurens Swinkels.
Gender diversity had hardly improved since self-regulation was introduced in 2010, they concluded. At the time, 63 of the 100 largest pension funds had at least one female on their board.
In 2010, stakeholder groups signed a covenant promising that they would increase board diversity based on age, gender as well as ethnic background. On 1 January 2014, the covenant was replaced by the legally binding Code for Pension Funds, drawn up by the Pensions Federation and the Labour Foundation (STAR). The code is subject to a 'comply-or-explain' principle, but no longer includes ethnicity.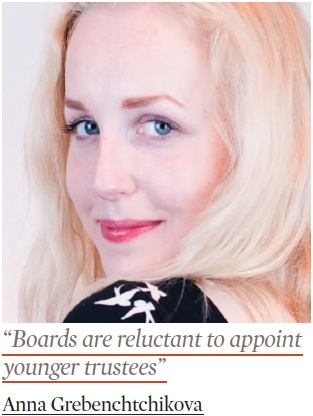 At the time, the code's monitoring committee concluded that as many as half of pension funds had not made concrete steps towards diversity, despite a policy being in place at 85% of the schemes. To the committee this was reason to emphasise the role of internal supervision in encouraging boards to implement diversity. It also stressed that living up to the spirit of the code was more important than its absolute implementation.
The survey by Van der Lecq, Shi and Swinkels indicated that large boards were more likely to meet the diversity criteria. Larger pension, funds however, were less likely to have young board members. The authors assume that experience was more important to large, usually industry-wide, schemes.
They also suggested that pension funds made symbolic board appointments, noting that seven boards had one member who met both diversity criteria simultaneously. "The schemes had added young women to meet both criteria without affecting the board structure," they observed.
In addition, out of the 26 schemes with a female trustee aged under 40, only four had two other board members who were either female or young. Van der Lecq, Shi and Swinkels warned that pension funds with such a "token" had made themselves vulnerable, "as all diversity will disappear when she leaves".
Board members
More recent research by the television programme NOS op 3 found that less than 30% of Dutch pension funds had one board member under the age of 40. An additional study – conducted by Whyz, a headhunting consultancy for the financial sector – found that about 20% of younger board members were not given time off by their employers for board positions at pension funds.
"Pension funds should point out to the sponsors that having a seat on the board or accountability council is also an opportunity to develop skills for their staff," says Bram van Els, spokesman for the Pensions Federation. He adds that several pension funds already offered talented young people an opportunity to gain experience by participating in their boards' activities.
Van Els denies that companies' level of co-operation would depend on financial considerations, "as pension funds do compensate the employers for the time a member of staff spends on the board". He also argues that ever-increasing supervisory requirements for board expertise would make the search for suitable candidates even harder. "And the fact that many people in their 30s are in the 'rush hour' of their lives – work and family-wise – doesn't help either."
Pieter Riedstra, director at Whyz, says he finds boards often pick candidates from their own network, in which young people are under-represented. Anna Grebenchtchikova, a 25-year-old board member at the pharmacy sector scheme PMA, agrees. "Boards are reluctant to appoint younger trustees," she says. In her opinion, the real problem is that boards prefer to source candidates from their 'old boys' network.
She points out that supervisory requirements were no stricter for young candidates: "This group usually has a 'better grasp' of the matter, as many have jobs in the pensions sector." However, she concedes that young candidates have less experience in actual governance.
Grebenchtchikova is the product of PensionLab, an initiative of the youth branches of the unions FNV, CNV and VCP, and intended to serve as a think tank for the future of the pensions system. So far, PensionLab has delivered two supervisor-approved candidates. Its 'hatchery' currently comprises more than 20 people who are receiving training to become a qualified member of a pension fund's board or one of its committees, such as for accountability or internal supervision.
Last year, FNV, the largest trade union in the Netherlands, introduced a policy that favours women, young workers as well as ethnic minorities to fill its allocated seats on pension funds' boards and accountability councils. It will only appoint older men if no representative from one of these groups can be found. 
Gerard Roest, who co-ordinates the appointments, emphasises the importance of the presence of women for balanced decision-making. "Sometimes they look at things from a different angle," he points out. "The same goes for people with a different ethnic background. And we need both young and older workers on the board to make the generations aware that their interests are not in conflict." 
In the meantime, the FNV has appointed three female members, two of whom are under 40, on its 20-strong team of professional trustees, which now comprises nine women. Each member of the team is on the board of up to four pension funds. Together they occupy about 60 seats.
In addition, 30 FNV-affiliated negotiators for collective labour agreements (CAOs), including some women, occupy about 40 seats on pension fund boards. Three of them represent ethnic minorities. "We have not been able to find new candidates within this group so far," says Roest. "Finding suitable candidates is difficult, as they must have sufficient skills and must also be a member of our union." Although pension funds decide on the appointment of its board members, it is up to the union who it nominates. 
Female trustees
From a different perspective, the Dutch association of women in institutional pensions (ViiP) is encouraging pension funds to increase the number of female trustees. The networking organisation has more than 250 members, not only at pension funds, but also at asset managers, supervisors and consultancies.
"Our goal is to have at least 30% of women represented on pension funds' boards as well as its committees," says Irene Vermeeren of the ViiP and a pensions lawyer at Jones Day. She says that its members use the organisation for knowledge-sharing and that pension funds often approach the ViiP if they have vacancies.
To encourage pension funds to appoint women, the ViiP has established the Golden Stiletto Award for organisations that have contributed most to diversity within their ranks. So far, the biennial award has been be granted to the €359bn civil service scheme ABP, the asset manager Robeco and the pensions provider and asset manager TKP.
Before issuing new recommendations, the monitoring committee says it will carry out a new survey into pension funds' compliance with the Code for Pension Funds later this year.