UK Trustees: The skills required for effective governance
A survey has found that clear communication and good administration top the governance wishlist for trustees
KEY POINTS
Winmark and Sackers have conducted a survey of trustees and pensions experts to gauge their view on the key principles of effective governance.
An open and collaborative board culture was seen as a key part of governance.
If the relationship with the sponsor has broken down it will be difficult to achieve positive outcomes for members.
Participants also identified building constructive relationships with external advisers as an important governance element.
Good governance is vital in achieving good outcomes for members. The issue of governance is high on the trustee agenda, especially following the Regulator's 21st Century Trusteeship and Governance discussion paper, published last year.
In light of this increased focus, Winmark and Sackers have carried out a survey of trustees and pensions experts with a view to understanding the key principles that underpin effective governance.
The report, Effective Governance – The Art of Balance, is based on 84 responses and 13 in-depth interviews with trustees and pensions experts.
Participants were asked which factors enable or prevent good governance in their own schemes. They mentioned commitment of the trustees more often than their pensions expertise. 
This may well reflect the idea that knowledge can be acquired but commitment has to be present from the outset.
Trustees' commitment can be evident, for example, in good preparation for trustee meetings, and coming to the meeting ready to discuss the issues. Trustees can be helped in this with a well-structured agenda and accompanying papers, but it is invaluable if all trustees are committed and engaged, because this makes for the best discussions, which are driven by the trustees themselves.
It is apparent that, in practice, boards are at their most effective when all trustees display traits such as:
Actively participating in discussions;
Seeking clarification when needed;
Absorbing and analysing information;
Willingness to critically question and challenge advisers;
Being assertive without being aggressive;
Using informed judgement and common sense in decision-making.
This applies to lay trustees as well as professional trustees. Some survey participants thought there may be a risk that lay trustees could interpret the involvement of professional trustees as a sign that they themselves could take a backseat. This is rare and that is how it should be, because the best boards combine the skills sets and different perspectives of everyone involved. 
Trustees need to identify knowledge gaps and be prepared to highlight areas where training is required without any worry that this exposes a lack of understanding in a particular area.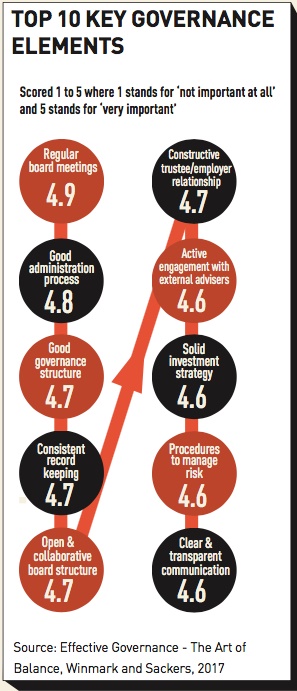 An open and collaborative board culture was named as one of the key governance elements. This is an atmosphere which encourages trustees to participate and allows challenge. Ensuring trustees have the right skills and attitude is important, along with having a chair who guides and facilitates the discussion. Indeed, it was recognised that the chair can play a unique role in influencing board culture and in setting expectations and standards. The regulator recognises the importance of this role, and identifies having a strong chair as a key contributor to an effective trustee board. 
In working with boards on governance and decision-making,  this plays out in practice. Where there is an open and constructive culture, there is engagement and willingness to contribute. All this combines in achieving effective decision-making and boards that are well placed to meet the challenges that running a pension scheme brings. 
The quality of trustees is one of the key strengths to which boards attribute strong performances on governance. Yet there was little consensus from participants about the types of trustees that deliver that strength. Opinions were divided about the importance of including professional trustees on a board. For example, 35% of survey participants say it is very important to have at least one professional trustee on a board, while 15% say this is not important at all. 
Arguments by advocates of professional/independent trustees tend to focus on the importance of their expertise and experience to help the board with complex decisions. At the same time, many participants valued lay trustees who can keep the board pragmatic and focused on members' interests as well as contributing important knowledge about the organisation. Both have a valuable contribution to make.
Board diversity in terms of gender, ethnicity and age was not considered to be relevant by most participants on a rating of key governance elements. However, difficulties in recruiting trustees mean that there are often not many candidates to choose from. This makes achieving diversity challenging. Categorising it as being less important than other governance areas does not necessarily mean that diversity is being ignored. 
A board of high-quality trustees may have strong governance structures and work well together, but if the relationship with the sponsor has broken down it will be difficult to achieve positive outcomes for members. 
The relationship and balance of power between the employer and trustees varies from scheme to scheme. Nonetheless, there is a consistent theme that relates to the importance of the relationship with the employer, and the challenges trustee boards face in getting it right. 
Employers will weigh up the cost of providing benefits and meeting scheme expenses alongside other priorities, such as investing in the business and paying dividends to shareholders. 
Trustees are there to protect members' interests but in doing so they need to be aware of the employer's circumstances. They want to make sure members get the best possible results but avoid damaging the stability of the employer or creating an adversarial atmosphere which results in deadlock. There is a balance to be struck and both short-term and longer-term issues need to be considered.
Respondents to the survey suggested being open with the sponsor about the circumstances of the scheme. That works both ways, of course, with it also being important for trustees to receive regular updates from the employer on covenant and plans for the business. 
A culture of openness and an understanding that information sharing is valuable and that information shared must remain confidential support good relationships. Where working relationships could be improved, it is well worth trustees considering how best to do this and being willing to make the first move.
Participants also identified building constructive relationships with external advisers as an important governance element. They suggested bringing them into meetings and asking them to work together to deliver holistic integrated advice – for example, across actuarial, legal and covenant aspects of a particular decision. 
This is an approach that makes sense for schemes and their advisers – it will result in relevant and accessible advice, and avoids repetition or anything falling between the cracks. Trustees should also ensure they challenge advice when appropriate and that they are getting value for money from advisers by reviewing the market and introducing specific metrics where appropriate. 
Trustees need to communicate well with each other, the employer and their advisers. They also need to communicate well with members but this was something that research participants felt they were not addressing as well as they would like. This was seen as a particular problem in defined contribution (DC) schemes where people have to make decisions from the outset and we expect this to be an area that will be worked on.
The report's key recommendations are that trustees should ensure they close any knowledge gaps, build an effective working relationship with the employer and use metrics to measure adviser performance and ensure advisers are delivering value for money. 
A focus on soft skills across the trustee board will help trustees achieve these goals.
Joanna Smith is an associate director at Sacker & Partners