Special Report Risk & Asset Allocation: Another dimension
Charlotte Moore examines how practitioners are looking to integrate risk factors in multi-asset portfolios that goes beyond traditional risk parity 
At a glance 
• Using risk-balanced investment factors across a multi-asset universe should produce a well-diversified portfolio with the ability to generate smooth returns.
• Managers should only select factors with a genuine long-lasting ability to generate risk premia. Long/short implementation is also required.
• The volatility and correlation of factors should be closely examined and frequently monitored to ensure each makes the right risk contribution to the portfolio.
• The performance statistics of these nascent strategies are promising but longer-run data will be needed to persuade investors this is a valid way to build a portfolio.
Portfolio construction is never static – it evolves as different techniques are explored and new tools are developed. One such innovation is the application of 'smart beta' techniques to multi-asset funds. This investment strategy has its genesis in both the development of investment risk factors and the use of risk metrics as a portfolio construction tool.
This approach could be particularly useful in the present low-growth economic environment, which is likely to be interspersed by choppy periods, such as the market correction witnessed at the start of this year.
A multi-asset, risk-weighted portfolio could represent a useful solution for this particular environment as it gives investors access to a much broader universe of potential sources of return. This is especially important when traditional risk assets are not producing the level of returns they have done historically. In addition, diversification and the use of risk metrics both help to keep a lid on volatility and generate smoother returns.
But rather than using traditional risk parity techniques, managers are instead diversifying across a range of different investment factors.
Yazann Romahi, global head of quantitative research for multi-asset solutions at JP Morgan Asset Management, says: "While risk parity is an excellent portfolio construction technique, the underlying building blocks used in most risk parity funds could be improved." By using investment factors, investors can access specific risk factors that have been shown to deliver better returns than the market. Romahi says: "A portfolio allocated to factors rather than assets is much more diversified."
This portfolio construction technique also allows investors to target a specific risk-return profile. "This strategy can target a particular risk level and generate a risk and return profile that is much more precise than a traditional portfolio," says Javier Rodriguez-Alarcon, head of quantitative investment strategies at Goldman Sachs Asset Management.
Construction of a portfolio based on investment factors starts with the decision on which ones to include. This is not an exact science. "Different managers have different views on which investment factors are genuine risk premia and more likely to produce diversifying returns," Romahi says.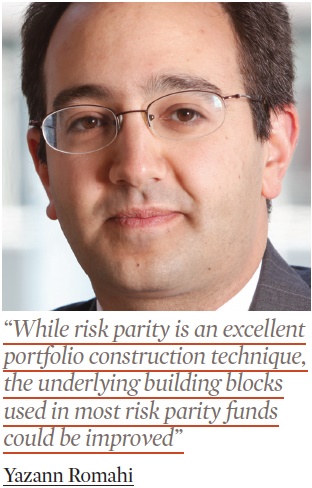 Once the manager has identified the risk factors, these then need to be mapped into asset classes to build the portfolio. Some of these investment factors can be applied to different asset classes, while others will only apply to one. Romahi points out, for example, that the small-cap risk premium applies both to equities and convertible bonds, while momentum only applies to equities.
Once the factors and asset classes have been identified, managers then need to ensure they implement the best strategy to capture as much of that risk premium as possible. Romahi says: "The best way to capture each investment factor is to use a long/short strategy." If not, he adds, the portfolio would have too much exposure to market beta. Rodriguez-Alarcon agrees. He says: "By implementing each factor using a long/short methodology, the manager ensures they are only accessing the targeted risk premium."
In addition to capturing investment factors in the most effective manner, managers also want to ensure each makes an equal risk contribution to the overall portfolio. The best way to implement this is to look at volatility and relative correlations of each strategy. Luc Dumontier, head of factor investing at La Française Investment Solutions, says: "For example, equity value and FX carry are highly correlated." In other words, these are both cyclical factors which are influenced by the market's attitude to risk. 
"By examining the correlations of seemingly different investment factors, the manager can identify which are exploiting similar characteristics," continues Dumontier. A portfolio can still use both equity value and FX carry but the weightings of both should be reduced to keep their individual risk contribution to the total portfolio at the right level, he adds.
"These portfolios give similar access to strategies which have traditionally been only available from hedge fund managers"  
Javier Rodriguez-Alarcon
Once all the different correlations of the different factors to each other has been identified, the manager might well find that the original universe of about 30 different factors has contracted down to only 10 strategies, as many may be different variations of the same theme, Dumontier points out.
These correlations cannot simply be set and forgotten, as the relationship between different factors will change over time. Dumontier notes that there is currently a high correlation between low volatility and momentum stocks, for example. But between 2002 and 2007, when value outperformed growth, there was a positive correlation between momentum and value stocks.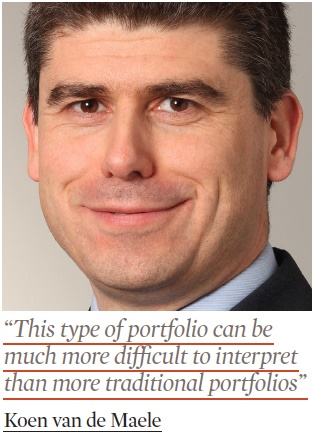 This shift in correlations and the changing relationship between different investment factors mean this type of portfolio must be dynamically managed. Dumontier says: "The managers must have the necessary tools to pick up these changes and act swiftly when they occur."
Not only can this type of portfolio allow investors to access investment factors across a wide range of asset classes while using a risk-balanced approach, it also provides a cheaper, more liquid and more transparent alternative to a hedge fund allocation.
"These portfolios give similar access to strategies which have traditionally been only available from hedge fund managers," says Rodriguez-Alarcon. The match will not be perfect but will give some overlap, he adds.
For some managers, however, the similarities of this strategy to a hedge fund portfolio make it hard to convince investors of the strength of this concept. Koen van de Maele, global head of investment engineering at Candriam, says: "This type of portfolio can be much more difficult to interpret than more traditional portfolios."
For example, the portfolio might have a 40% allocation to equities at a particular point in time. "However, this position does not mean that manager is either more positive or more negative on equities than they were six months ago," van de Maele says. The equity position is simply the by-product of the relative positon of different investment factors, he adds.
Investors prefer strategies that they find more intuitively easy to understand and will avoid those that seem confusing or overly complex, van de Maele says. "Some investors will have a problem with this concept and will need to see evidence this portfolio can produce consistent, smooth absolute returns with a low correlation to individual asset classes," he adds.
While the intellectual rationale for using this portfolio technique is persuasive, institutional investors are ultimately interested in strategies that will enable them to generate decent absolute returns with limited volatility.
Rodriguez-Alarcon says: "We launched at the start of the year and, despite a choppy market performance, our portfolio generated gross returns of 3.1% during the first quarter." This was a better performance than most hedge fund strategies over the same period, with management fees of 80bps rather than the typical two-and-twenty charged by hedge fund managers. Phil Tindall, director of investment at Willis Towers Watson , adds: "Our strategies have delivered very smooth returns close to objective over the last two and half years."
While the initial performance metrics are promising, it is still early days for these strategies. And for those more intuitive investors who will need more long-run data before they commit to these strategies, it might well be some time before these strategies garner significant assets.
Investment factors explained
Factor investment strategies, often described as 'smart beta', have become popular in recent years as they have become cheaper and easier to implement. But, for all its recent popularity, this investment theory is far from new; this is a phenomenon that has been explored in academic literature for decades.
At its simplest, a factor is a particular characteristic of a group of stocks that helps to explain their return and risk profile. Investors are only interested in those characteristics which give a group of assets a long-term risk premium.
Most investors are familiar with equity investment factors, such as value and momentum. Toby Hayes, portfolio manager of the Franklin diversified income fund, says: "One of the first risk premia to be identified, however, was commodity carry, which John Maynard Keynes spotted in the 1930s."
The existence of commodity carry shows that investment factors are not confined just to equities but can span several different asset classes, including fixed income and foreign exchange as well as equities and commodities.
The interest in factors has caused an explosion in the number of risk premia, across multiple asset classes, identified by academics and investment managers. Fund managers now have a large range of factors at their disposal.
But it is unlikely that all of these newly identified factors are all distinct strategies – many may indeed be different expressions of one underlying characteristic. Before allocating capital to a particular investment factor a fund manager needs to ensure the risk premia will persist in the future.
Javier Rodriguez-Alarcon, head of quantitative investment strategies at Goldman Sachs Asset Management says: "A manager wants to avoid allocating capital to a strategy which is only an ephemeral trend."
That can be ascertained by looking for an explanation of the existence of the risk factor. There could be an economic, behavioural or market structural reason that a particular risk premia exists. For example, smaller companies are a riskier investment because they have a narrow business model and are more prone to go out of business if just one thing goes wrong.
"There needs to be an empirical robustness to the strategy," Rodriguez-Alarcon says. Once the manager has determined that there is a sound reason for the existence of a particular risk factor and there is historical evidence of its existence, the manager needs to be satisfied this anomaly will persist and remain consistent, he adds.
PAGES IN: SPECIAL REPORT RISK & ASSET ALLOCATION: ANOTHER DIMENSION