Interview: China – the new frontier for Hooley
State Street's CEO Jay Hooley has found inspiration in China's digital strategies, but doing business there has proved tough. Interview by Joseph Mariathasan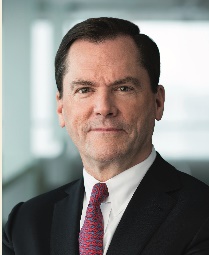 China may not yet be an important source of revenue for State Street but its influence on the company's future strategy is profound. For Jay Hooley, chairman and chief executive officer of State Street Corporation, meeting China's internet commerce firm Alibaba and its financial services subsidiary, Ant Financial Services, a few years ago was, as he describes it, an "aha" moment. 
China provides a vision of what could be happening in developed markets, as companies such as Alibaba have leapfrogged beyond the legacy technological infrastructure and related business processes that underpin the financial services markets in the developed world. 
Alibaba, on the back of its e-commerce business, created a payments company and did some relatively straightforward analytics to determine credit rating scores. That meant a shopper could go into a store and the retailer could dynamically determine their credit rating and immediately determine whether they could buy a TV or washing machine. 
For Hooley the fascinating thing was that it applied to 200m customers, all in real-time, running out of a public cloud. 
As a custodian bank still looking at securities transactions in developed markets which can take days to settle, Hooley argues that the developed market financial system is in desperate need of transformation. 
Some 80% of State Street's revenues come from asset servicing in the form of custody and associated activities, the remaining from fund management. It, and its peers in the US are responsible for the servicing and custody of capital market assets and, as such, provide the plumbing  that keeps global capital markets working. But could new technology such as blockchain destroy their business models? Digitising State Street's activities represents both a defensive and an offensive strategy for the firm's future existence. Many others such as front office providers and technology firms are looking to satisfy data analytics requirements. 
"The data analytics strategy is undertaken so we don't get pushed into just the back office," says Hooley.
Jay Hooley 
2010-present: chairman and chief executive officer, State Street
Board member, Federal Reserve Bank of Boston and a member of the Financial Services Forum in Washington, DC
2008-10: president and COO, State Street, heading asset servicing, trading, securities operations and corporate technology
2000-08: head of global investment servicing, State Street; appointed vice-chairman in 2006
1990-2000: president and CEO, Boston Financial Data Services
1988-90: president and CEO, National Financial Data Services
First joined State Street in 1986
For Hooley, when it comes to this digitisation, the strategy is not that complicated. The difficult part is the execution. How can traditional firms that have developed over many years  be transformed? Hooley sees China  as an experiment that provides a vision of what could happen. China's internet companies, including the likes of Alibaba and WeChat, have produced a completely different ecosystem to developed countries. 
"We need to get there. If it weren't for the fact that many of these industries are heavily regulated in developed countries, they probably would have been disrupted long before this," says Hooley. But he concedes that while the regulatory net that surrounds some of these  developed market financial services is a complication, it also gives some benefits to those within it. 
This possibly existential challenge facing State Street led the firm to start a substantial 10-year initiative,   investing $1bn to transform its processes, remodel its systems and move them onto public clouds. Hooley sees the initiative, entitled 'Beacon', as transformative. The traditional activities of the firm have been in settling securities trades, providing the accounting and then asset valuations and more recently middle-office services. 
"Our first volley in the digitisation war is to become that data aggregator"
The new frontier for State Street, says Hooley, is to be an aggregator of data, not just for the services it provides but for all the data that is involved for an asset owner and an asset manager. Most firms have a mishmash of data that comes together in different forms and formats with different time sequences which makes it difficult to extract meaningful insights from the analytics platforms. 
"Our first volley in the digitisation war is to become that data aggregator," says Hooley. State Street's new DataGX product accumulates data from clients' assets not only in the same format, but as close to real time as possible. 
The firm can now deliver analytics capabilities that benefit from a clean source of real-time data, explains Hooley. It is a huge task but, as he argues, who better than a custodian bank to attempt it? State Street is now six years into the initiative digitising its own data sets and bringing them closer to real time. "It is the inevitable direction this business is going at. We plan to be one of the players in that data aggregation game." 
If execution is key to establishing a new digital future, then keeping pace with the incredible speed of technological advancements is a prerequisite. Blockchain-distributed ledgers are not going to destroy custodian businesses but Hooley does see them as particularly important ingredients of future solutions. The same thing is true for machine learning, robotics and artificial intelligence. State Street has attempted to keep abreast of these developments by setting up an Emerging Technology Centre (ETC) which is centred in multiple locations – Cambridge, Massachusetts and Austin, Texas among other places. It has become a focal point for fintech firms with products that are of potential value. 
One example is Project Pharos, undertaken in conjunction with a US tech firm. It is a mobile fintech solution aimed at risk management staff within financial organisations. 
The project is based on the idea of using a combination of machine learning, algorithms and human expertise to identify and make meaningful connections between news and user portfolios. It can then provide a customised measure of their potential effect. 
"Our experience was in knowing what the risk managers needs were as well as knowing the data and the data models that we were building. These were combined with the fintech expertise of the outside firm. It was a perfect combination of experiences and contemporary skills and technologies," says Hooley.  
While China has provided an inspiration for Hooley, undertaking business in China has proved to be more difficult with State Street abandoning a joint venture with Zhongrong International Trust set up in 2013 to provide domestic fund management in China. Yet, there is no doubt that China will continue to play an important role in the development of State Street's digital future. 
Of all the large emerging markets, China is gaining the most attention. Its internet ecosystem is proving to be a source of ideas. 
It can only be a matter of time before State Street tries again to enter China's domestic fund management markets.