The corporate bond market has gone nearly full circle in the past decade, and investors find themselves in an environment that looks disturbingly similar to 2005-06, with narrow spreads, compressed differentials across ratings, and rising event risk.
In the five years 2009-13, investment-grade corporate credit generated nominal returns in the aggregate of 44.1% and excess returns in the aggregate of 31.6% (positive returns in four of five years for both), as option-adjusted spreads declined from 555 basis points on the Barclays US IG Corporate index to 114 basis points.
This period of exceptional corporate performance represented the 'repair' and 'recover' phases of the current credit cycle. Conning believes that the corporate credit cycle is currently in the 'reach' phase, where leveraged buyout (LBO) and merger & acquisition (M&A) activity tends to thrive.
With this in mind, it is important for investors to be aware of these risks and take actions to protect themselves from the impact of LBO and M&A risks on their investment portfolios.
Cycle
The recurring credit cycle describes the relationship between economic growth and risk appetites, for both issuer and investor. The cycle consists of four distinct stages (see figure). These are:
• Recover: the best of times, with a strengthening economy and improving corporate fundamentals. Risk is low, and investors are fairly compensated.
• Reach: companies stretch for earnings growth and investors for returns. Risks are taken without adequate compensation. Excesses build.
• Decline: the period of reckoning, when the excesses of the prior phase are painfully unwound.
• Repair: risk-aversion peaks, as companies retrench and investors seek to protect principal. A time of opportunity for investors able to look through the near term.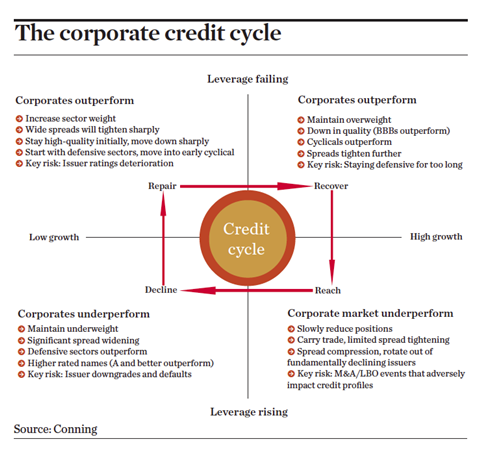 Conning believes that the US market moved into the reach phase of the credit cycle in 2013. This phase is characterised by increasing risk appetites and a shift in focus from strengthening the financial profile of companies to rewarding shareholders. Companies get more aggressive on both the M&A and capital-structure fronts, while investors become more complacent about risk. As the reach phase matures, the balance between risk and reward worsens. At some point, investors need to step back from risk; the challenge is in the timing. Too soon, and investment income suffers. Too late, and investment losses occur.
Conning believes that the reach phase of the current credit cycle is likely to extend for several years, and the income pick-up investors earn on corporate debt in the current low-interest-rate environment more than compensates for the rising level of event risk. But when interest rates start to rise, the income premium for corporate debt will start to shrink, making corporate debt less attractive versus other fixed-income alternatives.
Event risk
In this stage, fixed-income investors need to watch for idiosyncratic event risk in the form of M&A and LBOs, which pose the largest risk to investment grade corporate issuers and investors.
Rating downgrades to bonds can be severe, with a commensurate negative impact on bond prices (especially for long maturity paper) and investors are left with few options, none of them favourable.
Change of control covenant protection is one of the best defences against an LBO event, but even here the loss can be severe if a bond was purchased at a price substantially above the standard 101 put price. The protection does not extend to a management decision to boost financial leverage.
LBO and M&A activity thrives in an environment of low interest rates, ample credit availability, available pools of private equity, and higher risk tolerance. All of these factors exist today. Conning expects the increased pace of M&A/LBO event risk, already observed in 2014, to continue.
Some corporate sectors are immune to LBO or M&A events that dramatically weaken the pro-forma credit profile of the acquiring entity, a result of already-leveraged capital structures and/or highly regulated operating environments. Banks and utilities fall into this category; they are viewed as safe havens from this type of risk.
While there is no way to avoid all potential events, Conning recommends a two-pronged approach to minimise the impact:
• Name diversification and issuer concentration limits in portfolios.
• Screening for issuers with characteristics (size, leverage, equity performance versus peers) that make them potential candidates for a leveraging event.
Additionally, closely monitoring the public statements of senior management and the holdings of activist investors offers indications of companies that could experience a leveraging event.
Although, Conning believes that it is too early to move into a completely defensive posture, one of the most effective actions that can be taken over the next one to two years is selective portfolio pruning, actively weeding out issuers with weaker business models or financial profiles. The current environment of tight and compressed spreads is not rewarding investors for taking additional risk, so investors should start to slowly reduce the risk profile in their corporate portfolio, rotating into corporate sectors with less event risk and issuers with stronger and more robust financial profiles.
Such a strategy, carried out in a measured fashion, will minimise the near-term income impact while starting to position investor portfolios to protect principal when the decline phase of the credit cycle inevitably comes around the corner. This approach will enable investors to take advantage of the opportunities that will occur when other investors are forced sellers.
Joseph Mayo is a managing director and head of credit research at Conning