Merger and acquisition (M&A) activity last year hit its highest level since 2007. Equity market performance has been strong for a number of months, driven by multiple expansion – which means that, compared with a year ago, investors are paying more for the same earnings.
This puts pressure on management to deliver earnings growth and there are many ways to do that, such as selling more, getting better at what they do and growing their businesses organically.
"But it struck us that we are also in a very supportive finance position," says Richard Ryan, senior institutional public debt manager at M&G Investments. "Corporate bond yields and interest rates are extraordinarily low and markets are open to fund businesses. All the incentives are in place for you to not just organically grow but also buy in a new earnings stream to supercharge your earnings growth."
Buying in earnings growth through M&A has a direct impact for institutional bondholders.
"We purchase bonds with a long time view on what the credit profile of that company is, how secure that company is in repaying interest and principal," Ryan explains. "You want a monopolistic company with a stable earnings stream for ever more. What is worrisome, are transformational deals – those that change the credit profile of those businesses, either positively or negatively."
An institutional bondholder's perspective on M&A activity is largely coloured by whether that investor is an investment-grade or high-yield investor, explains Peter Aspbury, European high-yield portfolio manager with JPMorgan Asset Management.
"Generally, M&A is a negative event for investment-grade bonds, as companies often increase their indebtedness to fund acquisitions," he says. "In high-yield, M&A frequently causes credits to enter our universe and, equally, M&A activity can be the way issuers leave our universe."
Covenants and 'portability' features become increasingly important for bondholders as M&A picks up. Aspbury says: "In terms of managing risk in a bond portfolio, it's important to distinguish the likely acquirers from the acquirees and then to determine what protections, if any, are afforded in the bond documentation."
Bond covenants can include key defence mechanisms that impose limits on an issuer's ability to either acquire or dispose of assets. They can also protect bondholders' downside if the business is itself acquired, by granting investors the option to put their bonds back to the issuer.
"Bonds that were originally issued in the investment-grade market have historically lacked such protections and can leave investors vulnerable to M&A-related risks," Aspbury warns.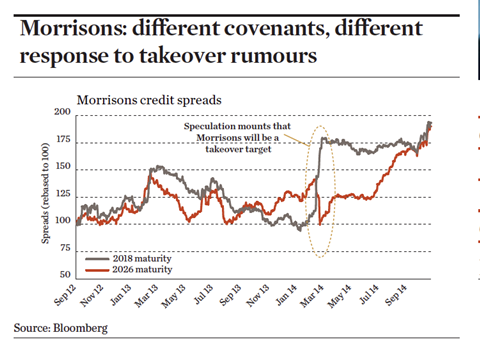 Ryan refers to the importance of covenants in a recent paper, citing the case of UK supermarket chain, Morrison's bonds, two of which feature 'change of control' covenants, giving bondholders the flexibility to sell the bonds back to the issuer, where the others do not. The performance of the bonds has been radically different since takeover speculation began in 2012.
By contrast, some bonds, especially in the high-yield sector, have new portability features that, within certain limits, leave the bonds in the capital structure after a change of control. These are becoming common.
"Portability can make a business even more attractive to an acquirer if it means that the target business comes with cheap, locked-up, long-term funding," Aspbury says. Clearly, it is not such a good thing from the creditor's perspective, as they can become exposed to an entirely different kind of credit risk than the one it made allowance for when it originally lent.
Another defence mechanism for companies involved in M&A is the convertible bond, a bond that the holder can convert into equity or cash.
"Convertible bonds typically do better in event of a takeover," argues Mark Latham, convertibles product specialist with CQS. "When a company is bid for, the equity goes up in price and, as owner of the convertible, you participate in the equity price more than a straight bondholder."
Beyond that, the ratchet feature of a great number of European convertibles increases the participation. In these cases, an additional protective device increases the number of shares investors can convert in the event of an exchange of control in a company.
Do investors need to get defensive? It is becoming clear that this boom in M&A is driven by different factors from those in previous upturns, as the corporate world continues to struggle with the fallout from the 2008 financial crisis. Uncertain of the future, many corporates are playing it safe and doing their housekeeping, rather than expanding through aggressive and expensive M&A campaigns.
Co-head of global credit research at ECM Asset Management, Duncan Warwick-Champion says: "We think that the vast majority of management teams across Europe remain conservative and haven't significantly increased their capital expenditure or adopted more aggressive financial policies because they still have an opaque view of what the future looks like." He believes that while many companies are struggling to grow their top line organically, they are back to strategies employed in 2005-06.
"Some are going the acquisition route but the vast majority are doing it in a credit-friendly way with M&A proposals that include a large equity component," he says.
"Large corporations are shedding parts of their business, which is not worrisome for bondholders as it tends not to be value-destructive," says Ryan. "Cash coming in is fine and it depends what you are doing with that cash, but if you reduce debt, then you are enhancing your credit profile."
All this housekeeping has resulted in a wave of M&A that hasn't offered much risk or reward to corporate bondholders looking for more excitement.
"The leverage buyout scene in Europe is anaemic," says Aspbury. "LBOs once fuelled issuance but now the European high-yield market's primary purpose is to refinance legacy buyout debt or debt from fallen angel credits."
The "transformational deals" that would most concern an investor like Ryan are simply not happening at the moment. Still, Ryan believes that now is the point when bondholders want to ensure their portfolios are in good shape because M&A transactions are a standard long-term feature of markets.
"If you fast forward a year or two, management will be sitting there with cash on their balance sheets and bond markets open to transactions, thinking: 'We should do this'," he warns. "It only takes one or two large transactions for everyone to think we should buy somebody. Today is the right time to prepare because the moment M&A speculation rises again every strategist will send out lists of potential targets and bond markets will react."