The charts on this page, which you will find illustrating articles elsewhere in the January 2015 issue of IPE, tell of the M&A cycle that we explore in this month's special report.
The first shows the share price of Dutch animal feed manufacturer Nutreco. The year up to mid-October 2014 had been a tough one for the firm. Most significantly, one of its major customers, Marine Harvest (part of which Nutreco used to own), decided to make its own salmon feed. Short-termists looking for the next opportunity pushed its shares low enough to become attractive to bidders. Family office SHV Holdings kicked things off, and the stock went soaring further when private equity titans Cargill and Permira entered the ring, too. Long-termist fund managers who held on this year saw their bottom lines enhanced no end by this development and others like it.
The second chart shows the sharply divergent price action of two bonds from the same issuer – embattled UK supermarket chain Morrisons – in response to rumours that leading US shareholders had been approached with private equity bids. The retailer's vast real estate portfolio had started to look like a mouth-watering prospect at early-2014 prices.
As Morrisons' stock popped up, so did its 2026 bonds – even as its 2018 bonds were dumped. Why? The former includes change of control covenants that allow bondholders to sell the paper back to the issuer at par; the latter doesn't. Get stuck with a bond after a takeover and you can find yourself lending to a business with a completely changed credit profile, while receiving exactly the same coupons: inevitably, the market will adjust the yield for you.
In short, when animal spirits take over and corporate management gets the urge to go shopping, the ownership of huge amounts of future cash flow can change hands, business strategy can be turned on its head and balance sheets can change beyond recognition overnight. Both equity and bond investors need to be aware of the implications, risks and opportunities.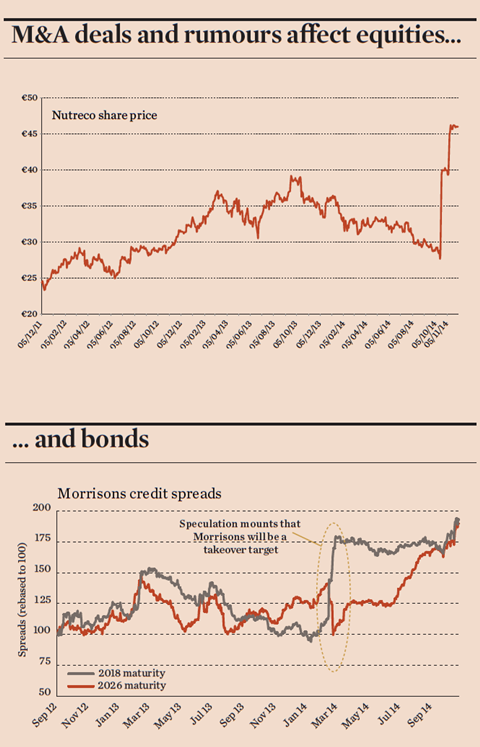 And animal spirits do seem to be awakening, as our opening article describes (page 53). Deal value in 2014 was the highest since before the financial crisis, with mega deals surging ahead most decisively. Moreover, in the private equity world a battle is being pitched between these traditional leveraged players and a range of cash-rich competitors, from trade buyers and corporate empire-builders to sovereign wealth funds, all pushing up the bids for high-quality assets (page 57).
Following that theme, our report looks at equities and asks to what extent current valuations reflect some kind of market-wide M&A premium (page 56). That possibility is ruled out, but largely because what we really have are M&A 'hot spots': smaller companies are an obvious one, but at the moment certain sectors stand out, too, like technology and healthcare. On the other hand, the energy sector, often the site of furious M&A activity in past cycles, remains subdued as the tumbling oil price continues to persuade potential bidders that there is yet more value to be realised.
The second half of our report is dedicated to the long-suffering bondholders who have to brace themselves for these feeding frenzies. We end by describing the advantages of change of control covenants and the dangers of portability clauses, outlining the positioning and strategies that can be deployed to limit the damage (pages 59-61). However, before that we take a look at the growing opportunity represented by convertible bonds, the conversion option in which not only offers participation in the equity upside that often accompanies takeover rumours, but usually includes 'ratchet' clauses that compensate for some of the loss of optionality that occurs when those rumours turn out to be true (page 58). Here is a way for corporate bond managers to build some protection into their portfolios and even gain from some of the euphoria.
Special Report, The M&A Cycle: When CEOs go shopping
1

Currently reading

Special Report, The M&A Cycle: When CEOs go shopping

2

3

4

5

6

7

8

9