Belgium is proud of its transposition of the EU's new pension fund directive
Key points
The law transposing the EU's IORP II directive was passed in December, two days before the prime minister tendered his resignation
Some transition measures and practicalities still need to be finalised
PensioPlus, the pension fund association, wants to see the Belgian pension market grow to €100bn by 2025, mainly via growth in cross-border schemes
Probably the biggest legislative event for Belgian pension funds in the past year was when parliament approved the draft law to transpose the IORP II directive in December.
It was two days after the Belgian prime minister, Charles Michel, resigned in response to a vote of no confidence in his government. Michel's resignation followed a disagreement over a UN migration pact, which led to the federal coalition government losing its majority after five ministers from the right-wing N-VA party walked out.
Federal elections were held in May but were inconclusive. At the time of writing, efforts to form a government were still ongoing. Michel remains caretaker prime minister, although in July he was elected president of the European Council, a position he is due to assume in December.
It is against this backdrop that implementation of the IORP II-based regime has begun.
King Philippe gave formal assent to the law transposing the EU pension fund directive in January. It amended Belgium's law of 27 October 2006 on the supervision of institutions for occupational retirement provision, better known as LIRP/WIBP. The changes came into force in January, the EU's transposition deadline.
Some regulatory tweaks are still needed to complete transposition of IORP II, but these would be at the level of royal decree, for which a functioning government is needed, although the gaps are not of significant consequence. According to the federal pension supervisor, FMSA, new royal decrees are not critical.
Growth ambitions for PensioPlus
PensioPlus, Belgium's pension fund association, is targeting €100bn in assets for the sector by 2025, more than twice as much as pension funds domiciled in the country currently manage.
The bulk of the expected growth is due to come from cross-border schemes set up by multinationals. According to EIOPA statistics, 30% of the €3.7trn in assets held by European pension funds are linked to multinationals' pension schemes, and PensioPlus is aiming for 10% of those multinationals to have set up a pan-European pension fund in Belgium by 2025. In the Netherlands, restrictions introduced in 2018 aim to make it harder to transfer pension funds to Belgium.
PensioPlus also expects the 'domestic' market to grow, mainly through industry-wide pension schemes.
The supervisor was quick off the mark in giving initial guidance to the country's pension funds after the transposition law was formally adopted.
In a communication published in January, it explained that it intended to set out, over the course of the year and in the form of circulars, its expectations about the implementation of the new or amended legal requirements. However, it added, it considered it "nonetheless advisable to refer already in this communication to a few matters that warrant immediate attention on the part of IORPs".
According to the FMSA, the transposition of the IORP II directive's governance rules into Belgian legislation would not cause "any significant revolution" for most pension funds in the country. It said comparable governance guidelines were already in effect based on FMSA's interpretation of the first IORP directive.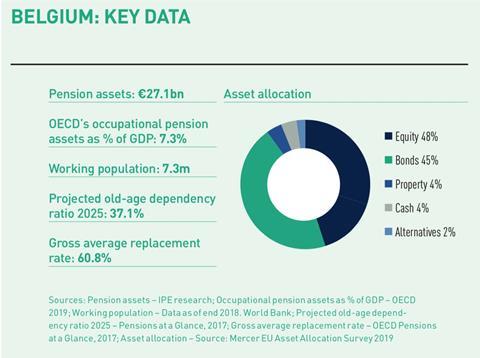 Top pension funds*
Top pension funds

| | Pension fund/entity | Assets (€'000s) | As At |
| --- | --- | --- | --- |
| 1 | Anheuser-Busch InBev NV | 4,419,360 | 31/12/18 |
| 2 | ExxonMobil OFP | 2,977,000 | 31/12/18 |
| 3 | KBC Group NV | 2,300,000 | 31/05/19 |
| 4 | Amonis | 2,100,000 | 30/06/19 |
| 5 | J&J Pension Fund OFP | 1,863,000 | 31/12/18 |
| 6 | BP Pensioenfonds OFP | 1,635,225 | 31/12/18 |
| 7 | Elgabel OFP | 1,626,025 | 31/08/18 |
| 8 | EUROCONTROL | 1,555,000 | 31/12/18 |
| 9 | Pensioenfonds Metaal OFP | 1,276,600 | 31/12/18 |
| 10 | Groupe Bruxelles Lambert SA | 1,168,000 | 31/12/18 |
| 11 | Nokia Bell Pensioenfonds | 1,161,382 | 31/12/18 |
| 12 | Ogéo Fund | 1,096,000 | 31/12/18 |
| 13 | Etex Group SA | 1,037,205 | 31/12/18 |
| 14 | Pensiobel OFP | 839,860 | 31/12/18 |
| 15 | Pensioenfonds UZ Gent-UGent OFP | 769,000 | 30/06/19 |
| 16 | Proximus Pension Fund | 680,000 | 30/06/19 |
| 17 | Hydralis OFP | 671,751 | 31/12/18 |
| 18 | Pensio B | 657,020 | 31/12/18 |
| 19 | ING Belgium SA/NV | 619,215 | 31/12/18 |
| 20 | Powerbel OFP | 451,509 | 31/12/18 |
"The transposition of IORP II has thus found partial expression in the incorporation and refinement of the existing 'soft law' within the legislation itself," said FMSA.
But there are changes. One of them is that pension funds will have to install a risk-management function, one of four key functions introduced under IORP II.
Under transitional measures, pension funds have until the December to appoint someone to this role and until December 2020 to reappoint the other functions.
All proposed appointments to the risk-management function are subject to prior approval by the supervisor. In relation to the other roles, this is required where there is a change in the individual fulfilling the role or a change of key function – for example, several being combined.
The four key roles are there to support the board of directors and, under the amended LIRP/WIBP, have a 'signalling role' in relation to the supervisor. IORPs must appoint at least one independent person from within or outside the pension fund to be responsible for each key function.
Some other important points are that IORPs, by the end of 2020, need to fulfil the requirement to have policies in place related to risk management, internal audit, actuarial function and remuneration. A remuneration policy is a new requirement of IORP II. It applies to all members of operational bodies, key function holders, including if they are outsourced, and staff whose professional activities have a material impact on the risk profile of the pension fund. Under the new legislation, pension funds will need to establish a risk-management policy by the end of 2020.

Another new aspect is that the key function holders must be 'fit and proper' – have the necessary professional integrity and appropriate expertise – as was already the case for members of the board of directors. Belgium's new IORP legislation also specifies that the board of directors has ultimate responsibility for complying with the law.
Since that initial guidance, the FMSA has launched a consultation on a draft circular on its expectations regarding IORP's governance. Opened in July, it was due to run until the end of August, with the possibility of an extension depending on when a French-language version of the consultation document was made available. By late July this had not yet happened.
According to Christian Bayart, partner at Allen & Overy in Antwerp, the consultation is an important exercise because it reflects the FMSA's interpretation of the IORP II legislation.
"There is a lot of discussion about how detailed the regulator will write down its expectations in that circular," he says. "The industry hopes that the regulatory regime will stay principles-based rather than rules-based."
Belgium has established itself as the primary location for cross-border pension funds in Europe. The country's new IORP legislation does not contain any major changes to the existing rules. According to lawyers, the provisions on cross-border management in the new law were transposed almost word for word from the IORP II directive.
Away from IORP II, Belgian and foreign pension funds in Belgium have been faced with new rules on withholding tax since the beginning of the year. Under new legislation that entered into force in January, Belgian and foreign pension funds have to prove that securities were held for an uninterrupted period of 60 days to be eligible for tax exemption on dividends. They also have to prove full ownership of securities on record date to be eligible to reclaim withholding tax.
*This table was updated on 16 September 2019 as a result of a correction to the assets under management for the Pension Fund for the Federal Non-Profit Sector