Germany: Germany goes DC
The German parliament has passed one of the most comprehensive pension reform bills in the country's history – rendering a complex system even more intricate 
Key points
• A new occupational pensions law will come into effect in January 2018.
• Occupational pensions without guarantees will be introduced.
• The first new pension plans will have to wait for negotiations on collective bargaining agreements.
• The technical details are still to be finalised in actual application of the law.
The Betriebsrentenstärkungsgesetz (BRSG, law to strengthen occupational pensions), will redefine occupational pensions in Germany. For the first time, the country will see pension promises without guarantees – collective defined contribution (DC) plans, or Zielrente.
The government also wants the new system to increase the number of employees covered by an occupational pension plan, and has introduced tax advantages for employers choosing the new legal framework as well as subsidies for smaller companies and for lower-income employees. Another new feature is an auto-enrolment clause that companies can now include in any pension plan.
One of the main unchanged elements of the BRSG, however, is the fact that the new plans without guarantees can only be set up by companies that have opted to join a collective bargaining agreement for their industrial sector. These agreements (Tarifverträge) are negotiated between representatives from employer organisations and unions. The government hopes this framework will help to disseminate the idea of occupational pensions  more widely and ensure both quality and trust in the new plans.
The idea to introduce DC plans has been around for some time as guarantees are increasingly seen as  burden on employers
The BRSG comes into force in January 2018. The weeks prior to its parliamentary approval last July saw several union representatives supporting the new law. And even the staunchest critics of the no-guarantee rule seem to have come around; five insurers have joined forces to set up a new platform for offering pension products without guarantees.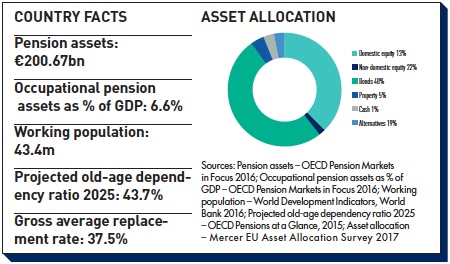 However, the first pension plans under the new legal framework will probably only be set up in late 2018 or even 2019, as they have to be negotiated by the social partners.
Each sector will have to decide whether or not to make use of the BRSG, but the government hopes that a more standardised pension plan for each will improve transferability of pensions between different companies in the same sector.
The next and probably toughest step will be for unions and employers to inform people about the new pension plans, to build trust in a system without guarantees.
Potential beneficiaries will have to be briefed on the new system as well as on the protential providers. This might turn out to be a new field for advisers. The complex pensions framework in Germany means that larger companies in particular usually have more than one pension plan in place.
Five different ways of setting up an occupational pension plan exist in Germany and the BRSG will add yet another to an already complex system. What is more, several technical questions and details on  tax efficiency, transference and reporting issues will probably only be resolved in practical application.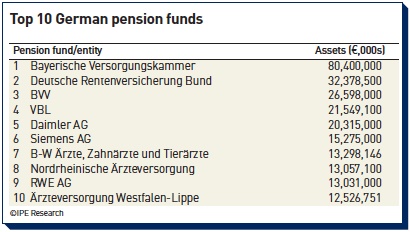 One of these issues is the new obligation for employers to reimburse any money they might have saved on incidental wage costs in deferred compensation plans (Entgeltumwandlung). By transferring parts of the salary to a pension plan, employers have been able to report lower actual payrolls to the authorities, which means they pay lower social insurance and state pension contributions. But under the new law they will be required to pay some of these savings back into the pension plan. Calculating these sums could be tricky.
Overall, consultants might enjoy a bonanza when it comes to merging, optimising and updating pension arrangements of large companies. While most stakeholders have welcomed the passing of the new law, many are uncertain whether it will make occupational pensions in Germany more transparent or decrease complexity.
The supervisor, BaFin, has already announced it will examine whether the terms negotiated in the collective bargaining agreements are applied to an industry's new DC vehicle. If the provider also offers other pension products, which will mostly be the case, the BRSG pension plans must be managed in a separate fund.
Not only does the new legal framework leave a lot of leeway for each industry and company to individualise the new pensions plans, it also includes provisions to ensure people with lower incomes are not punished for increasing their supplementary pension savings.
The state-subsidised Riester plans have hardly been used as occupational pension plans. The problem was that private, third-pillar Riester plans were tax-exempt in the pay-out phase, but those offered by companies were not. This has now been changed.
Further, the BRSG is part of a wider reform of the pension system in general with which the minister for labour and social affairs, Andrea Nahles, has amended some technical flaws in supplementary pension provision. One of these was the fact that third-pillar Riester savings also had to be offset against minimum incomes, which meant some people were punished for making additional savings. This was also amended.
Overall, Nahles has achieved her main goal to get the BRSG home and dry before the general election on 24 September. She has also managed to reach a wide consensus on the subject, ensuring that the new legal framework will not be unravelled by the next government.