Iceland: Back from the cold as funds diversify abroad
Iceland's central bank is relaxing capital controls and encouraging the pension sector to look to a future without restriction 
Regulation in summary
• Icelandic pension funds have been allowed to invest ISK80bn (€591m) overseas, relaxing capital controls in place since 2008.
• As of July 2016, capital controls have not been lifted, but the central bank has said it now has sufficient foreign capital to ease restrictions. 
• Outflows have focused on global equity and short-term debt, with some funds employing bank deposits.
The past 12 months have seen a significant diversification by Iceland's pension funds into overseas assets, a move expected to continue as the country's finances strengthen.
When the country's banking sector faced financial ruin in 2008 and the country's government decided to impose capital controls, no one knew how long the restrictions would last. 
Pension funds' inability to invest any of their substantial inflows outside of the country has encouraged new approaches, such as the creation of a domestic private equity industry that is now helping rebuild an Icelandic stock exchange previously dominated by financial companies. 
However, Iceland's resurgent economy, coupled with the mandatory nature of pension saving, led asset growth to outpace investment opportunity – with pension assets now 1.5 times larger than GDP. But last year, Íslandsbanki, the central bank, granted pension funds the first exemption, allowing ISK10bn (€67.9) to flow overseas over the final six months of 2015.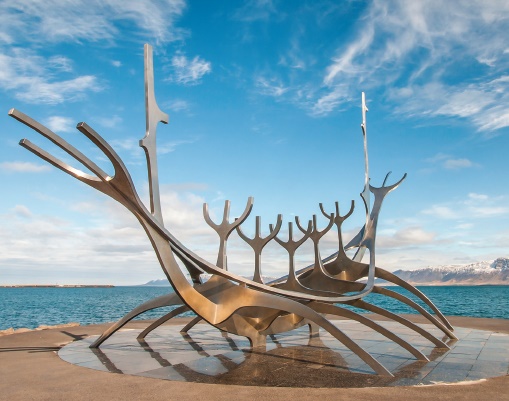 The exercise has been repeated several times since, with an ISK20bn exemption granted in January – staged over four months – and a further ISK10bn exemption in mid-May, which was to be exhausted by the sector by the end of June. 
In all three exemptions, both occupational and third-pillar pension funds were able to apply to the central bank for permission to invest overseas. Regardless of their pre-2008 overseas exposure – as funds were not forced to repatriate capital, and were even allowed to reinvest overseas – all interested funds were granted part of the quota based on a pre-determined formula. 
In the July 2015 exemption, the allocation formula granted a weighting of 70% to a provider's total assets under management and 30% to inflows, shifting to an 80%/20% weighting for the following two exemptions.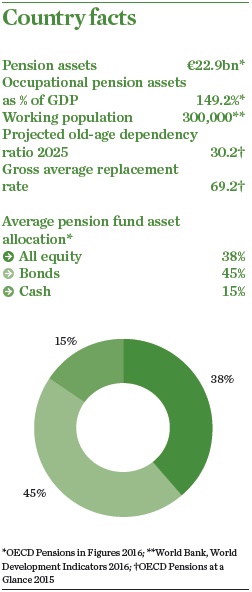 The central bank has since increased the pace of outflows and, in July 2016, allowed ISK40bn to be invested beyond Iceland's shores over the course of the third quarter. The sum is equal to total outflows over the past year, potentially signalling a drastic relaxation, or even complete end, of capital controls for the pensions sector. 
This move is backed up by the commentary accompanying the most recent exemption, in which the central bank notes that Iceland's foreign exchange reserves stand at 158% of the reserve adequacy metric (RAM), as calculated by the IMF. The bank adds that, according to the IMF, a country lifting capital controls should have a reserve ratio of at least 150% – with it now having an ISK34bn buffer above the minimum RAM following a recent foreign exchange auction. 
The sector has responded to the relaxations by investing in global equities and short-term credit and, in some cases, simply placing its share of the exemption in bank deposits so it can deliberate on where best to invest capital, without the risk of the central bank's window for outflows closing. 
And while the outflows have allowed the sector to diversify holdings, many funds wish to invest at least half of their assets overseas to be fully diversified. This could prove a tall order, as overseas exposure only accounts for a quarter of assets within many funds.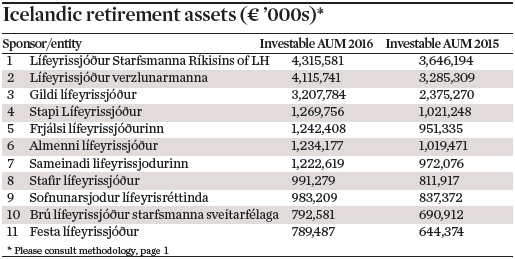 The domestic market offers stronger returns than can be garnered by venturing into a global market beset by low interest rates and volatile equity returns. 
However, the hurdles are unlikely to stop a steady diversification once the central bank lifts controls, as pension funds have long raised concerns about their significant exposure to Iceland's economy, and the potential losses that could arise should any bubble finally burst. 
The eventual relaxation will allow the funds to return to a level of diversification common for developed-nation pension capital, as it braces itself for steady growth predicted to see pension fund assets increase to four times GDP by 2060.