Portugal: Gradual improvements
Pensions gain from the country's steady economic recovery 
Key points
• State pensions are once again being indexed in line with inflation.
• The trend towards defined contribution pensions continues.
• Most sponsoring companies still fall short in providing adequate pension projections and advice to employees before retirement.
Portugal's economy has gone through a gradual recovery from a deep recession.
The 2017 OECD Economic Survey outlines how a wide-ranging structural reform agenda has supported this recovery and the ongoing reduction of imbalances built up in the past. Stronger investment, skills and productivity will increasingly be the basis for sustainable income gains, the OECD says.
However, the outlook is becoming more challenging and the OECD projects only moderate annual GDP growth – 1.2% for 2017 and 1.3% for 2018.
Portugal has a relatively generous state pension system, with a small private pensions sector, although the latter is expected to grow as state benefits continue to be placed on a more sustainable footing.  
Several changes over the past few years have helped strengthen the state pension system, in relation to increasing life expectancy and as a result of the financial crisis of 2008.
The possibility of early retirement with penalties was suspended in 2012, but was reintroduced in 2015 for those aged 60 or over, with at least 40 years of social security contributions.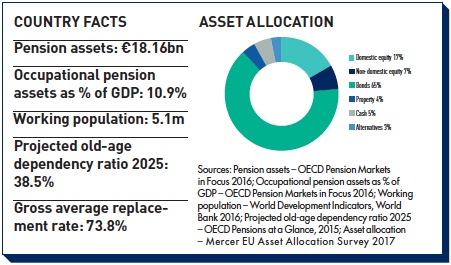 The government is now discussing with trades unions and other parties new rules for early retirement, but no decision has been taken yet.
Meanwhile, although in terms of social security or pensions legislation, no fundamental changes or other developments are expected in the near future, the government recently abolished several short-term measures.
One change, relating to pension increases, happened at the start of this year. State pensions are once more being indexed, in line with annual changes in GDP and the consumer prices index (CPI).
From 2008, state pensions had been uprated each year in line with GDP and the CPI. Previously, increases were linked to the growth in the minimum wage, which was generally higher.
But in 2011, these increases were halted, apart from some minimum pensions, as part of the €78bn bailout deal with the so-called troika of the European Commission, European Central Bank and the International Monetary Fund (IMF) in the same year.
Meanwhile, over the past few years, all pensions in payment, both from the state and from private pension plans, have been subject to an 'extraordinary sustainability contribution'  – Contribuição Extraordinária de Solidariedade (CES) – if benefits are higher than a certain threshold.
The CES was also part of the bailout deal with the troika, and was designed as a temporary measure to provide an additional safety buffer to the system. It was discontinued in January, as envisaged when it was originally introduced.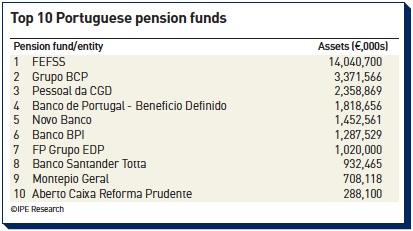 However, in terms of sustainability, Portugal faces long-term demographic problems that are among the worst in the euro-zone, according to an IMF report last year. The report said: "Over the period 2015-2100, [Portugal's] population is expected to shrink by about 30%, while the old-age dependency ratio would more than double, driven mostly by low fertility rates, higher longevity, and – to a much lesser extent – migration outflows."
This is likely to provide more impetus to the growth of the occupational pensions sector.
Occupational pensions in Portugal are provided either by open or closed funds. Open funds accept and invest money from any number of unrelated pension plans. Closed funds are those sponsored by a single employer, a group of companies or by agreement between employers and trades unions.
Most occupational schemes are closed schemes, and are predominantly defined contribution (DC) schemes. The vast majority are managed by Sociedades Gestoras de Fundos de Pensões (pension fund managing societies), which are legal entities set up to run these schemes.
The trend towards DC pension plans continues, and there are now more DC than defined benefit (DB) plans. However, total assets under management for DB plans are still much greater than for DC plans, the biggest being sponsored by banks.
But Vasco Câmara, senior consultant at Willis Towers Watson, says there is still much to be done by sponsoring companies to support employees in planning their retirement.
"Despite the fact that so many DC plans have been set up relatively recently, some companies still need to introduce some changes in plan rules so that employees are more involved, and aware of the importance of voluntary contributions and savings for retirement," he says. "This can be achieved through a strong communication process, but also through matching contributions."
In particular, Câmara says, DC plans providing investment options need to be properly communicated so that employees understand the risks of different funds, and can make informed decisions.
He says: "Financial education from pension advisers is very important, as many employees do not have sufficient knowledge on investment matters. Employees should be made aware that they are investing for their retirement, and understand the difference between long-term and short-term risk."
Pension fund legislation states that members can ask for a projected benefit for retirement age.
But Câmara says: "Companies could take a more active role providing these tools and encouraging employees to use them."