Top 1000: A bird's eye view of €7trn
The assets captured in IPE's annual study of the leading European retirement asset pools total €7.04trn, up from €6.74 last year – an increase of 4.45%. Yet this growth in assets masks a varied picture. The three large occupational pensions markets – the Netherlands, Switzerland and the UK – account for about half of the assets between them, yet a growing market like Italy accounts for less than 3% of the total, and a sizeable number of countries barely trouble the bottom rungs of our tables.
Our ranking of retirement assets includes a sizeable pool of first-pillar pension assets, including Germany's Versorgungswerke and Finland's mutual pension insurers. We also include sovereign funds where the mandate of these is directly related to the pension system, including Norway's Government Pension Fund Global – which itself accounts for over 12% of the total pool of assets in our study – but also the likes of Belgium's Zilverfonds, France's FRR, Spain's Fondo de Reserva de la Seguridad Social, the Swedish AP funds and Switzerland's Compenswiss.
Potential new markets
After years of stagnation in legislative activity, France and Germany have simultaneous initiatives to boost occupational pensions, as outlined in our report. France's Loi Sapin contains measures to introduce a dedicated vehicle to fund occupational pensions, in part to boost the competitiveness of the French life and pensions sector, currently subject to Solvency II, but also to boost productive investment in equities and alternatives, such as real assets.
And Germany, for years a laggard in occupational pensions, is moving towards DC with its Zielrente concept. Yet Germany already has five vehicles to fund pensions; some of these, like the Pensionsfonds (introduced some 15 years ago) are structurally underused, so there is no guarantee that introducing a new type of plan will boost retirement saving overall.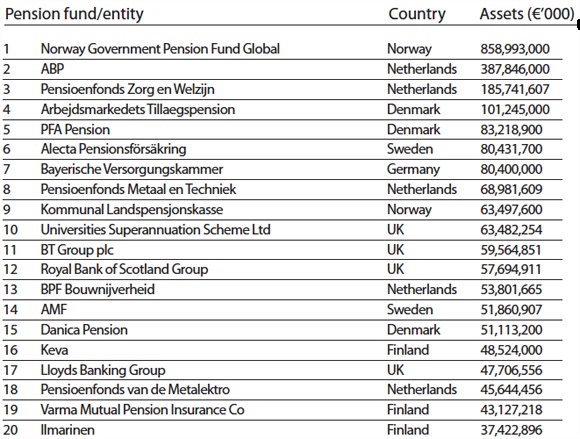 A note on our methodology
The figures in this supplement were compiled by members of IPE editorial team in summer 2017. The primary sources are the annual reports of the pension entities or sponsors themselves, but also figures reported directly to us. In most cases we quote the latest figure available in each case, often 31 December 2016. This reflects the value of the investment assets or the figure in our judgement most closely approximating to this.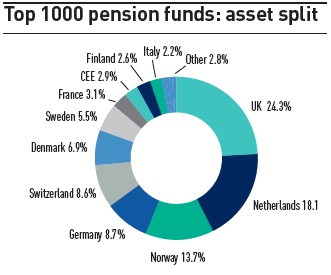 The figures relate to retirement assets invested for beneficiaries in dedicated occupational pension funds, funded first-pillar schemes, sovereign funds and similar entities. Where the pension fund is a separate legal entity, we most often quote its legal name; in other cases, including for clarity and brevity, the name of the sponsor is used. Abbreviations and initials are used sparingly and every effort is made to ensure these are clear.
Although we are indebted to the general increase in transparency in the occupational pension sector in recent years, the overall picture remains patchy. Inevitably, the data here represents an incomplete snapshot. As many listed companies do not disaggregate their pension assets between countries, where we have relied on corporate reporting of pension plan assets in annual reports we have usually quoted a figure for domestic pension assets for the company concerned. Please help us improve this ranking in future by directing comments to dominic.gane@ipe.com.
Liam Kennedy, Editor, IPE
Pages in: Top 1000: A bird's eye view of €7trn