Gill Wadsworth reports on The Pension Regulator's new draft code of conduct for trustees, which raises the bar for improving the pension product and the quality of governance
At a glance
• The Pensions Regulator, the UK regulator of workplace pension schemes, has shortened the existing defined contribution code of conduct in a bid to make it easier for trustees to carry out their duties.
• The draft code will be supported by how-to guides, which will have their own consultation in April.
• The code raises the bar for trustees in terms of improving member outcomes and raising standards of governance.
Defined contribution (DC) pension schemes in the UK have suffered from a poor reputation as long as they have existed. Their generous defined benefit (DB) counterparts were widely seen as far superior – not just in terms of the ultimate pension but also in relation to the treatment of members.
But as DC supersedes DB as the dominant workplace pension offering, employers, providers and government can no longer allow these plans to be seen as the poor relation.
In most cases, workplace schemes set up under auto-enrolment will be DC, while the freedom and choice regime only extends to DC members, making the success of these arrangements of paramount importance.
At the forefront of ensuring DC schemes deliver better outcomes for members is The Pensions Regulator (TPR), the UK regulator of workplace pension schemes, which released a draft code of DC conduct in November.
The consultation ended in January and saw interested stakeholders respond to the shorter and – so the regulator hopes – more understandable document.
Andrew Warwick-Thompson, executive director at TPR, says "the draft code has to reflect the new legislation. We also took the opportunity to have a complete review of the way we do codes. Everything is in one place. It's shorter, clearer and more concise."
The draft code is indeed shorter, stretching to just over 30 pages, and trustees will need to access supplementary how-to guides – due out in the spring – for supporting information.
The code has been organised into six sections (see What's new in the draft code of conduct) that bring all the relevant DC information into one place.
So far, so necessary. But there are those in the pension industry who say the regulator could do better. Richard Butcher, managing director of independent trustee firm PTL, says: "The draft code is just treating the symptom not the disease. In this case, the disease is poor governance."
Butcher says the code imposes unnecessary conditions on trustees, which distracts them from managing their scheme effectively.
As part of clause 66, which deals with conflicts of interest, the code expects trustees to review their register of interests at every board meeting, a requirement Butcher sees as surplus to requirements and counterproductive.
"It creates a risk that compliance will just become a tick-box exercise and it also misses the big picture. There are also concerns that the new code is still confusing," Butcher adds.
Mark Futcher, partner at Barnett Waddingham, notes that TPR uses the term "we expect" a lot. "Does this mean that trustees have to do this or is it a 'comply or explain' mentality?"
According to TPR's Warwick-Thompson, the term "we expect" is used when "it is not entirely clear what the law expects you to do", but there is fear this leaves trustees exposed to making subjective interpretations of the law.
The Pensions and Lifetime Savings Association (PLSA) says this lack of clarity is particularly notable when tackling value for members.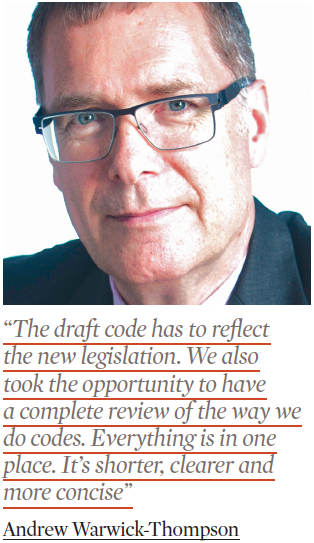 The law requires the chair of trustees to include in the annual statement how charges have been assessed as representing good value for members. However, there is no statutory definition of good value for members and the PLSA says the code is not far-reaching enough.
Tim Gosling, policy lead at PLSA, says: "Our recent work on value for money reached a different conclusion [to TPR] as to what should be included in the assessment. We think it is important that all aspects of the scheme, not just those paid for by members through their charges, should be included."
In conjunction with the law firm Eversheds, the PLSA has produced a guide to assess value for money for members, but it is unclear whether this will feed into the TPR's final code.
Other external bodies are also creating guides that could help trustees get to grips with the DC code.
Barry Parr, co-chairman of the Association of Member Nominated Trustees, says he is part of a "small industry group involving lawyers, asset managers and advisers" to help trustees tackle some of the more complex clauses in the code.
Clauses 111 and 112 relate to the security and liquidity of assets, and reference the law which requires "trustee boards, and any financial manager to whom any discretion has been delegated, to exercise their investment powers in a way that is intended to ensure the security, quality, reasonable liquidity and profitability of the portfolio as a whole". And which "requires trustees to give due consideration to asset protection and to understand what would happen in the event of a problem".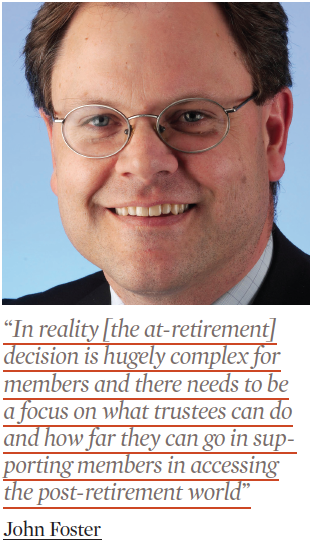 Parr says these requirements are onerous for trustees since they are unclear and overly complex.
"What does 'in the event of a problem' mean? It's too general," Parr says. "It is unrealistic to expect trustees to understand this area and it is difficult for trustees to have any appreciation of whether they are covered or protected by the Financial Services Compensation Scheme."
Although the code goes no further than reinforcing the law that DC schemes must have daily pricing and reasonable liquidity, Parr says the code could increase trustees' propensity to avoid illiquid asset classes irrespective of their return potential.
"We tend to get stuck in an environment where DC can only invest in funds that have daily pricing and liquidity. That means we do not invest in private equity and infrastructure and anything with a longer term nature. Yet if we look at returns in the DB world, private equity is one of the better performing asset classes," Parr says.
Communications, too, come in for more attention under the code since there are greater requirements for trustees to engage with members about their retirement choices.
The code expects trustees to make clear members' options at retirement and their entitlement to transfer to another scheme if their own does not offer the choice they want. Trustees are also required to signpost the free government advice service, Pensions Wise.
John Foster, partner at consultant Aon Hewitt, says the code should do more to help trustees in supporting members when making retirement income choices, without fear they are straying into offering unregulated financial advice.
"In reality [the at-retirement] decision is hugely complex for members and there needs to be a focus on what trustees can do and how far they can go in supporting members in accessing the post-retirement world," Foster says.
There is a certain irony in that while the code has been applauded for its brevity, it's lack of detail had also become a cause for concern.
However, the response to the draft code has been broadly positive and TPR will need to build on this position when formulating and consulting on the supporting guides if the new DC code of conduct is to be a success.
What is new in the draft code of conduct?
With billions of pounds of pension fund money at stake, the trustees of workplace defined contribution (DC) pension schemes must meet exacting new standards.
From 2013 trustees were expected to adhere to The Pension Regulator's (TPR) code of practice, but this was much maligned for being too prescriptive and somewhat impenetrable.
In light of sweeping legislative change in the past 12 months, and having taken a more concise approach to drafting guidance, in November 2015 TPR published a draft code of conduct for DC schemes and gave the industry two months to give its feedback.
Shorter, sharper and collating all the relevant information into one document, the draft code has been applauded by those worn down by the clunky 2013 code.
TPR has done away with 'DC quality features' which weighed heavily in the 2013 code, and instead makes clear trustees' legal obligations and the governance standards expected of them.
The code will be accompanied by how-to guides, which will be available following a separate consultation in April.
François Barker, head of the pensions group at law firm Eversheds, says: "The draft code raises the bar for plans with money purchase benefits and shows how the regulator expects trustees to approach their new legal duties to assess value for members, manage plan investments, process core financial transactions and produce an annual chair's governance statement."
TPR has broken the code into six sections:
• The trustee board – including appointing a chair of trustees, member-nominated trustees, and master trusts.
• Scheme management skills – such as managing risk, trustee knowledge and understanding, and conflicts of interest. Sections one and two take up a third of the entire draft and, as Barker puts it: "Shows the regulator expects trustees to be on top of their brief."
• Administration – including core financial transactions and record-keeping. Expectations are much higher in terms of administration, and Barker says trustees 'may struggle' with some requirements.
• Investment governance – including documenting investment matters, monitoring and reviewing investment strategies, and security and liquidity of assets. While some welcome the focus on improving investment governance, there are concerns about the complexity for lay trustees.
• Value for members – such as restrictions on costs and charges, and the adjustment measure. The code says trustees can 'disregard' costs met by the employer which is raising some alarm among commentators. John Foster, principal consultant at Aon Hewitt, says: "If you have a scheme where the employer is paying all the costs, including the annual management charge, does that mean that trustees shouldn't be assessing its value and quality and fitness for purpose for members?"
• Communicating and reporting – for example, at-retirement communications, scams, and the annual chair's statement. Again there is concern the new demands are onerous for trustees.
Mark Futcher, partner at Barnett Waddingham, says: "TPR expects trustees to review member communications regularly and, when deciding on the format of communications, to take account of innovations in technology that may be available to them and appropriate for their members. Does this mean they have to use this new tech?"
UK Defined Contribution: Mastering the master trusts
1

2

Currently reading

DC & Trustees: Code of conduct warning

3

4

5

6