The pensions freedoms legislation has focused schemes' attention on at-retirement provision, finds Robert Holford
At a glance
• The introduction of pension freedoms – where over-55s have increased freedom to cash in pensions in defined contribution funds – marks another important regulatory change.
• Annuity sales have plummeted in the short term but the situation seems to be stabilising.
• It may be that a glide path that targets a blend of outcomes could be best for most members.
UK pension scheme fiduciaries could be forgiven for experiencing a familiar feeling. Following on from default strategy shifts prompted by the introduction of auto-enrolment, another regulatory shift, the introduction of pension freedoms, has prompted a further round of defined contribution (DC) default strategy redesigns.
This time the focus has shifted from the growth phase of default strategies to the later at-retirement/de-risking phase. UK DC pension schemes and their providers are grappling with how best to target the three main retirement income options members can choose from: leaving their pot invested and drawing down from it gradually over time; purchasing an annuity as they would have done in the past; or drawing out the pot in either a single or several cash lump sums.
Deciding to target just one of these options presents considerable challenges for schemes as it is by no means clear what members will want to do when they reach retirement. Data in this area remains scarce, given the short time that has elapsed since the freedoms were introduced.
Annuity sales continued to fall precipitously in 2015. We estimate that about 70% of those with pots of less than £30,000 (€40,000) who accessed them in the year withdrew cash. The great majority of those with pots of greater than £30,000 opted for drawdown.
Despite the apparently strong indication this gives of the outcomes schemes should target for members with different pot sizes, relying on 2015 data for long-term planning remains problematic. For instance, it is likely that the actions of DC pot holders last year are skewed towards those people who took immediate advantage of the pension freedoms. It probably does not reflect those individuals who may have adopted a wait-and-see approach to their retirement plans.
In addition it is still difficult to assess whether the collapse in annuity sales over the past two years represents a genuine shift in demand away from annuities. It could be that people who ultimately want the security offered by annuity income are simply deferring purchasing an annuity.
Data published by the Association of British Insurers in 2015 showed annuity sales experienced a slight rise at the end of the year. This suggests at the very least that falls in annuity sales may have bottomed out.
Faced with this uncertainty, many schemes are holding off immediately redesigning their default approach. They argue that reacting to the data before clear long-term trends have emerged could damage member outcomes and increase member costs.
Many schemes also point out that member detriment caused by a failure to act immediately is likely to be limited. The relative novelty of the DC system means that many of them have relatively few at-retirement members.
Research for our 2015 DC Monitor, which collected data from 200 large DC schemes, showed that, on average, schemes reported just under 10% of their membership were in the de-risking/at-retirement phase. In addition, even when members were in this phase, pot sizes are generally small, especially for those members who entered the schemes as a result of auto-enrolment. For example, some of the large master trusts are reporting average pot sizes for members over 55 of well under £1,000.
This wait-and-see attitude has drawn familiar criticism from some quarters that schemes are failing to react to regulatory changes fast enough. While this may be a fair assessment in some cases, the 2015 DC Monitor data suggests that it would be a mistake to equate a lack of immediate change with no plans to change at all. As part of our research, schemes were asked what outcome their glide paths currently targeted and what outcome they expected it would target in three years' time. As can be seen in the figure, although 61% of schemes reported that they were still targeting traditional annuity outcomes in 2015, only 16% of respondents said that this would still be their target by 2018.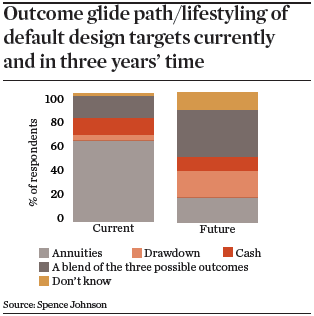 Indeed the results show that, faced with the difficulty of selecting just one of the possible three outcomes to target, many schemes (37%) felt a glide path that targeted a blend of outcomes was likely to be the most appropriate option.
Schemes and plan providers adopting a blended approach often point out that targeting one particular outcome brings with it a need to resolve another long-standing challenge in the DC market – that is, increasing member engagement. Such engagement is accepted as necessary to ensure that members for whom the default strategy may not be appropriate actively select one of the other two options.
Adoption of a blended strategy, therefore, is being driven by the observation that high levels of default participation among members tends to be coupled with low levels of member engagement that are unlikely to be reversed in the near-term. Since it is unlikely that members in these schemes will adopt self-select options, what is needed is a default that targets a better outcome for members than traditional annuity purchase. This is the case even if it does not perfectly match to the decision they ultimately make.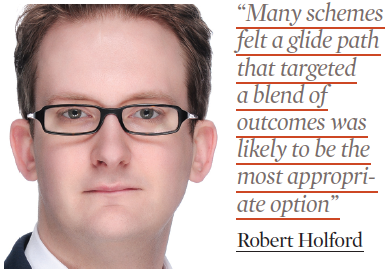 Although this may seem like a modest ambition, even reaching a definition of what constitutes better member outcomes is difficult. Investment performance remains the key metric in assessing the quality of schemes' investment outcomes. However, from the members' perspective good quality outcomes in areas such as capital preservation and income-producing potential may prove just as important as performance. This is especially the case as they approach retirement.
Although a product set to meet these needs is emerging, most market participants acknowledge that there is some way to go before schemes have access to a comprehensive range of products specifically designed to deliver good quality post-freedom outcomes. In addition, many providers are cautious about engaging in product redesign while the potential remains for significant changes to the pension tax regime in the 2016 Budget.
With this in mind, those schemes which choose to take their time at this stage may find themselves less at the mercy of further upheaval should 2016 prove to be another year of considerable regulatory change in the DC market.
Robert Holford is retirement lead and head of strategic consulting at Spence Johnson
UK Defined Contribution: Mastering the master trusts
1

2

3

4

5

6

Currently reading

UK Pension Freedoms: Focus shifts to retirement