A route to global standards for corporate sustainability reporting might at last be emerging
KEY POINTS
In early 2020 the European Commission tabled the possibility of EU-wide non-financial reporting standards
The IFRS Foundation has proposed creating a Sustainability Standards Board
SASB, the GRI and others, are explaining how their standards and frameworks can serve as building blocks of a global solution
The first and perhaps most widely-known move is by the EU, coming against the backdrop of the union's emerging sustainable finance regulations and green recovery plan. Also on the playing field are IOSCO, the global organisation for capital market regulators, the IFRS Foundation, the organisation behind financial reporting standards used worldwide, and the entities often described as voluntary standard-setters, such as the Sustainability Accounting Standards Board (SASB) and Global Reporting Initiative (GRI).
Donato Calace, vice-president of innovation and accounts at Datamaran, a software solution for external risk monitoring, says the two main policy developments to look at are "what the NFRD revision will look like and what the IFRS is going to do, because those are the actors that have unprecedented power in the field, especially the EU".
The NFRD is the EU Non-Financial Reporting Directive, legislation that was agreed in 2014 and now accepted as not up to scratch. Last year, as part of its European Green Deal announcement, the Commission committed to reviewing the legislation. Shortly after, executive vice-president Valdis Dombrovksis revealed that the Commission would "support a process to develop European non-financial reporting standards". It has mandated the European Financial Reporting Advisory Group (EFRAG) to provide technical advice, and a taskforce of more than 30 individuals, including Datamaran's Calace, is working to deliver this on a tight deadline (see panel). The Commission has also awarded an ad personam mandate to EFRAG board president Jean-Paul Gauzès to develop proposals for changes to the governance and funding of EFRAG in case it is entrusted with the responsibility for developing such standards.
Janine Guillot, CEO of SASB, a standard-setter acknowledged by some of the world's largest asset owners and asset managers, including BlackRock's CEO Larry Fink, says there are three main ways that standardisation of disclosure can be driven – through regulation, through investor demand, and through companies themselves forming coalitions to state what reporting they think is important.
Full steam ahead for EFRAG
As one would hope from the chair of a group asked to do preparatory work for the elaboration of possible EU non-financial reporting standards, Patrick de Cambourg is clear about its remit – and the challenges it faces.
"We are not here to interfere with the political decision, we are here to address the technical aspects of having EU standards, should that decision be taken," he says. "We have two challenges: a very short deadline and a pretty large scope. There are many dimensions to standard-setting, which need to be covered properly."
A chartered accountant and auditor, De Cambourg is president of French accounting standard-setter ANC and an European Financial Reporting Advisory Group (EFRAG) board member.
A report he produced for the French government last year was described by Bob Eccles, a sustainability reporting Pioneer, as "a solid intellectual foundation" for the preparatory work de Cambourg is steering as chair of the EFRAG project taskforce on non-financial reporting standards.
De Cambourg has divided the project into three phases: assessment, proposal, and outreach and conclusion. Six workstreams were identified for the first phase, which was scheduled to conclude in October.
Armed with the results of those efforts, the plan is for the taskforce to work on its proposal from the beginning of November until the end of December 2020.
"During this phase, possible scenarios will be designed, detailed recommendations elaborated, and formal outreaches initiated," a project overview reads.
De Cambourg wants to finalise recommendations and integrate feedback from key stakeholders in January 2021, ahead of the delivery of the final report by the end of that month. The end-January deadline, says Cambourg, "is tomorrow".
The European Commission has indicated that it plans to present a legislative proposal for the revision of the Non-Financial Reporting Directive in the first quarter of next year.
"Over the last few years most of the action in this space has been primarily driven by investor demand, with less action globally on the regulatory front, and so the EU stepping in has been a huge global catalyst and that's very positive," she says.
And then there is the IFRS Foundation, which oversees financial accounting standard-setter IASB. In September, it tossed its hat into the ring with a consultation on creating a Sustainability Standards Board (SSB) to operate alongside the IASB.
SASB: the global and the regional appoaches
Founded in 2011, the Sustainability Accounting Standards Board (SASB) has accumulated quite an impressive list of institutional investors supporting its work. That is most visible in the form of its Investor Advisory Group (IAG), a group SASB established to provide investor feedback and guidance, and demonstrate investor support for standardised, investor-focused sustainability disclosure.
Established in 2016, membership of the IAG has grown to 54 institutional investors – asset owners and asset managers – from 12 countries: Australia, Canada, Denmark, France, Germany, Japan, Norway, Singapore, Sweden, the Netherlands, the UK, and the US. Many participating investors are high-profile names, from pension investor APG in the Netherlands to sovereign wealth fund Temasek in Singapore.
Eivind Lorgen, CEO and president of Nordea Asset Management in North America, is chair of the investor group, and Hans Op 't Veld, head of responsible investment at PGGM, is vice-chair.
A recent innovation is the creation of regional working groups, initiated by the IAG itself. There is one for the Asia-Pacific region and one for Europe and the UK.
ATP, which is one of Europe's largest pension funds, joined the IAG in December 2019. Ole Buhl, vice-president and head of ESG at ATP, says it came on board because it wants more corporate reporting on financially material ESG issues and that a framework that focuses on this is "incredibly interesting".
Buhl says: "I am also happy to see SASB acknowledging that some of their work has to be globalised, so you don't have metrics that only make sense for an American company."
This is a reference to a relatively new project at SASB, with the heavy-duty name of "standards internationalisation advancement". It has to with SASB's aim to ensure that its standards are globally applicable.
Janine Guillot, CEO at SASB, says: "The issue is around some of the metrics in our standards. One of our tenets for standard-setting is cost-effectiveness for companies to disclose, so we prefer to use metrics that are already in use by a reporting company and those metrics are often regulatory metrics."
This means that in SASB's standards about 20% of the metrics rely on US-specific requirements. The "internationalisation advancement" project is about finding comparable metrics for non-US-domiciled companies.
At the same time, there is a human capital research project under way at SASB that is related to what Guillot says is "a question about regional norms and differing views on where to draw the line in establishing what topics are financially material".
Buhl, who co-chairs the IAG Europe and UK working group, says: "One of the areas that European investors are pushing more in the financial materiality space is issues like human capital, because I think we believe there are examples of materiality. There is also scientific evidence that human capital can have an impact on the long-term performance of companies.
"It's great that SASB is open to that conversation because that way you have a more global framework."
Eumedion, the Dutch institutional investor corporate governance group, which has called for the IFRS to expand its mission, welcomed the consultation as a "major breakthrough".
Rients Abma, Eumedion's executive director, comments: "It is a big step towards fulfilling the urgent investors' need for consistent and comparable sustainability information at a global level. With this step the Foundation also recognises interconnectedness between financial and non-financial reporting."
Steve Waygood, chief responsible investment officer at Aviva Investors, supports the IFRS trustees having "assumed a mandate", venturing that the body has "not just a legitimate interest in this space but a duty".
Do not reinvent the reporting wheel
Julie Moret, global head of ESG at Franklin Templeton, says: "The drive and recognition that common global sustainability reporting standards are needed is to be applauded and we very much support this view.
"We would, however, signal the importance to build from and align with already established standards such as SASB's. What would not be a good outcome for the industry is a whole new set of standards, which does not build on the market-adopted frameworks that exist today.''
This seems to be what the IFRS trustees envisage, too, given its reference to becoming "a standard-setter working with existing initiatives and building upon their work".
The Commission, it should be said, is also portrayed as not being out to "reinvent the wheel" as well as being sensitive to a global solution.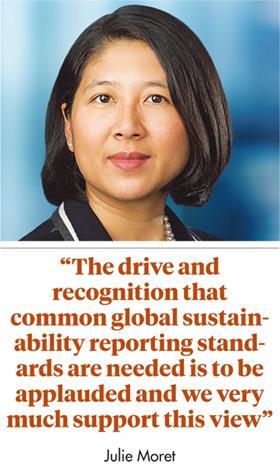 The attraction of the IFRS's intervention and proposal lies in the authority the foundation has around the world. This is revealed by Martijn Bos, policy adviser, reporting and audit at Eumedion, when asked about a sustainability disclosures proposal from within the World Economic Forum that made headlines a week before the IFRS's consultation launch.
"At the moment we don't need another framework, we need a global authority," Bos says. "Either Europe will try to become such an authority, or support the IFRS Foundation in becoming it."
Asked what the IFRS's intervention means for the Commission's decision, Bos says support for the envisaged direction of the IFRS needs to become clearer. "In addition to the promising support from investors and auditors, it is critical that companies, regulatory bodies and jurisdictions make themselves heard before the foundation will truly step in," he says.
Assuming the IFRS decides to do so, Bos believes the Commission will then have two choices: "To steam ahead on its own and be in full control but risk a lack of buy-in from the rest of the world, or design an endorsement process. We all know how the EU's existing binary endorsement process for IFRS standards provides them with great influence on the IASB's standard setting process."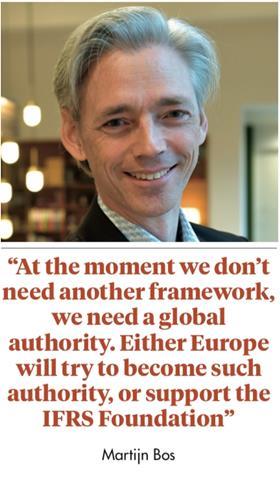 For their part, the trustees of the foundation make clear that their approval of an initiative to create the SSB is conditional on certain "requirements for success" being met, including getting support from public authorities and market participants and "ensuring the current mission of the IFRS Foundation is not compromised".
Eumedion is in favour of the IFRS route to global harmonised standards, but Bos emphasises that the SSB's role should broaden beyond climate-change-related standards only. The IFRS's thinking is that the SSB would take a "climate first" approach.
Co-ordinated approach
Voluntary standard-setters have not been standing idly by as these processes have been unfolding. In September the so-called Group of Five – CDP, the Climate Disclosures Standard Board, the GRI, the International Integrated Reporting Council, and SASB – published a document setting out "a shared vision of the elements necessary for more comprehensive corporate reporting and a joint statement of intent to drive towards this goal".
In a speech in September, Erik Thedéen, director general of Swedish regulator Finansinspektionen and chair of IOSCO's taskforce on sustainable finance, said the IFRS's and voluntary standard-setters' initiatives were "very interesting and very promising."
He says: "While these initiatives are currently running in parallel, I expect them to come together. And taken together, these steps may lead to the foundation of a structure that can deliver a more coherent and comprehensive corporate reporting system."
They might, but then again they might not. Standard-setting for sustainability-related disclosures is technical, but it is also politically sensitive.