AP funds welcome the removal of the ceiling on their investment in alternatives
KEY POINTS
Sweden's four main AP buffer funds are adapting to a reform of their mandate that was completed in May
The new rules allows higher allocations to illiquid and alternative investments
The funds say this has given their already strong sustainability efforts a new focus
AP3 says the abolition of the private equity ceiling means it is now seen as a more credible long-term partner
AP4 says it has been strengthening skills in alternative investments over the past few years in preparation for the new rules
A two-stage reform to the mandate for Sweden's four main pension buffer funds finally came to completion just after March's market shock. After years of lobbying, the funds now have more scope to invest in illiquid and alternative assets.
Despite the disruption, AP funds 1-4 have been busy adapting to the new rules as well as working on their sustainability focus – already a key area, but one that the funds say has been given new focus by the legislation.
Credible partner
At AP3, Peter Lundkvist, senior strategist and head of corporate governance, says the revised investment rules increase the buffer fund's scope to diversify the portfolio and give core priority to sustainability. The implementation work focused on operating frameworks as well as investment activities.
He says: "The abolition of the 5% ceiling for private equity fund investments had the most tangible impact from a portfolio perspective. We succeeded in increasing our holdings of investment commitments in which we wanted greater exposure."
This was probably because AP3 is now seen as a more credible long-term partner than it was under the previous restrictions, Lundkvist believes.
In February 2019, AP3's board of directors adopted new sustainability goals for 2025, which raise the fund's ambitions in sustainable investment and governance.
"The goals commit the fund to halving its carbon footprint, primarily by encouraging investee companies to reduce their climate impacts," Lundkvist explains.
AP3's targets set at the time included doubling its green bond investments to SEK30bn (€2.9bn), and its other sustainability-related investments to SEK25bn. The buffer fund is also committed to ensuring that its directly-owned real estate and infrastructure companies will be sector leaders in sustainability, Lundkvist says.
Sustainability focus
Christoffer Grände, chief strategist at AP2, says the Gothenburg-based fund is pleased that the mandate from the government is now much clearer on the topic of sustainability, with the new legislation having codified its longstanding work in the area.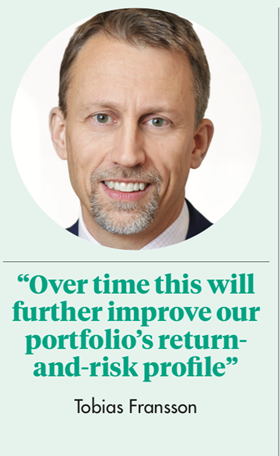 "When the new regulation came into effect we also took the opportunity to review how we ourselves formulate our goals."
Among other things, he says, AP2 revised its investment beliefs to better reflect its view on the role of sustainability.
"We state directly in our investment beliefs that sustainability pays off in the long term and that climate change is a systemic risk," says Grände.
Since AP2 began the work many years ago, he says sustainability has been integrated in virtually all the pension fund's investment processes.
For example, AP2 includes effects of climate change in its long-term return assumptions that guide the fund's ALM analysis; makes strategic allocations to asset classes aimed at contributing to sustainable development; had developed multi-factor indices for global equities that overweight sustainable companies; and uses signals in its active asset management.
"Our corporate governance is, of course, an important pillar of our work on sustainability, as is our own reporting. We were very early adopters of the TCFD [Task Force on Climate-Related Financial Disclosures] framework and published our own first such report in 2018," Grände says, adding that in 2019, AP2 also published its first report on human rights in accordance with the UN Guiding Principles Reporting Framework (UNGPRF).
Polhem piles on the assets
In April last year, the buffer funds AP1, AP3 and AP4, jointly established Polhem Infra – an investment firm that invests in and manages infrastructure assets – in response to their changing mandate.
In October 2020, the firm made its first investment in digital infrastructure, buying the data-carrier subsidiary of Sweden's Telia for SEK9.45bn (€900m).
Under the deal, Telia Carrier and Telia Company will continue to work together to provide services and develop new solutions for customers.
Mikael Lundin, CEO of Polhem Infra, said that as an operator of backbone fibre networks for digital communication, Telia Carrier was a long-term investment in digital infrastructure – one of the investor's core areas.
Before the digital deal, Polhem Infra invested in Nordic renewable energy firm Solör Bioenergi and the new Skaftåsen wind farm in Härjedalen in Sweden.
Real-assets boost
"We currently have a number of exciting changes planned on the topic of sustainability, that we plan to write about in our annual report once they are implemented," Grände says.
Tobias Fransson, AP4 head of strategy and sustainability, also points out that the AP funds have a long tradition of working with sustainability issues in its asset management, and is now at the international forefront in this respect.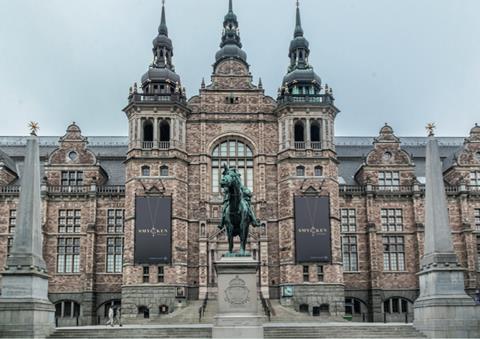 "Certainly, the new legal wording spurs us to continue developing in the area of sustainability, with the ambition to steadily retain our strong position over time," he says.
In preparation for the new rules, AP4 has been strengthening its competence in alternative investments over the past few years, focusing on cost-efficient and long-term investments, Fransson says.
"Over time, this will further improve our portfolio's return-and-risk profile," he says.
Two changes have already been made to the benchmark set by AP4's board, its dynamic normal portfolio (DNP), he says, with the portion of fixed-income assets being reduced from 35% to 31%, and the real assets allocation – such as real estate and infrastructure – being lifted to 14% from 10%.
But with valuations of unlisted assets currently strained, Fransson says AP4 will build up its unlisted portfolio prudently and incrementally over several years.
Mats Eltoft, head of distribution for the Nordic Region at Franklin Templeton, says alternatives play a more important role in pension portfolios than ever.
"Investing in private markets such as real assets, private equity and private debt help to diversify exposure to public markets, given their low correlation and improve the portfolio risk/return profile offered by their illiquidity premium," he says.
In particular, Eltoft says, long investment time-horizons and predictable liabilities, such those of the Swedish AP funds, make private markets more naturally suitable, and this is also supported by the relative low liquidity requirement of these funds.
"Furthermore, since Sweden has seen reduced corporate lending by banks, asset classes such as private debt have grown meaningfully, making Sweden one of the largest in Europe for this asset category," he says.
Denmark's ATP: Accelerating diversity
1

2

3

4

5

Currently reading

Sweden's AP funds: Alternatives are go