From letters still sent by pension funds, to apps and portals, the road to digitise the Swiss pension system looks long but promising
Key points
Proposal of central portal for three pillars
Pension funds lack capacity to digitise but are improving online data exchange
New firms compete with 1e and 3a digital plans
Martin Eling, director of the Institute of Insurance Economics and professor in insurance management at the University of St Gallen, receives a letter from his pension fund every year. The document describes his situation at retirement age.
"The fact that I receive a letter by regular mail once a year is not what I expect in terms of digitisation in 2020," he says. "There is still little digitisation in the Swiss pension fund sector compared to other sectors".
Eling and his colleague at the University of St. Gallen, Christoph Jaenicke, have conducted a study on the new labour market and its consequences on the pension system. The study, Eling says, is a message to politics to act on the digital transformation of the pension system.
Switzerland has a decentralised structure with about 1,500 pension funds, many small, lacking potential to put in place digital architectures. The solution, according the study, is to build a portal whereby insured members can find relevant information on pensions across the different pillars of the system.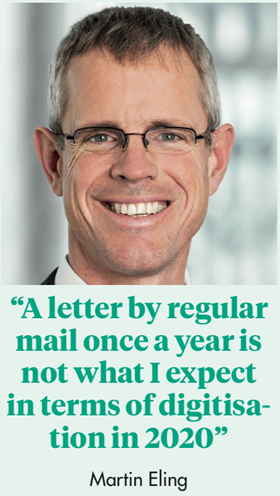 "I don't believe anyone in Switzerland knows what to expect for their pension when they retire. Nobody has a clear view," Eling says.
His portal would give a transparent view on pension provision by comparing income, family situation and other benchmarks to give members a better idea of what they might expect when they retire.
In the occupational sector, larger pension funds are probably already a few steps ahead of their smaller counterparts when it comes to developing digital solutions. For small funds, Eling says, "it would make sense to come together with other pension funds to support the digitisation of the pension system as a whole for the general public".
Pension funds have started to explore new applications. PKZH, the pension fund of the city of Zurich, has provided know-how and testing capacity to ClearPension, a solution that connects insured members and pension funds through an app and portal.
"Digitisation has arrived in pension funds but they need people, specialists that can implement it," says Ralph Büchi, application manager at the Pensionskasse. He developed the prototype of ClearPension and designed the new digitisation strategy for the fund. In his view, innovation means digitising the old processes on the one side and, on the other, building new processes.
Pension funds still send paper letters to the insured. "This has to be digitised," Büchi says. The automation of this process helps employees to become more efficient and speeds up the communication with the clients.
Pension funds have to acquire data electronically, and give the insured access to their pension digitally through a portal. He adds: "It is very important that there is a central portal like the one that has been proposed by the study of the University of St Gallen. I see in my daily job that people who are insured do not know with which pension funds they are insured."
Assistance needed
Digital support is necessary to process data efficiently for a large number of insured and companies. ASGA Pensionskasse, for instance, offers member companies direct access to their pension fund via AsgaOnline. "Employers can make changes quickly and have access to data on insured and contribution accounts at any time," CEO Sergio Bortolin says. He adds that 11,000 companies use the tool.
Last year, ASGA also built an online portal for the members – myAsga portal. The portal simulates different scenarios. "For example, how does early retirement affect pensions? Insured members receive detailed pension calculations based on latest numbers," Bortolin explains.
ASGA also has a digital platform for communication among delegates. "Our delegates are the supreme body of the Co-operative; an up-to-date and transparent dialogue is important," he says. Platforms for data exchange between providers and brokers or the Stiftung Auffangeinrichtung BVG, for instance, are becoming increasingly important to automate the processes, Bortolin adds.
The Stiftung Auffangeinrichtung BVG started its BVG Exchange service in 2012 to facilitate "automated and secure" transfer of data and vested benefits for insured membersleaving a pension fund, so-called Freizügigkeit (freedom of movement).
ClearPension aims to create a self-service digital tool
ClearPension is a pilot ecosystem under development consisting of an app, a portal for members, and a client portal for the sponsor, with ambitions to change Swiss pension funds.
Insured members can log on to the portal directly on the sponsor's web page or via the app. The pension fund will receive and process the data of the insured.
Members will be able to simulate their retirement situation and also receive information from their pension fund. They will be able to digitally migrate their data to a new pension fund when they change their Pensionskasse and will always have an overview of their personal history and pension account.
Sponsors will be able to use the portal to communicate with members, market products, or send documents digitally.
They will be able to sign up for the portal or integrate it via their backend and will also be able to install an upload tool allowing Clearpension to access member data with the appropriate consent.
Ralph Büchi, application manager for the City of Zurich's Pensionskasse (PFZH), started developing ClearPension in 2017 as part of his degree thesis. He completed a master's degree in business information at the Zurich University of Applied Sciences (ZHAW) and received the federal diploma in pension fund management at the Professional School for Employee Benefits, Fachschule für Personalvorsorge, in Thun.
ClearPension is, in Büchi's own words, currently still a project. A prototype has been programmed but is yet to be finalised. Once completed, Büchi plans to start his own company to roll out the concept.
Pensionskassen, meanwhile, will be able to test different versions of ClearPension to decide whether to integrate it into their systems. The application can run on a server, so they can use it by registering an account for a yearly fee.
They also have access to standard services and communication tools and the service will be free of charge for members.
The goal is to create a 'self-service tool' for pension funds that can offer standardised services for clients. Büchi is working with an IT partner, Digio, which is responsible for programming the solution, while the City of Zurich pension fund is supporting the project as pilot customer.
Competitive landscape
New entrants to the retirement sector have accelerated digitisation by offering new pension products. The Zurich-based asset management firm Descartes Finance started with a digital offer of a third-pillar '3a' savings product that enjoys tax relief.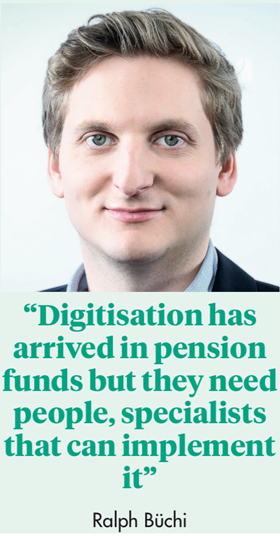 The 3a product is "predestined" for digitisation, Adriano Lucatelli, co-founder and CEO of Descartes Finance, says. "It is relatively easy and fast to digitise, as it is a highly regulated product in terms of how much equity or alternative assets can be held," he says.
In June, Descartes launched a solution for people transferring saved vested benefits to a foundation, or Freizügigkeitstiftung. Digitisation has become easier in this segment, Lucatelli argues, but the real challenge is the domicile of the foundation, as each canton has its own regulations.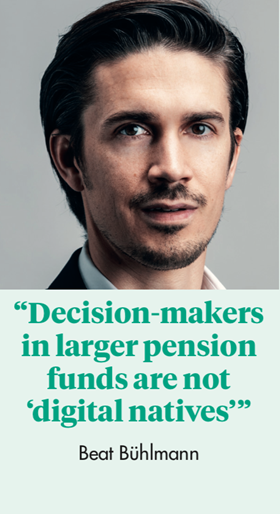 "Based on the canton, a foundation can or cannot do certain things in the Freizügigkeit of the second pillar," Lucatelli says. Descartes has domiciled its foundation in the canton of Schwyz, which is more open and flexible, allowing equity holdongs of up to 100% for both the compulsory part and the extra-mandatory part (überobligatorischer Teil) of the pension fund.
In other cantons, this would not be possible," Lucatelli explains, adding that establishing a foundation is difficult and expensive, which in turn creates barriers for digitisation.
For Lucatelli, digital Freizügigkeit is still a niche product, while digitisation is currently taking place mostly in the 3a segment, even though he says the 3a market is organised as an oligopoly that slows digital progress.
The next digitisation step will happen for 1e plans, a type of pension plan aimed at senior management, according to Lucatelli, and Descartes is considering offering a digital 1e plan. "Digitisation can help pension funds by offering these products more transparently and cheaply," Lucatelli says.
Another provider, Lucerne-based Finpension, started to develop an initial 1e offering in 2015, with a launch in 2016. "Since then, 150 companies and well over 1,000 insured have benefited from this offer," says CEO Beat Bühlmann. The introduction of article 19a in the Freizügigkeitsgesetz (freedom of movement law) was the spur to enter the market.
Bühlmann says: "The flexibility in investment implementation gained as a result is ideally suited for digital implementation. We wanted to take advantage of this opportunity and have built our own system."
Finpension manages three foundations: yourpension for 1e plans; valuepension for vested benefits; and the new finpension 3a Retirement Savings Foundation.
The 3a solution will be launched as a mobile app. "All our offers focus on digital access, full transparency, cost-efficient implementation and flexibility on the investment side," Bühlmann says.
Co-operation between fintech and established providers can also drive further innovation by creating avenues to offer new tech based tools to members – but only if larger and more established funds and providers have an open mind.
"Decision-makers in larger pension funds are not 'digital natives', which means that, unfortunately, all too often they continue to think and work following old patterns," Bühlmann says.
Switzerland: The road to digital pensions
1

Currently reading

Switzerland: The road to digital pensions

2

3