Each day, more and more institutional investors are discovering how exchange-traded funds (ETFs) can enable them to make trades conveniently, access markets flexibly, diversify portfolios broadly, and manage fees and taxes efficiently.
While investors need predictable, cost-effective core solutions that provide broad market exposure at the heart of a portfolio, focusing only on pure passive funds means missing out on the potential to earn excess returns, which can add up over time.
We look at the advantages that active ETFs can bring to a portfolio and feature a closer look at how our Research-Enhanced Index (REI) strategy can provided investors with the best of both worlds, thanks to its ability to deliver access to stock-specific insight with index-like risk.
The advantages of active ETFs
While passive ETFs continue to dominate flows, the proliferation of active ETFs is one of the main factors driving ETF growth. One of the main attractions of active funds is their ability to provide investors with the opportunity to earn excess returns on their investments while still gaining all the benefits that they expect from the ETF vehicle.
However, active funds provide more than just the potential to outperform an index. Active ETFs can also act to reduce portfolio risk by mitigating some of the limitations that are inherent in traditional benchmark indices. Active fixed income ETFs, for example, have the ability to assess the creditworthiness of individual issuers and deviate from the weighting methodology of traditional fixed income benchmarks, which give larger weightings to issuers with higher outstanding debts.
Active equity ETFs, on the other hand, can seek to limit exposure to overvalued companies and increase exposure to more attractively valued stocks, rather than simply follow the weightings of market-cap indices. It's this flexibility to diverge from the index and react to unexpected events that can help active strategies to work particularly well in volatile markets.
Another advantage of active strategies is their ability to provide targeted exposure to specific investment criteria, a characteristic that is of particular interest to the many investors looking to gain greater exposure in their portfolios to securities with strong ESG characteristics.
Put active management at the heart of your portfolio
While traditional index funds continue to have a significant role to play in efficient portfolio construction, active ETFs can help to increase diversification and provide access to different sources of return. In today's challenging markets, active equity ETFs may offer particularly compelling solutions for investors looking to diversify away from traditional benchmarks.
However, while active funds tend to be seen as complements to passive core funds, there are also highly effective active solutions designed to sit at the core of an investment portfolio. At JP Morgan Asset Management, for example, our REI Equity (ESG) UCITS ETFs provide the opportunity to benefit from active management without adding index risk, all at relatively low cost, while also accounting for the ESG factors that increasingly matter to investors.
JP Morgan REI Equity (ESG) ETFs: passive and active in a single ETF strategy
Our REI Equity (ESG) ETFs blend passive index exposure and active stock selection within a robust ESG framework, making them an attractive option for investors looking to earn incremental excess returns on their equity exposure at low active risk.
Built on the stock research of our fundamental career analysts, these innovative active funds target consistent positive excess returns at low active risk. With four strategies covering global, US, European and emerging market equities, our REI Equity ETFs have been designed as core building blocks to sit at the heart of an investment portfolio.
Cost-effective equity index exposure
We believe equities will remain an important component of overall portfolio returns. As stock markets recover from the Covid-19 crisis, our REI Equity strategy is able to provide the cost effective index exposure that investors need. This is because, like passive funds, our REI Equity ETFs stay close to fully invested at all times, with regional, sector and style exposures closely controlled relative to the index to provide a consistent, low tracking error and a competitive fee.
However, while equity index exposure remains important, the contribution from active management is likely to become more crucial in the longer term. According to our latest long-term asset class forecasts1, annual equity returns could fall to 5.5% per annum over the next 10 to 15 years, significantly lower than the 7.3% annual return enjoyed over the last 30 years. In a lower return world, the excess returns produced from active management can make a larger contribution to overall equity performance.
We believe our REI Equity ETFs can help investors generate the long-term excess returns they need. Unlike index funds, our REI Equity ETFs are able to take many small overweight positions, driven by the proprietary stock insights of our global network of approximately 70 fundamental analysts, who conduct bottom-up research into over 2,000 companies around the world.
Access to stock-specific insight
Our analysts base their stock valuations on sustainable long-term earnings, allowing them to look through the current crisis to identify companies that look undervalued at today's stock price. The goal is to maximise these stock-specific opportunities, while minimising uncompensated market, sector and style risks.
The opportunities for our analysts to identify undervalued stocks and to generate excess returns look particularly strong in today's markets. The Covid-19 crisis has exacerbated the recent trend towards large-cap, growth and defensive stocks at the expense of highly leveraged and cyclical stocks, sending valuation spreads (the difference between the most expensive and cheapest stocks in a market or sector) to extreme levels.
We believe this market distortion has created significant share price anomalies that can be exploited through our bottom-up stock research. For example, we are finding significant long-term value in many strong 'structurally winning' companies whose share prices have been unduly impacted by the sell-off, while we're mindful of holding companies that are highly leveraged and will struggle to service their debts through a deep recession.
Aim for incremental excess returns
In each fund, the portfolio managers take a large number of small active positions, overweighting positions in names the analysts find attractive and underweighting positions in the names they don't. This methodology seeks to maximise stock-specific bets within risk control bands, while minimising uncompensated risk (beta, sector, style).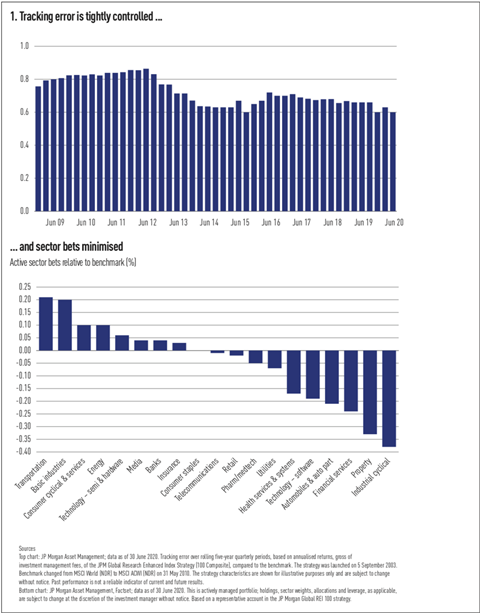 ESG factors matter for long-term investors
Our active ESG framework plays a critical role in assessing the long-term sustainability of stock returns, and also considers the broader impact of our portfolio holdings with the environmental, social and governance factors that increasingly matter to investors.
There are three key reasons why we incorporate the consideration of ESG factors in our REI Equity ETFs. First, we believe we have a responsibility to consider the broader consequences of our investment decisions. Second, ESG factors matter to our clients. And third, we believe that the consideration of ESG factors, particularly those related to governance, can play a critical role in a long-term investment strategy and help to add significant long-term value.
ESG factors can impact corporate revenues, costs and operating cash flows. Poor ESG practices can erode the value of assets and limit access to financing. ESG factors can therefore be thought of as an additional screen to consider when making an investment, providing a layer of risk mitigation that can potentially lead to stronger and more sustainable risk-adjusted returns.
Our approach to incorporating ESG factors
Our REI Equity (ESG) ETFs employ a two-tier approach:
l Values/norms-based screens: Exclusions based on third-party lists are currently applied across three categories: tobacco, thermal coal and controversial weapons.
l ESG integration: Systematic and explicit consideration of ESG factors is built into investment decisions, and best practices encouraged through company engagement. Negative outliers are identified, monitored and reviewed when considering position sizes.
Aligned with investor priorities
We believe our two-tier ESG approach is aligned with the best interests of our clients. Amid an increasing emphasis on ESG factors, we have seen a consensus emerge that many investors do not want to hold companies in sectors such as tobacco or controversial weapons. But active management allows us to go further.
While index trackers can exclude certain categories from their investment universe and may seek to influence companies through proxy voting, our REI Equity ETF investment teams also embed ESG considerations throughout the investment process and engage with companies on their adherence to ESG factors.
Versatile funds with strong performance track records
Our REI ETFs span four regions, allowing investors to gain cost-effective and efficient exposure to all major stock markets:
l JREG: JPM Global Research Enhanced Index (ESG) UCITS ETF
l JREU: JPM US Research Enhanced Index (ESG) UCITS ETF
l JREE: JPM Europe Research Enhanced Index (ESG) UCITS ETF
l JREM: JPM Emerging markets Research Enhanced Index (ESG) UCITS ETF
Time to consider a research-enhanced approach
Whether investors are seeking to de-risk portfolios or looking to perhaps dip their toes back into markets, our REI Equity ETFs provide a cost effective way to gain equity index exposure, with the added benefit of being able to target excess returns by tapping directly into the stock-specific ideas of JP Morgan Asset Management's experienced team of career analysts.
With our hybrid approach, equity investors don't have to choose between passive index exposure and active security selection: they can have both, supplemented by a value-added focus on sustainability through ESG sector exclusions and corporate engagement.
In the near term, we believe our REI equity ETFs can help investors maintain or rebuild equity exposure to capture upside from a potential recovery rally. Longer term, we think their ability to generate incremental excess returns will be critical for investors to boost expected low returns across most asset classes.