Auto-enrolment for employees has been a success. Why not take the same approach for retirees?
Key points

Retirement income drawdown is growing in popularity
Better products and choices are needed
A withdrawal rate of 3% to 3.5% would seen justified
There is support for a 'retirement income pathway' approach
This is akin to auto-enrolment to a default fund in working life
Today's retirees grew up in a world that was materially different to that of their parents and grandparents. Babyboomers enjoyed widespread access to final-salary pensions, a more generous system of social security, an affordable housing market and an investment environment which delivered impressive returns up to the dot-com boom in 2000.
For the 9m people in the UK who will turn 55 in the next decade, the reality is going to be very different again. Future retirees are likely to live longer, retire with more debt, face higher living costs and be more dependent on their defined contribution (DC) savings. They will have comparably lower-than-average private-pension savings and different spending needs. Some will need to provide support to both older and younger family members, while also taking into consideration their own future medical and healthcare needs.
These challenges increase the complexity of the decisions people need to make at the point of retirement and throws up the question of how people can make the most of their savings during and after their working lives. One of the recent editions of the DC Future Book, published by the Pensions Policy Institute (PPI) in association with Columbia Threadneedle Investments, sets out to explore this conundrum and highlighted the need for investment solutions that address evolving pension drawdown needs.
The PPI finds that while increased freedom in accessing DC savings might help people meet varying consumption needs during retirement, for many, choosing an investment strategy and a sustainable-income withdrawal rate will prove overwhelming, as will taking a view on life expectancy and on how to protect pension savings against market turbulence and inflation.
The research concluded that while some people might benefit from using available products such as annuities, others might benefit from pre-designed retirement pathways.
Yet the pace of policy change, uncertainty about how the market will develop, and the fact that most DC pension pots are still relatively small, all create barriers to innovation in retirement products following the introduction of freedom and choice reforms in 2015, which removed the requirement for people to buy an annuity.
What is clear, however, is that we cannot afford to wait. Auto-enrolment for working people has been heralded as a success so far. About 13m employees in the UK are auto-enrolled into occupational pension schemes, cumulative assets are about £430bn (€511bn), and opt-out rates are as low as 9%.
Given the success of auto-enrolment in the accumulation stage, an idea that continues to gain traction is auto-enrolling people at the point of retirement into an institutionally-managed income drawdown default. This is based on the view that, following the pension freedoms, most people will not be able to sufficiently engage with the complex decisions that need to be made. Rather than having to choose, they might instead prefer a default option (such as a decumulation version of NEST) or an off-the-shelf investment pathway.
The numbers support the urgent need for better drawdown solutions. According to the 2019 DC Future Book, drawdown purchases have increased dramatically over the last few years. Having been at a consistent level of 20,000 new contracts per year from 2010-14, following the introduction of freedom and choice, the number of contracts doubled to almost 40,000 and then reached close to 110,000 in 2018 (representing a total value of about £9.5bn).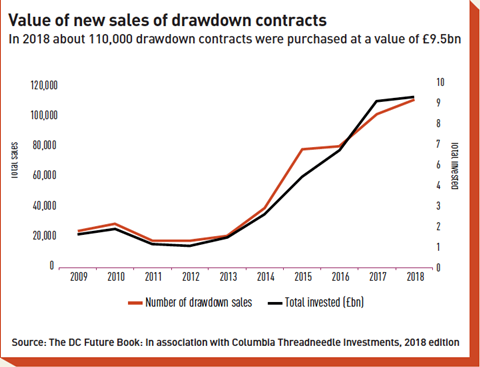 As part of their mandate to invest and grow people's pension savings, it is for asset managers to work out what such an underlying drawdown investment solution could look like. For most people, a well thought-out and relatively inexpensive default drawdown solution with a preset investment strategy, flexible withdrawal rate and an opt-out option would increase the likelihood of achieving a level of income that not only sees them comfortably through retirement, but also meets their changing income needs.
Any such solution must be underpinned by an appropriate investment strategy if it is to deliver a sustainable fixed, inflation-linked real withdrawal rate over 20 to 25 years. A multi-asset fund, for example, where skilful, dynamic asset allocation is applied to a diversified asset mix, can potentially deliver robust risk-adjusted returns, while protecting savings against market turbulence and inflation.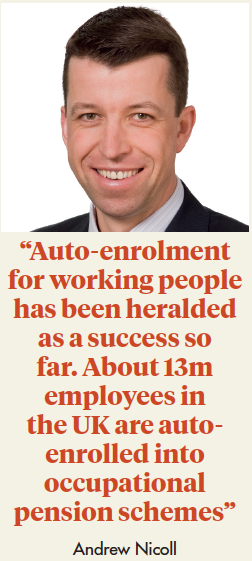 Given the current level of yields and taking into account future investment returns, retirement ages and longevity, the withdrawal rate could be set at somewhere between 3% and 3.5%. Underpinned by a 15-year Gilt along with longevity insurance in the form of a deferred annuity, guaranteeing a minimum income for life, this might also allow provision for a bequest of 10%. Of course, retirees able or willing to make their own decisions could opt out and, with lower-cost regulated advice, create their own solution.
There are encouraging signs that pension decumulation is moving into the spotlight. In 2018, both the Work and Pensions Committee and the Financial Conduct Authority (FCA) published reports on the UK post-retirement landscape, outlining several potential options, including the provision of default decumulation pathways. The FCA then consulted on its proposed remedies and set out its final rules on investment pathways and other remedies in July.
We believe that all stakeholders, including the government, regulators, product providers, asset managers, consultants, and financial advisers, need to continue working together to find a workable solution for the post-retirement phase.
We hope that publications such as the DC Future Book will help in such endeavours by outlining the direction of travel of the UK DC pensions market and encouraging thoughtful discussions about how our society can prepare for a comfortable retirement. After all, with retirement often lasting for 30 years or more, investing pension assets to sustainably meet spending needs must be the imperative.
Andrew Nicoll is global head of insurance at Columbia Threadneedle Investments
PEPP: Time to get personal
1

2

3

Currently reading

UK auto-enrolment: Solutions needed for retirees

4