The pandemic has brought testing times for the valuations and operation of DB schemes
Key points
Roughly 15% of UK DB schemes face a formal triennial valuation based on asset prices at the end of March or beginning of April
Enforced remote working poses fresh challenges for trustee boards and actuarial advisers
Schemes can use in-built flexibilities to reduce the impact of short-term volatility on long-term funding plans
The regulator has been urged to be pragmatic regarding timeframes and chosen approaches when assessing valuations
This year's programme of triennial actuarial valuations for UK defined benefit (DB) pension schemes looks set to be the most challenging in years.
About 15% of the country's DB schemes will base their formal valuation – a regulatory requirement also used to set contribution rates – on asset prices as of 31 March or 6 April, according to Aon.
Because equity and corporate bond prices have crashed in recent weeks as the COVID-19 coronavirus spread and governments and corporations have rushed to react, the funding levels of many schemes are likely to look far more precarious than they did less than six months ago.
The year had already started badly before the pandemic took hold in the UK. According to the Pension Protection Fund's (PPF) 7800 index, which measures the aggregate funding position of private sector schemes, the combined deficit of the more than 5,400 schemes it covers increased to £124.6bn (€141.6bn) at the end of February, from £74.7bn a month earlier.
Over the course of the first quarter to 19 March, Aon estimates that the total funding shortfall for FTSE 350 pension schemes increased by £40bn.
Lynda Whitney, partner at Aon, says: "This will be a really tricky round of valuations at a time when we do not know if the impact of current events on individual companies or the financial markets is short-term or long-term – and we are all trying to meet long-term pension promises."
LDI and CDI
Simon Bentley, director of investment solutions at BMO Global Asset Management (BMO GAM), says the impact of March's crash on scheme assets could be as much as a 10-15% fall, depending on asset allocation.
"This will be frustrating for many trustees as funding ratios were looking strong at the beginning of the year after sustained strong performance from equities," he says.
Schemes that have employed liability-driven investment (LDI) or cashflow-driven investment (CDI) strategies are likely to have performed better, Bentley says.
"CDI strategies will have underperformed scheme liabilities as corporate bond spreads have widened," he adds. "This will impact the funding ratio but not necessarily the cashflow profile of the portfolio.
"The cashflow profile will only become impaired if we start experiencing defaults, which should be rare, given that a long-dated CDI portfolio is typically made up of high-quality, hold-to-maturity bonds."
Tim Dougall, head of investment advisory at Legal & General Investment Management (LGIM), says LDI strategies have needed close daily management at times during the crisis as Gilt yields have been "exceptionally volatile".
"The danger of these sorts of yield movements is if trustees find themselves unable to keep their hedge in place once yields have risen very rapidly," Dougall says. "If trustees weren't able to quickly sell other assets and recapitalise their hedge, then their funding levels would have suffered dramatically when yields fell back."
Be flexible
A widening deficit could put strain on sponsoring employers at a time when many companies – particularly in sectors such as travel and retail – are facing shutdowns and plummeting revenues.
It is important that all parties involved in funding negotiations over the coming months are as flexible as possible, according to advisers.
Matthew Swynnerton, head of the London pensions team at law firm DLA Piper, says trustees should engage with their advisers and actuary as soon as possible to decide a course of action.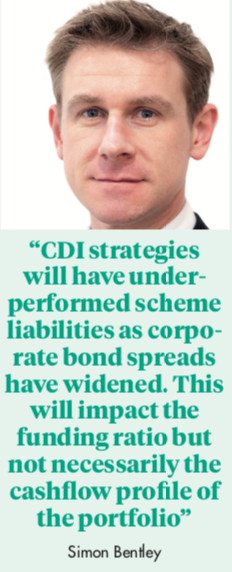 "The current market turmoil could lead both trustees and employers to conclude that it is an inappropriate time to set the effective date of or conclude an actuarial valuation, which is, effectively, a snapshot of the funding position of a scheme on a given date," Swynnerton says.
Schemes and sponsors can decide to defer the strike date until volatility subsides. However, since schemes and sponsors have 15 months after the valuation 'strike date' to come to a funding agreement, they and the scheme actuary can take into account events subsequent to the snapshot, Swynnerton adds. This means a formal delay may not be necessary.
Aon's Whitney says trustees and sponsors should hold an "in principle" discussion as soon as possible to identify and agree on the use of "levers they may have ruled out in the past".
As well as the flexibility offered within the 15-month valuation timeline, schemes can allow for outperformance in their recovery plans or consider recovery plans with a short-term increase in deficit reduction contributions, if the sponsor can afford it.
Operational issues
Schemes preparing for formal valuations also face an unprecedented operational challenge. With the UK having entered a state of lockdown on 23 March, in common with most other European countries, providers have closed offices and transferred most staff to remote working.
Paul Houghton, head of actuarial consulting at Barnett Waddingham, says his firm is well prepared for remote working so there was "no immediate disruption". All necessary systems and tools are available to the company's advisers remotely, so valuation processes are continuing as planned.
"We see that the main changes will be how the results are presented and the interaction with trustees, rather than how the work is done behind the scenes," he says.
"We have a calculations team, also based in the UK, to help with the technical work, if needed, as well as virtual machines, so any lengthy liability calculations can be run without disrupting day-to-day work. Regular team catch-ups and well-maintained audit trails that link up to our time recording and workflow management systems ensure the work is well planned and can be picked up at short notice by others if necessary."
To best help actuaries with the valuation process through these changed working conditions, trustees should be willing and able to join meetings remotely, Houghton says – preferably through video calls to allow their advisers to easily share materials and improve interactivity.
"In this environment, different schemes require different solutions. Trustees need to be ready to adapt but also have faith in [their] training and stick to structured decision-making processes," he adds. "Effective communication between all parties will help smooth the process to achieve the best outcomes."
Covenant
For some companies, the restrictions imposed by the UK government have had a dramatic impact in a short space of time. This has led to speculation about sponsors requesting 'holidays' from paying deficit reduction contributions to DB schemes or other alleviating measures.
Houghton warns that "it may be hard to get engagement from some scheme sponsors" as they juggle multiple immediate challenges to their operations.
Scotland's public sector schemes brace for bad news
The eight local government pension schemes (LGPS) in Scotland are beginning their latest triennial actuarial valuation at an incredibly difficult time.
The schemes, which had £40bn in assets between them, according to 31 March 2019 data, are among the 15% of UK schemes facing formal valuations based on data from the end of March this year.
Being open DB schemes, most have a higher exposure to equity markets than closed, private sector DB schemes, meaning they have been hit harder by price crashes.
The Strathclyde Pension Fund, Scotland's largest LGPS fund, has moved to reassure members that, while the fund's value will have dropped in recent weeks, this is "not an immediate concern".
"Our investment strategy is long term and it anticipates some market shocks along the way," the scheme stated on its website. "This has no impact on our ability to pay pensions right now."
Strathclyde has also closed its office, as have all other Scottish funds.
"In undertaking the valuation, actuaries must consider the appropriate course of action to maintain primary contribution rates at as constant and stable a level as possible"
Scottish Public Pensions Agency spokesperson
In a statement, a spokesperson for the Scottish Public Pensions Agency said: "The requirement for administering authorities to obtain a valuation of each of their pension funds as at 31 March 2020 is a statutory requirement, set out in the scheme's regulations as approved by the Scottish parliament.
"We understand that short-term market volatility can impact on scheme funding levels and recognise that this is a particularly challenging time driven by exceptional circumstances. "While funding levels on the statutory date may not be as positive as had been anticipated until very recently, actuaries are aware that this is a short-term measure and will endeavour to set employer contributions with a long-term view, reflecting the fact that the Scottish LGPS is an open, long-term scheme.
"In undertaking the valuation, actuaries must consider the appropriate course of action to maintain primary contribution rates at as constant and stable a level as possible. We will, of course, maintain engagement with administering authorities and their actuaries should any significant effects start to emerge from the valuation process."
"This might slow the valuation process down in terms of agreeing assumptions and recovery plans," he says. "Therefore, timely and effective communication will be key. We are already in discussions with trustees and are encouraging a collaborative approach with sponsors – and helping them to ensure any communication with sponsors is kept as productive and brief as possible, focusing only on the key issues."
TPR's executive director of regulatory policy David Fairs said in a recent interview with consultancy firm LCP that the regulator acknowledged schemes might have to make "difficult decisions" based on "incomplete information" in the weeks ahead, and reassured them that they would not be penalised for doing so.
The regulator was expected to give further guidance on actuarial valuations later in April.
"In this environment, different schemes require different solutions. Trustees need to be ready to adapt but also have faith in [their] training and stick to structured decision-making processes" - Paul Houghton
LGIM's Dougall says the market volatility – and the subsequent challenges it will raise at valuation discussions – serves as a reminder to trustees of the importance of effective investment governance.
"Many schemes will find themselves in the tough situation of having to work assets harder to repair deficits in a challenging business environment where contributions may not be affordable," Dougall says.
"For those schemes which have managed to remain relatively well funded, the higher yields now available on corporate bonds may prove attractive. They offer an opportunity to add credit to an LDI [liability-driven investment] mandate in order to position a scheme well for long-term run-off at a lower funding level than was previously the case."
This unprecedented crisis is far from over. The next few months could prove crucial to ensuring DB funds navigate it successfully.
To read the latest IPE Digital Edition click here
UK country report: Regulator plans twin-track funding code
1

2

3

4

Currently reading

UK country report: Valuations: Rising to the challenge