Master trusts are attracting most of the UK's auto-enrolment savings. Jonathan Williams looks at the market's regulation, its sustainability and what could change
At a glance
• Auto-enrolment has succeeded in incorporating many millions of employees into pension schemes.
• The vast majority of employers have opted for master trust arrangements.
• A master trust framework offers employers a way of having their own division within an overall arrangement and overall scheme.
• Ensuring such arrangements are sustainable is a complex task.
The success of auto-enrolment in the UK, when seen as a policy, seems almost certain. Participation in pension funds is rising and 5.2m employees were auto-enrolled by March 2015. As a result, nearly 60% of workers were active members of funds, an increase of 12 percentage points in three years.
The Pensions Regulator's (TPR) report on the policy concludes that the pensions landscape has been transformed for the better. This is true in more ways than one, as the master trust grows in importance to pension provision, supplanting the traditional occupational scheme.
TPR estimates that, by March 2015, 94% of employers were opting for master trusts as a way of ensuring they were compliant with auto-enrolment. The figure comes before the staging dates for small and medium-sized companies – firms that traditionally would not have much experience of offering pensions to their staff – have even been reached.
A reluctance to aggressively regulate the nascent market instead led to the creation of the Master Trust Assurance Framework by the Institute of Chartered Accountants in England and Wales. This provides a voluntary way of assessing the viability of pension providers, ensuring that members are not entrusting their contributions to potentially non-financially-viable companies.
Ensuring the sustainability of master trusts is not simple, as the example of the National Employment Savings Trust (NEST) shows. Established by government as a fund of last resort, it has over two million members and, as of the most recent financial year, assets of £420m (€558m). While this is a significant increase since April 2014 when assets were £104m, a recent report by the National Audit Office (NAO) said the master trust is far from being able to pay its own way.
NEST is partly financed through a 0.3% charge on members' assets. The remaining running costs are met through a loan from the Department for Work and Pensions, to be repaid at an undetermined future date. To date, NEST has drawn down £387m, but the NAO found that to have been self-sustaining in 2014-15, NEST would have required assets under management of £20bn.
In an effort to improve balance sheets, other master trusts have begun imposing charges in addition to management fees on member pots. The People's Pension, the not-for-profit master trust launched by construction sector financial provider B&CE – with 1.7m members it is NEST's closest private-sector rival – has begun charging employers a one-off £500 enrolment fee, on top of its 0.5% management charge paid by members. Employers approaching the provider through an intermediary face a slightly lower one-off cost of £300.
Patrick Heath-Lay, chief executive of B&CE, stresses that ongoing support will be free of charge and that the provider's focus will remain on savers. "We don't believe in front-loading member charges to cover the cost of supporting employers."
Now Pensions, the master trust backed by Denmark's ATP, also introduced employer charges at the beginning of 2016, alongside a 0.3% management fee and a £1.50 administration fee. Morten Nilsson, the scheme's chief executive, argues that the cost is a necessity if Now wishes to continue serving as a scheme of last resort for any employer.
The number of master trusts that have completed the voluntary master trust framework is small, but growing. At the beginning of 2016, the list includes NEST, Now and People's Pension, Welplan and fiduciary manager SEI. Rival financial providers that have also set up master trusts, but that have yet to complete the voluntary assurance framework, include Aon, BlackRock, Mercer and Zurich.
Andrew Warwick-Thompson, executive director in charge of regulation at TPR, says the regulator would strongly encourage other master trusts – including those run by consultants and the insurance industry, leveraging their experience in contract-based DC provision – to complete the voluntary assurance framework, but hints at further regulation for the market. "As part of our discussions with government, we are looking at how else we can ensure master trusts deliver good member outcomes."
TPR's chief executive, Lesley Titcomb, has offered further clues as to what increased regulation could look like.
She indicated at a recent Pensions and Lifetime Savings Association event that the voluntary assurance framework could become mandatory. She also said she would like a focus on a resolution framework, allowing for an orderly wind up of a master trust should it fail.
The increased focus is unsurprising, given that the master trust market is expected to grow by over 10% a year on the back of the increase in minimum contributions, according to TPR. Auto-enrolment is set to yield up to £16bn in additional pension savings by 2020, according to the government.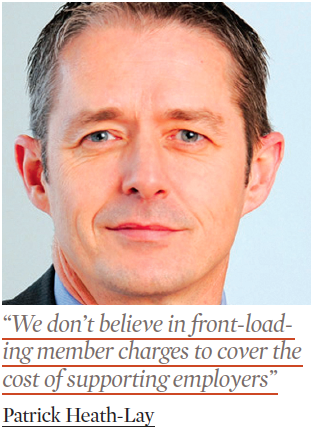 Stricter regulation has long been supported by Nilsson, who has suggested that the UK should license providers. Fiona Matthews, managing director of Willis Towers Watson's master trust LifeSight, is also in favour of a tougher approach, advocating a mandatory assurance framework.
Matthews argues that providers need to offer employers using their services the certainty that they will be around for the long term, and she dismisses the argument that the costs associated with the framework are too high. "I think those who can't afford it probably shouldn't be master trusts," says Matthews. "If you think about master trusts, you take on the risk of managing all future legislative change. You are managing people's money for a long time, and need to have the confidence that your administrative and governance processes are robust.
"I struggle to understand what the disadvantage is to everybody having it, [except] cost, and that's the cost of being in the market," she adds, arguing that while sub-scale master trusts may be passing on the associated costs to members, it raises the question as to why they are allowed to continue operating.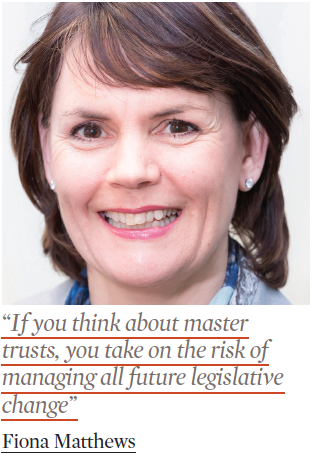 Another area in need of closer inspection is the independence of trustee boards. It is important to ensure that master trust board members are independent from their operators and have the skills necessary to truthfully assess the business – for example, when it comes to scale and deciding if its operation remains viable.
The UK regulator has a long way to go if it wants to improve the stability of the market. From mandatory assurance frameworks, to regular reviews of the scale (and pipeline) of assets to prove viability, there are several ways the health of the market can be assessed.
The question is whether the regulator will be allowed to be proactive, or forced to regulate after the first fatality in the market.
UK Defined Contribution: Mastering the master trusts
1

Currently reading

UK Defined Contribution: Mastering the master trusts

2

3

4

5

6