A pension plan for European academics could become a model for cross-border pensions, writes Barbara Ottawa
Resaver at a glance
• The first contributions are planned from autumn 2016.
• Startup costs of about €4m for the first four years from three institutions are covered by the EU from the Horizon2020 budget.
• An IORP will be set up under Belgian regulatory framework as OFP.
• Belgian FSMA approval is expected this summer.
• Resaver's consortium was set up in 2014.
• Aon Hewitt was appointed as adviser in 2015.
• BlackRock is the investment manager.
More than 200 organisations are represented in the consortium that has been formed to set up the Resaver pension fund – a Belgium-domiciled cross-border defined-contribution pension fund.
The fund is due to start in autumn, with contributions from the Central European University based in Budapest, the Elettra Sincrotrone Trieste and the Istituto Italiano di Technologia, both in Italy.
Another 17 members, representing several hundred organisations from the 31 countries of the European Economic Area (EEA), have helped to realise the idea of a pan-European fund for researchers and other employees of research institutions. They are expected to start making contributions at a later point in time. Some are only waiting for approval from the Belgian Financial Services and Markets Authority (FSMA), which is expected this summer. Others are still clearing up internal formalities and some are waiting for the fund to build up a track record.
At the launch of the Resaver IORP (Institution for Occupational Retirement Provision), the representatives confirmed it was becoming much easier to explain the idea to people. The legal form will be a Belgian OFP (organisation for financing pensions) vehicle; the first service providers have been named (see Resaver at a glance) but the issues of costs, contributions and investment strategy were still undecided at the time of writing.
Within the industry there is little optimism for 'true' pan-European pension provision. This is understandable since cross-border business has not yet taken off. Problems encountered by other pension plans, so far, include social legislation, different reporting standards and investment regulation.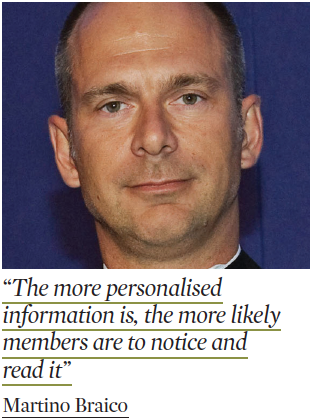 Under the Resaver IORP, research institutions from all over Europe are to be covered – both the academics themselves, as well as other staff from the institutions. The pension plan is designed to ensure "continuity of pension accumulation when moving between employers or countries" but also "best-in-class investments, administration, communication and modelling tools" in addition.
"The major challenge for defined contribution pension funds today is not database maintenance but member information," says Martino Braico, senior manager at Previnet, which was chosen for the task of member administration. "In the DC world, a lot of responsibility, maybe sometimes too much, is placed on the members and we have to equip them with tools and knowledge." The Italian pension company provides administrative services with self-developed software for 220 pension plans.
Another important tool that can help people make decisions about their pension plan is an interactive website. Resaver's website will be in English, Italian, German and Hungarian to start with, Braico says. "At a later stage, when more research institutes are joining, other languages like French, Greek, Spanish, Portuguese or Dutch will become available," he adds.
"Features for such a website have to include a pension projection, the member's risk profile and online statement and maybe also learning tools," he says. Members will also get additional information by email or text message if anything relevant to their pension plan is happening – be it that their statement is available or that a new board member has been selected. "What we have learned is that the more personalised information is, the more likely members are to notice and read it," Braico says.
"In some of the pension plans we are also moving to apps and we notice that members who are using the app are then no longer using the website," he says.
Another feature that will most likely be added to the Resaver platform is a 'gamification' element. "The idea is to try to make pensions the least boring for them as possible," says Braico. In one tool Previnet is using, a cartoon bee guides members through a game in which they have to set up their individual risk profile and can win a small prize at the end. "This is one of the steps which allows people to make the right choices," Braico says. But he stresses that Previnet only offers financial education and no financial advice.
Thierry Verkest, a partner at Aon Hewitt in Brussels, says the fund will include a life-cycle model, as well as a model of free choice for individual members.
Both the delivery and type of information are important. As Braico explains: "Different countries have different consumer information requirements and we have to fulfil them individually."
However, for regulatory purposes the Resaver administration only has to report to the Belgian FSMA. "We will provide Resaver with a full set of central reporting but also with new features such as business intelligence tools where you can, for example, have statistics displayed on a map of Europe," Braico explains.
At BlackRock, which was chosen as the investment manager, the main challenge for the team led by managing director Tony Stenning will be to accommodate the investment regimes of the various EU member states, as the requirements must be met for each fund member in each country.
"We have been working with the Resaver consortium and Aon Hewitt to create a flexible, cost-effective multi-asset solution designed to meet a range of member [and] country-specific outcomes," Stenning says. Low costs due to economies of scale were one of the key features the consortium identified for the IORP. No detailed information was available on the cost structure.
Resaver has to be able to accommodate all regulatory frameworks but also provide individual members with choices. Therefore, as Stenning explains, "the solution will utilise a range of bespoke glidepaths, using pre-existing building blocks, to manage investment risk and deliver flexible potential outcomes for members as they reach retirement, allowing them to either stay invested, take cash or annuitise".
And then there are the 'behind-the-scenes' challenges, such as from the individual accounts to the investment manager. "A typical cross-border challenge is to properly track and manage currency conversions, together with investment options, which can be different on a member-by-member basis," says Braico.
In the case of the Resaver IORP, initial contributions will be in Hungarian forint and euros and will have to be converted into euros and/or dollars. But this is an exercise Previnet has been doing for the North Atlantic Treaty Organization (NATO) pension plan – with over 3,000 members, 80 employers, contributions paid in seven different currencies, 11 investment funds in euros and dollars, and four investment managers – since 2007.
In his experience, Braico says, there are few true pan-European pension plans at the moment and "most do not run administration from a single point". Resaver could just be the first.
On the Record: What is your approach to governance?
1

2

3

4

Currently reading

Resaver: Researchers in cross-border test