Investors are diversifying their portfolios globally, but they are also exposing themselves to a broader range of risks
With telecommunication advances and freer movement of people and goods, the world has become more global. Organisational strategies have also become increasingly global, and markets are more connected than ever before. As a result, integrating global risks and trends into the strategic decision-making process has become more important than ever.
In the pension industry there has been a trend to increase portfolio diversification by asset class and geography, leading to a greater susceptibility to a broader range of risks. Portfolio managers need to view the future in a different way.
The Global Risk & Trends Framework (GRAFT) is a process for identifying, assessing, and responding to strategic risks posed by global events and trends. It also identifies the potential opportunities inherent in those risks (figure 1).
GRAFT's capabilities include:
• Assessing the company's strategy – along with underlying assumptions and dependencies – for vulnerability to global risks and trends;
• Identifying and prioritising relevant global risk and trends;
• Visual mapping to identify and prioritise correlations that could heighten vulnerabilities or provide synergies;
• Identifying scenarios to help assess the potential impacts for the company;
• Key insights to evolve business and investment strategies.
How does GRAFT work?
Step 1 in the GRAFT process reviews an organisation's core strategies. Step 2 identifies the underlying assumptions that are critical for strategic success.
In a GRAFT Pension Case study undertaken by us at the Global Risk Institute, core strategies include increasing diversification by asset class and geography. Assumptions include factors that influence stability of investment value, such as political climate and market volatility.
In step 3, GRAFT users review an inventory of current global risks and trends for applicability to their organisation. GRAFT uses the latest list of global risks and trends provided by the World Economic Forum (WEF). The WEF's 2018 Global Risk Report identifies 29 risks and 13 trends in five groups: geopolitical, societal, environmental, technological and economic.
Global risks and trends affect portfolios, industries, companies, and geographic locations in different ways. GRAFT provides users with tools to assess the importance of these risks and trends to their organisation, considering materiality of impact and timelines, as well as correlations and synergies.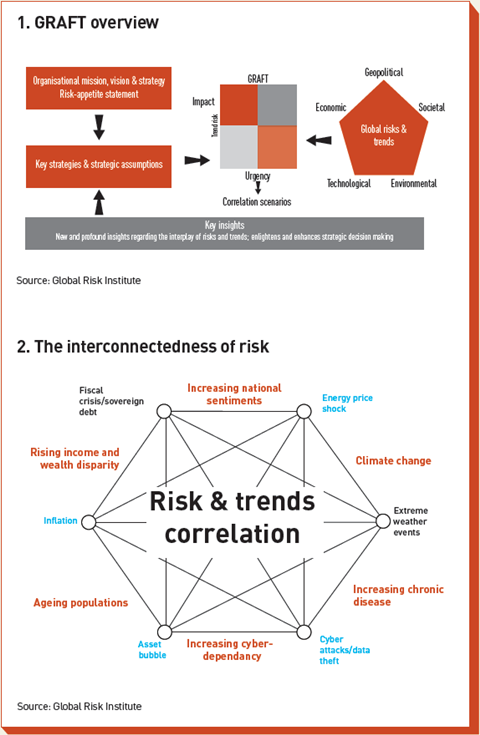 In step 4, organisations prioritise the risks and trends based on impact and urgency. In step 5, the mapping tool is used to categorise risks and trends into four quadrants to show pictorially the degree of threat and urgency for each (figure 2). Those closer to the bottom of the quadrant are deemed more material in terms of impact to the organisation. Those closer to the left side of each quadrant are considered more immediate. The bottom left corner of both the risk and trend quadrants are the most immediate and impactful risks and trends.
As part of the mapping process, GRAFT users ask themselves: what are the organisational implications for a particular risk or trend? Will this influence the success of our strategies? Will this pose challenges to our strategic dependencies?
In our case study, the top risks included asset bubbles, inflation and deflation, and fiscal crisis and sovereign debt, while longer-term risks are associated with the failures of critical infrastructure, financial institutions or financial mechanisms considered to be the most impactful.
Of the global trends, ageing populations, rising income and wealth disparity ranked as most impactful and urgent, with the rise in chronic diseases, urbanisation and climate change considered as future risks. Given the long-term nature of pension-fund investment, consideration of future risks and trends is particularly important.
In step 6, users identify correlations between the global risks and trends. GRAFT uses a risk-cluster pentagon (figure 2) to illustrate the interconnectedness of risks and trends to identify where one risk might give rise to other risks. Organisations use this step to develop comprehensive risk scenarios to direct quantitative-scenario analysis and stress testing.
Assess implications for strategy
Once the risk correlations have been identified and challenged in step 7, the next step involves assessing implications for the organisation's strategy. Organisations compare and discuss the top trends and their interaction with the top risks and their strategic assumptions and dependencies.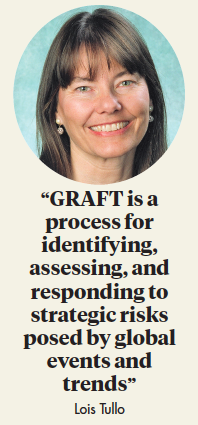 The goal in step 8 is to identify critical insights regarding risks and trends, and combinations thereof that could threaten the organisation's success. Insights from the process typically include development of enhanced risk scenarios for stress testing, and identification of key risk indicators to monitor emerging risks so that risk-mitigation strategies can be implemented. In some instances, strategy shifts will be required.
In our case study, the assessment of risks and trends, as well as correlations, resulted in the consideration of how increasing national sentiments, unemployment, and disparity in income and wealth together could affect asset prices. The more detailed example from the case study includes other factors considered, such as:
• The effects of the ageing population combined with the rise in chronic diseases;
• The procyclical effects of increasing government deficits and debt levels combined with the reduction of the workforce due to the ageing population;
• The effect of cyber-dependency and cyberattacks on investment decisions, and increased focus on operational security and efficiency through algorithmic trading, big data, and AI implementation;
• The shift towards climate-aware investing, either through gradually implementing climate considerations into their portfolios or a one-time portfolio makeover (exit strategy for stranded assets, and so on), and the opportunities for expanded investment in sustainable infrastructure to offset the downside risks.
In our case study, the insights identified in step 8 resulted in the fund shifting its investment strategy to take advantage of increasing cyber-dependency and the growing risk of cyberattacks and data attacks through increased investments in fintech start-ups and cyber-security providers.
The fund also decided to avoid potential downturns or stranded assets in more vulnerable sectors affected by climate change through portfolio repositioning.
It also sought to use AI-sentiment tracking for climate change to calibrate its transition to more climate friendly assets.
The increase in social, political and climate-related events are a wake-up call to prompt organisational leaders to reassess their preparedness for global risks. Societal and technology trends, as well as environmental, geopolitical and economic influences, need to be assessed for their influences on organisational strategies.
Lois Tullo is the executive in residence at the Global Risk Institute