Consultants and managers have written numerous papers making the case for and against risk parity but most have remained silent on the matter of fees, and even pension plans that are raising risk parity allocations are silent about costs.
This apparent apathy is surprising at a time when low yields are prompting pension managers and their plan members to look closely at every cost. The broader story seems to be that the use of the risk parity is in its early stages, with many funds and managers having just a few years of experience while they try to understand the concept and work out how to charge clients.
"It's true that fees are under pressure, given the low yields on fixed-income instruments," says Koen van de Maele, global head of investment engineering at Candriam Investors Group in Brussels. "However, risk parity strategies cannot be seen as pure passive strategies, since no unique implementation prevails."
Differences in the implementation of the risk parity concept have been a hallmark of the new approach from the start. Ray Dalio, founder of Bridgewater Associates, is generally understood to have first incorporated the concept of risk parity investing in his All Weather strategy in 1996, but never used the term 'risk parity'. Russell Investments believes the term was coined by Eddie Qian of PanAgora Asset Management when the firm launched a risk parity product in 2006. An analysis of the risk parity landscape in 2013 by Russell Investments concluded that there are many different approaches to risk parity.
Dalio was seeking to realise equity-like asset growth without taking on equity-like risk, and developed an approach to collect asset-risk premiums while mitigating changes in market conditions that can impair returns. An issue is that not all risk parity products label themselves as such, as Russell says in its analysis: "We are using 'risk parity' as a bit of a catch-all to describe a selection of funds that focus on risk as the primary factor in the weighting of a portfolio's asset classes."
So today, where return expectations are much lower than a decade ago, the question of fees for risk parity strategies revolves around the complexity of the particular implementation. The discussion centres on determining the scope and depth of research to design a risk parity programme, and the analysis and decision-making required to maintain performance as macro and financial market factors change over time. The post-financial crisis world has also seen the launch of numerous risk parity mutual funds, which have helped to start establishing a foundation for assessing fees against a variety of parity objectives.
"In the end, all kinds of risk parity strategies, or smart beta strategies or risk-factor strategies, in my eyes, seem to be more active than passive strategies," says Van de Maele. "If you look at the ways these things can be implemented, and the way that they are combined or weighted in a portfolio, there are still a lot of decisions that have to be made, which can have a huge impact on portfolio performance."
At a glance
• With no standard implementation, fee levels for risk parity remain in flux as the strategy continues to develop.
• Growth of risk parity mutual funds illustrates range of fees for varying strategy parameters.
• Major public pension plans are already moving to bring risk parity-type strategies in-house, but cost details are not disclosed.
Many of the decisions required by a risk parity strategy centre on the leverage used to increase the holdings of low-risk assets, which is needed to fill the return gap created by reducing holdings of higher-return assets. The leverage issue can affect fee levels, and might even justify investing in a different type of strategy, according to Massachusetts-based Meketa Investment Group, an institutional consultancy.
In a white paper on risk parity that concentrates on leverage, Meketa notes that the risk-adjusted advantages can be reduced by borrowing, sometimes significantly. And in an environment of low global interest rates, "increasing a fund's risk exposure to rising interest rates may not be advisable".
Pension funds that would prefer to avoid the details of implementation and monitoring can select from the active managers offering 'turnkey' risk parity solutions, Meketa goes on to say. "These managers offer a range of risk parity solutions, including simple asset-based risk parity portfolios to more complicated risk-factor parity STRATEGIES. The fee range is similarly wide, with expense ratios ranging from 75bps on the part of Columbia's fund to 135 in the case of Salient, according to one analysis (see table).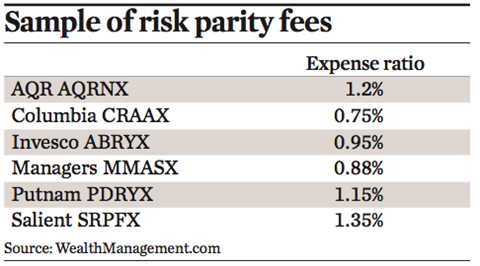 In light of the potential impact of borrowing costs, however, Meketa recommends sponsors that want to adopt a leveraged higher Sharpe ratio portfolio should hire a leveraged bond manager.
So despite initial impressions that risk parity is a variant of indexing designed to capture a variety of asset-class betas, the practical implementation of the theory leads towards an active-management pricing regime. "These are strategies where you try to extract returns from the market where there is evidence that [they] work over time – or in the long run should continue to work either for economic reasons or for behavioural science reasons," says Van de Waele. "But that, in itself, does not mean that you are offering a commodity or a purely passive replication of certain factor strategies."
While the fee regime may ultimately not wind up at hedge funds rates, Van de Waele believes the fee and the effort as an asset manager to deliver such funds is "just slightly below classic active management".
"In the end, all kinds of risk-parity strategies, or smart beta strategies or risk-factor strategies, in my eyes, seem to be more active than passive strategies"

Koen van de Maele
However, large pension schemes have found enough value in the risk parity approach to try it themselves. The $129bn (€115bn) Teacher Retirement System of Texas is preparing to manage about $3.4bn in a risk parity approach in-house. That would make it one of the few pension funds to manage such a portfolio on its own, along with the State of Wisconsin Investment Board, the Healthcare of Ontario Pension Plan in Toronto, and Denmark's ATP.
The move in-house would follow a multi-year pilot. The Texan plan in October 2012 hired Bridgewater Associates and AQR Capital Management to manage a total of $584m in risk parity assets – 0.5% of total assets. And last summer, Texas Teachers' investment management division began managing 0.1% internally, or just under $120m.
The TRS investment committee presentation for November 2014 indicates that the plan's trustees approved a strategic asset allocation change to include a new 5% allocation to risk parity at its board meeting last September; allocations to global equity and the stable value portfolios were reduced. Fees were not mentioned in the presentation, but TRS's goal for 2015 is to implement its new risk parity plan.