Carola van Lamoen, the head of active ownership at Robeco, talks to Liam Kennedy
Much of the work of corporate governance teams may seem procedural or mundane to the outsider – mergers, acquisitions, director appointments, reappointments and remuneration proposals, as well as thousands of shareholder meetings per year. Most of these activities are wholly uncontroversial.
Indeed, until the 1990s, the box-ticking and paperwork of corporate governance was a lowly administrative task that was barely remarked upon. Slowly, investors started to take notice of the way boardroom composition and behaviour impacts on corporate performance and portfolio returns. The Cadbury report put the issue of corporate governance on the map in the UK in 1992, as did the report of the Tabaksblat committee in the Netherlands in 2003.
Investors also started to connect the dots between responsible investing and corporate governance. Still seen as a distinct topic from socially responsible investment (SRI), it was not until around the time of the advent of the UN-backed Principles for Responsible Investment in 2005 that corporate governance and SRI were linked under the single thematic banner of ESG. This represented a recognition of the role of companies and their boards as societal stakeholders, and their owners as stewards.
Robeco was fairly quick off the mark, starting in active ownership in 2005, when the concept "hardly existed", according to Carola van Lamoen, who joined Robeco in 2007 from the Dutch Finance Ministry, where she was a policy adviser working on the implementation of the Tabaksblat corporate governance code. "It was a challenge to implement it and to bring the message that corporate governance is of key relevance for companies," she recalls.
Van Lamoen has been head of active ownership at Robeco since 2013. Her 14-strong "international, diverse team of specialists" in governance, environmental, human rights specialists and other areas, must "focus our capacity on the really high-profile things going on", she says, constantly identifying the most significant issues at the most relevant AGMs on the basis of assets held, where the most relevant proposals are being tabled.
There are crude measures to compare the clout of engagement teams. BlackRock's 45-strong stewardship team manages, pro-rata, just over $150bn per team member, for instance; Robeco's 14-strong active ownership team deal with a more manageable $15bn per team member. Hermes Equity Ownership Services has a team of around 30, advising on assets of $638bn (including for external clients), or $21bn per team member.
Robeco active ownership
Carola van Lamoen
• From July 2013: Head of active ownership
• From 2019: Nomination committee member, International Corporate Goverance Network (ICGN)
• From 2015: Co-chair, board governance committee, ICGN
• From 2014: Investment committee chair, Eumedion (Dutch corporate governance network)
• 2008-13: Corporate responsibility co-ordinator, Robeco
• 2007-13: Senior engagement specialist, Robeco
• 2001-07: Senior policy adviser, Dutch Finance Ministry
• 1996-2001: Drs business administration, Erasmus Universiteit Rotterdam
Robeco
• €186bn AUM
• €120bn managed in ESG-integrated assets
• 909 staff at 17 offices
• 14 active ownership staff
• As of June 2019
Are 14 people enough? Why not 24, or 44? Van Lamoen emphasises that her team does not work in isolation within Robeco and she paints a picture of cross organisational teamwork and collaboration between her team, the portfolio managers, and the Zurich-based sustainability specialist RobecoSAM. Her unit is no internal think-tank that dispenses judgements from on high.
To focus its activities, the active ownership team identifies four new topics of focus per year – which van Lamoen describes as seeking a "good mix" – focusing on 10-15 companies per topic. The team then works on the topics on a rolling basis for an average of about three years.
This year's themes are palm oil, single-use plastics, social impact of artificial intelligence and digital innovation in healthcare. The length of the engagements means the firm is usually working on as many as a dozen engagement topics at any given time. "You have to focus," as van Lamoen puts it.
There are also four to five pre-set objectives for each engagement topic, determined in collaboration with the relevant analysts, research specialists and portfolio managers, including on a regional basis. A client panel also has input. Once objectives are identified per portfolio stock, the target companies are contacted to communicate the objectives and, hopefully, start a dialogue.
This autumn the team will start the process to determine the themes for 2020.
There are multiple, often complex factors to weigh. Palm oil is the world's most consumed vegetable oil and important for the economies of countries like Indonesia and Malaysia. Millions of people in south-east Asia rely on palm oil production for their main source of income. Yet unsustainable production leads to smog, deforestation and population displacement. Singapore, situated between the production centres of Malaysia and Indonesia, in 2014 criminalised firms or entities that contribute to palm-oil-related haze pollution in the city state.
Single-use plastics was proposed as an engagement topic by the credit team, underlining that governance is a topic for fixed income too. Here Robeco collaborates through the Plastic Solutions Investor Alliance, set up in 2018 by As You Sow, a US not-for-profit organisation based in Berkley, California. ESG challenges in the automotive sector is another topic with the backing of the credit team.
"Our credits team is a very important stakeholder for us," says van Lamoen. "Several of our engagement themes also have the backing of our credit colleagues. The focus of a credit holder is mainly on risk. But if you connect, and focus on risk and reducing risks, this is of great relevance to an active investor. For most of the topics we discuss, the interests from a credit and shareholder perspective are aligned."
Perhaps Robeco's biggest corporate governance hit to date has been in collaboration with the Church of England Pensions Board under the umbrella of Climate Action 100+, the international investor network promoting action on greenhouse gas emissions by the largest emitters.
In a statement in December 2018, Shell committed to link executive pay to specific net carbon footprint targets of three or five years, to be set each year from 2020 to 2050. This is subject to shareholder approval at next year's AGM.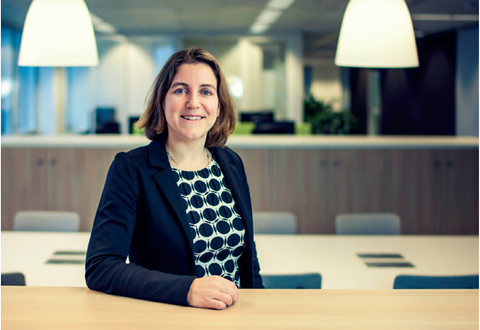 As head of active ownership at Robeco, Carola van Lamoen is also chair of the investment committee of Eumedion, the Dutch corporate governance forum that works with institutional investors on topics relating to Dutch listed firms. She is also co-chair of the board governance committee of the International Corporate Governance (ICGN). Van Lamoen studied business at the Erasmus University, Rotterdam, specialising in sustainability, submitting a thesis on sustainability reporting in 2001. That now seems like a shoe-in to a high-flying career, but in the 1990s it looked like the route to a career cul-de-sac. Companies were dropping sustainability reports because they couldn't see the value in them, she says.
As a long-term investor in Shell, probably since the inception of the asset manager 90 years ago, Robeco was a natural choice to co-lead this engagement. "If you're talking about engagement, it's not a one-off," van Lamoen notes. In the case of Shell, the change in remuneration policy was the result of multiple meetings at multiple levels with different parties within the company.
In this case, behind-the-scenes dialogue was led by van Lamoen's team and that of Adam Matthews, director of ethics and engagement at the Church of England Pensions Board. Other investors, like APG and the UK's Environment Agency Pension Fund, were also involved.
While this particular approach and outcome probably can't just be transplanted to other companies, the decision-making and thinking within Shell could be a template for others to adopt. Van Lamoen says: "We now really see that this works as a blueprint for other oil and gas companies, and also more broadly for how companies can connect with climate agreements, and be serious about reducing their carbon footprint with a long-term focus. We are a long-term investor and we want companies to stay relevant in the future."
Climate Action 100+ is not solely focused on the oil and gas sector, and it engages with other sectors that face significant challenges in the energy transition, such as chemicals and automotives.
" There is more and more collaboration in the sector. More and more investors are involved in active ownership, which is a good thing because together you can increase your impact" - Carola van Lamoen
Van Lamoen comments: "There is more and more collaboration in the sector. More and more investors are involved in active ownership, which is a good thing because together you can increase your impact."
A key issue right now is exclusion versus engagement, and one member of van Lamoen's team drives exclusion policy. Controversial weapons are excluded company-wide, as is tobacco (as of 2018), as per Robeco's exclusion policy.
Controversial behaviour – deemed to be severe breaches of UN Global Compact Principles and OECD Guidelines for Multinational Enterprises – is subject to an enhanced engagement process of up to three years with an option to exclude after that.
Palm oil is subject to a separate policy where companies with less than 20% sustainable production are automatically excluded. Other producing companies are subject to a special engagement programme and all portfolio companies will be expected to achieve 50% sustainable production by 2021.
What are the measures of success for such engagement units? By their nature, teams such as van Lamoen's are no activist investors, seeking short-term performance gains from clearly defined and telegraphed objectives. The integrated way in which they work and their longer-term focus means it is next to impossible to define, say, an 'active ownership premium'.
Successfully closing engagement topics is a measure of success. In 2018 van Lamoen's team closed two-thirds of cases, defined by a majority of objectives having been reached. "Both the quality and the results of the engagement dialogues are very important. But next to that, the quality and impact of our internal collaboration is very important as we should engage on topics that are relevant to our investment teams. So feedback is acquired from the different internal stakeholders."
What about the concern that others, passive investors perhaps, may benefit from a free-rider effect, enjoying higher stock valuations without sharing the cost of engagements over time that may contribute to those higher valuations?
Van Lamoen is convinced that "active ownership contributes both to investment results and to society".
She also notes that even with a track record approaching 15 years for active ownership, the data series is relatively short. "We still have limited history. So we are building up databases where we track the results of our engagements. We also have universities looking into that data, and you see there is a growing focus from a research perspective on the impact of active ownership.
"But there's also the conviction that companies with more sustainable business practices will do better in the longer term, and this is financially material.