Romania's mandatory second pillar pension funds returned -4.5% over the first four months of 2020, according to the Romanian Pension Funds' Association (APAPR).
The first quarter had seen returns for the €13bn-worth second pillar system slump to -6.7%.
According to Mihai Bobocea, adviser to the board and spokesman for APAPR, 90% of the Q1 fall was caused by plunging equity markets, the Bucharest Stock Exchange falling by 24% over the period and the UK, German and French exchanges suffering similar falls.
The remainder 10% loss was caused by short-term volatility in bond prices, as Romanian pension funds value all holdings on a mark-to-market basis. In fact, these bounced back into positive territory much sooner than the equity markets, Bobocea said.
Bonds form the lion's share of Pillar II portfolios, with 65% of assets in government bonds and a further 10% in other bonds, as at 31 March 2020. Listed equities made up 18.5% and UCITS 2.5% of portfolios at the same date, with the rest in bank deposits.
But there was a significant recovery in April, and returns for the 12 months to 30 April 2020 were still positive, at 4%.
Over the longer term, average annual returns for the three years to end-March 2020 were 2.2%, and 3% over the five years to that date.
Bobocea told IPE: "We expect the recovery to continue, as the lockdown on the economy started being eased on 15 May."
Under the new "state of alert" which superseded the state of emergency, individuals may now move around their local neighbourhoods without an affidavit. Hotels, stores with direct access to the outside, dental surgeries and hairdressers' salons have been allowed to reopen, although restaurants and bars remain closed, except for take-out services.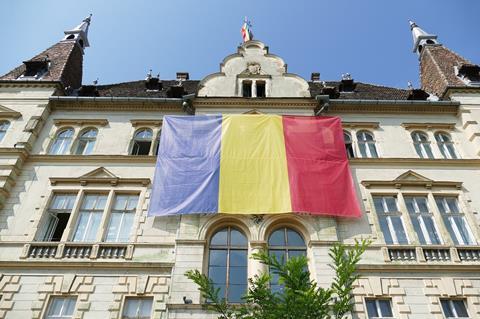 While Bobocea said it is too early to measure how pension fund liabilities have been affected by COVID-19, he pointed out that liabilities are "insubstantial". In any case, all second pillar funds are defined contribution schemes.
Meanwhile, on 10 April 2020, the country's Financial Supervisory Authority (ASF) decided to temporarily lift some investment restrictions for pension funds, allowing them to invest more than 70% of their assets – the previous ceiling – in government bonds.
However, Bobocea said: "The asset allocation at end-March shows the 70% limit has not yet been breached, and pension funds seem to be treating this temporary lifting of restrictions more as a precautionary measure by the ASF."
Meanwhile, last January, Romania's finance minister Florin Citu promised that the contribution rate for the second pillar would increase back to 5% in 2021, and ultimately to 6%, as specified when the second pillar was set up.
This is in line with the government's intention to strengthen private pensions by reversing some policies of its predecessor administration, run by the Social Democratic Party (PSD), which had reduced second pillar contributions to 3.75% in 2018, before losing power in October last year.
However, in the light of the COVID-19 crisis, this move is now in the balance, given that the second pillar is funded by social insurance contributions, effectively from the government budget.
Bobocea told IPE: "It is obvious that Romania's economy and public finances, like all of Europe's, will need to show a robust recovery and reconstruction before additional government spending will be possible."
To read the digital edition of IPE's latest magazine click here.