Improved funding leads indexation wave
The coverage ratios of Dutch pension funds have further improved in 2017, mainly on the back of rising equity markets. Aon Hewitt and Mercer conclude that official 'policy funding' – the 12-month average of the coverage ratio, and the main criterion for rights cuts and indexation – has improved by at least 8 percentage points to approximately 106%. As a result, an increasing number of schemes have announced indexation of benefits.
Looking back, no Dutch pension fund had to make benefit cuts in 2016, when average funding improved to 98% at year-end in the wake of the election of Donald Trump as US president. The positive effect was boosted by rising interest rates. The 30-year swap rate – the main measure for discounting liabilities –jumped from 0.72% to 1.23% in the last four months of 2016 (see figure).
It is now clear that underfunded schemes that had opted for postponing benefit cuts in the hope of further recovery, made the right decision. As long as their coverage ratio is somewhere between 90-95% and the required minimum funding approximately 104.2%, funds are allowed to defer cuts by up to five years. Their overall recovery target is to reach a coverge ratio of 125% within 10 years.
In November 2016, Jetta Klijnsma, state secretary for social affairs at the time, suggested easing the pressure on pension funds by extending the 10-year recovery term. By then, it was expected that 30 pension funds were facing benefit cuts. However, the government decided against such an adjustment, arguing that only a limited number of funds would need to cut pension rights following the significantly improved economic situation.
Further back, in January 2016, the central bank and regulator De Nederlandsche Bank (DNB) concluded that no more than five schemes would have to apply rights cuts of less than 1%. However, its assessment left open the possibility that the pension funds involved could stave off a discount through raising premiums, or receiving an additional contribution from the employer.
Ultimately, only two pension funds had to cut benefits as a consequence. The €391m sector scheme for midwives (SPV), which had a policy coverage ratio of 82.1% as at end 2016, combined a 1.4% cut with a 30% reduction in annual pensions accrual. The fund said it had to take these measures to keep its guaranteed annual indexation of 2%. Pensioenfonds Accountancy had to apply a rights cut of 6.4% last summer when it changed its structure to join a general pension fund. Its coverage ratio at the time was 98.2%.
Equities drive recovery
Returns were the main driver behind pension funds' coverage ratios in 2017, according to Aon Hewitt. Although the 30-year swap rate rose to 1.50%, the consultancy said this hardly led to a drop of liabilities, as the ultimate forward rate (UFR) – part of the Dutch discount mechanism for liabilities – fell from 2.9% to 2.6%. The UFR allows pension funds to apply higher interest rates than the market rate for long-term liabilities.
As a result of this decline, the difference between the UFR and the market rate decreased significantly. Pension funds must now apply higher liabilities for long durations, which has cancelled out the effect of decreasing liabilities for short durations.
Mercer noted that total returns for the average Dutch pension fund were around 4.3%, largely thanks to the performance of equities. Euro-denominated government bonds returned 0.2%, while global listed real estate generated a negative return of -3.2%, mainly as a consequence of the depreciation of the US dollar relative to the euro. Hedge funds delivered 3.5%, while commodities incurred a loss of up to 10.6%.
The improved coverage ratios have tempted at least 11 of the more than 50 sector schemes to announce index-linked increases of pension rights. But these are modest increases – ranging from 0.15% to 0.59% – as funding of most schemes has only just exceeded 110%, the level above which they are allowed to grant some additional pension rights. Full indexation can only be given if funding is at least 125%.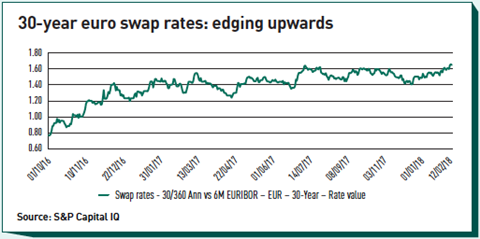 Between October 2016 and October 2017 – the usual inflation measurement period for many sector schemes – price inflation was 1.34%, based on the consumer index of Statistics Netherlands (CBS).
The €55bn scheme for the building sector (BpfBOUW) and the €882m pension fund for the river shipping trade (Pensioenfonds Rijn- en Binnenvaart), for example, granted participants and pensioners an indexation bonus of 1.34%, both based on coverage ratios of 113.8% at October-end. The Dutch pension fund of IBM, which had a funding ratio of 127.6% at year-end, even achieved indexation of 1.46%.
By contrast, the €2.4bn pension fund for the confectionary industry (Pensioenfonds Zoetwaren) granted inflation compensation of 0.06%, taking into account a funding level of 110.6%. Leonne Jansen, the pension fund's chair, points out that the small increase was meant as a sign to participants that the scheme's financial situation was improving.
Jansen adds that Zoetwaren's pensions provider, TKP, would not charge additional costs for the symbolic increase. She also says that under the rules of the financial assessment framework (nFTK), the fund will not be allowed to add this year's inflation compensation to the potential indexation next year.
At the start of 2018, most company pension funds, which are generally in a better financial shape than sector schemes – had yet to announce their plans for inflation compensation as many take their funding at year-end as the criterion. However, 18 of the 25 largest such schemes already had a coverage ratio of more than 110% in October.
So far, at least seven company schemes have announced they will uprate benefits for inflation. Three of these – Pensioenfonds ING, Unilever's general pension fund (APF) and Delta Lloyd Pensioenfonds – have said they will grant full indexation of 1.34%. Provisum, the fund for the retailer C&A, said it would increase pensions of all participants and pensioners by 1.33%. Its coverage ratio stood at 127% as of end-November 2017.
Unlike sector schemes, which grant participants and pensioners equivalent benefit increases, many company pension funds apply the salary index for active participants and the consumer index for deferred participants and pensioners. Salary increases are sector-specific and regulated by collective labour agreements. As a consequence, active participants in the pension fund of the steel producer Hoogovens stand to receive higher indexation than pensioners; for KLM's ground staff pension fund this is the other way round.
Wichert Hoekert, senior consultant for retirement solutions at Willis Towers Watson, points out that the different indexation policy is in part thanks to many sector schemes – including the €403bn civil service pension fund ABP – switching to the consumer index in 2016 as a way to limit returns-based contributions.
No slacking
However, despite the significant improvement, Dutch pension funds are not out of the woods yet. The DNB notes that at the end of the third quarter, when coverage ratios had risen to 104.5% on average, two-thirds of Dutch workers and pensioners were still at risk of future rights cuts. It says that, at the time, 63 pension funds – with 3.7m active participants and 2.1m pensioners – were still short of the minimum required funding.
Underfunded schemes included the Netherlands' two largest funds – the €403bn civil service scheme ABP and the €189bn healthcare pension fund PFZW. At the end of 2017, they reported policy funding ratios of 101.5% and 98.6%, respectively. The €68bn metal scheme
PMT and its €46bn sister metal pension fund PME say their funding stood at 100.6% and 100.1% respectively. With a coverage of 115.2%, BpfBouw was still in the best financial shape of the five largest pension funds.
While most Dutch schemes posted strong investment returns last year, low interest rates and government bond yields have kept liabilities high, erasing much of the impact on funding levels.
Pension funds with a funding shortfall for five consecutive years can no longer postpone cuts so for most schemes with continued underfunding, rights discounts will become inevitable in 2020 or 2021.
Dutch pensions: IT is a bottleneck
1

2

3

4

5

Currently reading

Scheme funding: Benefits gain