UK-listed defence company QinetiQ has insured £690m (€800.5m) worth of defined benefit (DB) pension liabilities with Scottish Widows.
The transaction covers roughly a third of QinetiQ's DB liabilities, according to a statement from the company, and removes longevity, interest rate and inflation risk from that portion of the scheme.
Huw Evans, director at BESTrustees and chair of the QinetiQ scheme's trustee board, said the buy-in was "a significant step towards securing the benefits promised".
David Stewart, partner at consultancy LCP and lead adviser on the transaction, said it was one of the largest pension risk transfer deals in the UK to have been linked to CPI inflation.
He added: "We established an 'umbrella' contract structure following the model we successfully developed for ICI , Pearson and Marks & Spencer .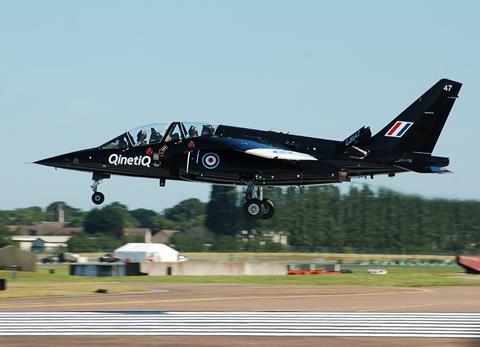 "This provides a quick and efficient platform to enable future buy-ins as attractive CPI pricing becomes available."
The QinetiQ Pension Scheme had £2bn in assets as of 31 March 2018.
In a separate arrangement, Scottish Widows also insured roughly £140m of liabilities for the Peugeot Advanced Pension Plan. The transaction covers all members of the scheme.
Geoff Benney, a trustee director at the Peugeot scheme, said: "This full buy-in is the culmination of many years' work by the trustees to de-risk the plan. Scottish Widows presented an attractive deal which provides comfort to the trustee in regard to the security of members' benefits and certainty of overall cost."
Peugeot's UK arm sponsors a number of DB pension schemes with €2.6bn in assets between them.
KPMG links with UK insurer for smaller risk transfer deals
Financial services giant KPMG has linked up with UK insurance company Mobius Life to help small DB schemes collectively access the bulk annuity market.
KPMG's Group Insure product most recently helped two unnamed UK schemes insure £33m of liabilities, with the transaction closing in December. The company said it had insured £90m of liabilities in total through three transactions.
James Staveley-Wadham, senior manager for pensions at KPMG, said: "We're seeing strong demand in the bulk annuity market but this can have an impact on the smaller schemes which struggle to get insurers interested in quoting or quoting competitively…
"Looking ahead we expect demand to increase further as more and more defined benefit schemes become better funded and realise the benefits and efficiency of joining forces with other schemes, rather than facing headwinds by going alone."
According to the Pension Protection Fund, 74% of DB pension schemes in the UK had less than £100m in assets. In contrast, KPMG said, the estimated average premium for bulk annuity deals last year was more than £200m.
KPMG's agreement with Mobius Life, announced today, allows schemes to use Mobius' investment platform to transfer assets to insurers efficiently.
This story was updated on 11 April to clarify that Mobius was not involved in the most recent KPMG Group Insure transaction