Without further measures to increase coverage, Italy's growing second-pillar pensions will continue to represent only a relatively small share of the overall economy
The release of the annual report of Italy's pension fund regulator, COVIP (Commissione di Vigilanza sui Fondi Pensione), is always time of reflection, and more rarely of celebration, for the industry. The report, usually released in June, analyses the growth of the industry and offers clues on the topics that are important to the regulator.
Every year, COVIP's chairman uses his accompanying speech to emphasise the need for better coverage for the second-pillar pension system. This year, Mario Padula, an economist who has led the organisation since 2016, called for more 'inclusion' in the second-pillar system.
However, the tone this year was arguably a lot softer than in previous years. There is a sense that, despite several key weaknesses, the Italian pension industry has come of age.
Qualified success
Renato Guerriero, global head of distribution at Candriam, and board member at AEIP, the European Association of Paritarian Institutions, says: "We can be proud of the fact that the second-pillar pension fund system has been built on extremely solid grounds, and on a great partnership between employers and employees, with great transparency and with an absolute focus on workers' interests.
"Through the many market crises that have occurred over the course of their life, pension funds have performed well and always beaten their implicit benchmark. They have passed every test with full marks," he says.
The benchmark he is referring to is the growth rate of the Trattamento di Fine Rapporto (TFR), the statutory severance pay Italian workers get upon termination of employment. TFR is set aside by employers as a percentage of salary and increased every year by a coefficient corresponding to a fixed rate (0.125%) plus three-quarters of the current inflation inflation rate. Workers generally use their monthly TFR payments as the main part of their employer contributions to DC pension funds. For this reason, the annual increase of the TFR constitutes an implicit benchmark against which pension fund performance is measured.
Some of the figures highlighted by COVIP's chairman were indeed encouraging. At the end of last year, members of second-pillar pension funds grew by 6.1% from the previous year, reaching 7.6m.
Savings into second-pillar funds grew 7.3% from the previous year to €162.3bn. Adding the €80bn managed by casse di previdenza, the privatised, first-pillar pension funds for self-employed professionals such as lawyers and doctors, COVIP oversees around €240bn of pension savings.
The figures are mostly in line with previous years, meaning the growth trend is positive. The system has grown significantly since its inception 20 years ago. Of course, the recent trend largely reflects the growth of the wider economy. During recent slowdowns, the pension industry did suffer. But it has kept up well with GDP growth during the present recovery.
Second-pillar pensions became available to most workers in the 1990s, when policymakers created industry-wide funds (before then, few workers could save into occupational pension funds that were created by their companies). The weaknesses in the system are obvious. The second-pillar covers less than a third of the working population. Assets are 9.5% of GDP, a ratio that makes Italy look like a minnow compared with countries of a similar size. In the UK, for instance, the figure is just under 100%.
There are also marked regional differences in terms of second-pillar coverage. In the wealthiest regions, coverage is significantly higher, reaching 50% in areas covered by regional pension funds. In these areas, members contribute, on average, more than twice as much per year as members in southern regions.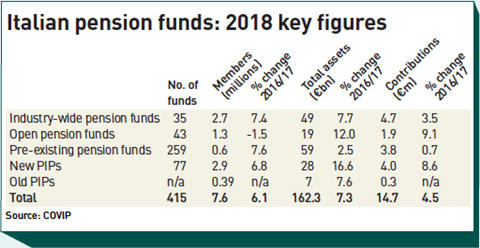 Most young workers are not saving into a second-pillar pension fund. Only 19% of workers below 34 years of age are covered by the system and contribute less than half the amounts contributed by their older counterpartss. Women are also underrepresented in the system, with an average contribution of about a fifth of that from men.
The reasons for such low coverage are complex. Several economic crises have hit the country since the birth of industry-wide pension funds. Salaries have been flat in real terms for two decades. These alone would be sufficient to explain why workers have not taken full advantage of the second-pillar system.
But there were also policy missteps along the way. When industry-wide funds were created, policymakers identified the TFR as the most appropriate source of employer contributions. Monthly TFR payments are automatically transferred into second-pillar pension funds, unless workers opt out. But many workers often see the TFR as a risk-free, costless pension pot for when they retire, or as a means to support themselves during periods of unemployment.
Many workers want to maintain access to it, and have opted out, thus starving pension funds of contributions. In choosing TFR as source of employer contributions, policymakers unintentionally discouraged workers to contribute to second-pillar pension funds.
"Cost-effectiveness is a great marketing weapon for second-pillar pension funds"

Antonio Iaquinta
These are serious hindrances to the growth of the Italian second-pillar system. Pension funds are small, on average, and cannot therefore make their presence felt to a great degree in the institutional investment sector. Their investments are constrained not just by their size but also the regulatory framework. They often lack resources to invest in communication and education as much as they would like. That is why the industry almost unanimously agrees that the government should fund a communication campaign to raise awareness of the second-pillar system.
Italians invest, but not in pension funds. In fact, perhaps the most puzzling figure mentioned by COVIP's report is the ratio of second-pillar savings to families' financial assets – only 3.7% of the total. Families largely prefer mutual funds over second-pillar pension funds as vehicles for savings, making Italy one of the largest mutual fund markets in Europe. Assets held in mutual funds were almost €2trn last year, equivalent to over 100% of GDP, according to Deloitte.
This is all the more surprising if the costs of saving into second-pillar funds is compared with that of investing in mutual funds. Italian pension funds are among the most cost-efficient in Europe, offering rock-bottom charges. Their performances have not diverged significantly from market returns, which have been almost consistently higher than the growth rates of the TFR. Granted, mutual funds can offer higher performance and assets held in them can be redeemed at any time. But they are riskier and significantly more expensive than second-pillar DC funds.
COVIP calculates that saving into an industry-wide fund will cost 1% of assets per year, when assets are invested over two years. But for members who stay invested for a long period of time, the annual cost, inclusive of all fees and charges, falls significantly. The annual cost will be 40bps for those who save for up to 10 years and 30bps for pension pots that are kept for 35 years.
The issue of costs is clearly a concern for Italian savers, according to a paper by State Street Global Advisors (SSGA) on attitudes towards occupational pension funds. The paper mentions data from a 2017 survey by Ipsos, to which nearly half of respondents said that high fees were the reason why they had not joined a second-pillar pension fund. The reality is that occupational pension funds are among the cheapest ways to save for retirement.
Antonio Iaquinta, head of institutional business for Italy at SSGA, says: "Cost-effectiveness is a great marketing weapon for second-pillar pension funds. They can beat any other player at this game. We are supporting our clients with their educational efforts to make current and potential members aware of this huge advantage they have."
A changing role
In some ways, recent governments have thwarted the development of the second-pillar system by choosing to improve access to second-pillar savings. This was meant as a way to incentivise workers to join the system. Several measures have been implemented, allowing members to access an ever-greater portion of their savings. This means the role of pension funds is slowly changing, from sole provider of retirement benefits, to provider of a wider range of welfare benefits.
Paolo Casadonte, head of sales for Italy at Generali Investments, says pension funds are adapting their investment strategies as a result. "Given all the options available to members to cash in their savings before retirement, pension funds find that the share of assets they pay out in the form of retirement benefits is shrinking. The nature of pension funds is changing as they become more generalist providers of welfare," he says.
This has a big impact on asset allocation. Just as pension funds start to diversify into less liquid investments, their need for liquidity becomes greater. "But industry-wide funds, despite being DC schemes, are also thinking in terms of liability-driven investment (LDI), building portfolios that take into account the income needs of their members," adds Casadonte.
"Pension funds find that the share of assets they pay out in the form of retirement benefits is shrinking. The nature of pension funds is changing as they become more generalist providers of welfare"

Paolo Casadonte
One of the instruments adopted, known as RITA (Rendita Integrativa Temporanea Anticipata), allows workers to draw a temporary pension from their second-pillar savings before retirement. Workers who wish to quit working up to five years before reaching retirement age can draw income from their DC pension pot. The measure also applies to workers who have been unemployed for more than two years, provided they are within 10 years of retirement age.
SSGA's Iaquinta says: "RITA has enormous potential. By allowing workers who have saved enough to retire earlier, it meets the needs of those who would otherwise be forced to work longer than they wish."
The fact that pension funds can play a wider role is another reason why workers should join the second-pillar, argues Iaquinta. But these messages have not been communicated clearly by those with the power to do so. "I have not heard a clear message about the added flexibility that second-pillar pension funds allow. People need to know that they can be provide more than just a top-up for their public pension. The industry needs a well-crafted information campaign supported by the government," he says.
Meanwhile, the new government is bent on reforming public pension provision, but has not mentioned any specific plans to improve the second-pillar system. However, Alberto Brambilla, the senior civil servant who has designed the proposed reform of the first pillar, agrees that nurturing the role of second-pillar funds is urgent.
Brambilla, who chairs Itinerari Previdenziali, a pensions and welfare think tank, says: "We need to facilitate the development of complementary pension and welfare schemes. Italy's pension assets should grow to be a much greater share of GDP. Much greater emphasis needs to be placed on education. Citizens should become more literate in economics and finance, and learning should start at school."

Looking to grow membership
In the absence of external help to grow coverage, pension funds have taken individual steps to address the issue. There have been several cases of industry-wide funds whose membership figures have jumped, as the founding trade unions and employers have agreed that all sector workers should be enrolled in the relevant scheme.
The agreements, known as 'contractual enrolment', have been reached as part of negotiations on collective contracts and have paved the way for more to come. However, the agreements only foresee a small, symbolic contribution paid in by employers. This means that the pension funds that have benefited from this powerful instrument have large membership pools but have not grown correspondingly in terms of assets.
These pension funds have thousands of members that contribute tiny amounts, but now have a relationship with them that must be put to use. COVIP's chairman has urged pension funds to do that. He said: "Stakeholders must follow up contractual enrolment with initiatives that promote knowledge and awareness of members on the opportunity of full enrolment. Without this, the modest savings risk being rapidly by costs, threatening the overall efficiency of the system."
Italy's public pensions: Unfinished business?
1

2

3

4

5

Currently reading

Second Pillar: A sector comes of age

6