Key challenges facing securities services include margin pressure, regulatory change and technological development
Ask experienced players in the securities services market to name the big challenges affecting their market and the same words recur time and again. Prominent among them are references to margin pressure (on securities providers and their asset management and asset-owning clients), regulatory pressure and the pressure to keep up with technological change.
Following closely are consolidation, financial technology (fintech), robotics, artificial intelligence (AI) machine learning, challenges and opportunities. And, inevitably, there are blockchain, or distributed ledger technology, and Brexit. Upcoming securities financing transaction reporting (SFTR) also warrants a mention, not least for the unintended consequences that some people think it might have on market structure.
General margin pressure on asset managers continues, says Nick Fienberg, executive director at the Alpha FMC asset management industry consultancy. This is not good news for securities services providers as asset managers look to them for quick and relatively easy cost reductions.
This is increasing pressure on the securities services providers to find efficiencies, which is becoming ever more difficult after a decade or more of plucking all the low-hanging fruit. Attention now needs to focus on finding new ways to make processes cheaper and easier.
This is where, Fienberg suggests, robotics, AI and machine learning will have a clear role to play. As might consolidation in the asset management industry itself. Few, if any, expect the Janus/Henderson Aberdeen/Standard Life mergers to be the last sizeable link-ups we will see.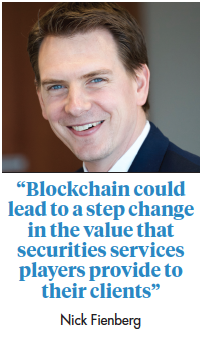 "Over the next three to five years, there could be significant consolidation," says Fienberg. "A number of asset managers are known to be actively considering mergers and acquisitions and that could create new opportunities for the securities services industry as mandates go up for grabs post-merger or acquisition."
Securities services players too could find themselves facing some degree of rationalisation, he suggests. Those running sub-scale operations in several markets could find it harder to justify keeping up their efforts.
In the meantime, there is an ongoing trend for securities services providers to look for new ways of adding value, Fienberg says.
Asked to draw up a short wish list, he identified the large-scale adoption of new technology, especially blockchain, as first on that list. "The industry can transform itself by fundamentally changing the dynamics of its cost base, and blockchain could lead to a step change in the value that securities services players provide to their clients," he says.
Second, is the further adoption of sophisticated data services. This could include, for example, heightening the sophistication of data provision and delivering new products in the fields of data aggregation, data analysis and data visualisation. "But there is a long way to go," he concedes. "We are seeing evolution rather than revolution."
Penelope Biggs, chief strategy officer for Northern Trust's corporate and institutional services business, instinctively seeks to view the world from the perspective of her clients, asset managers and asset owners.
"Our clients are mostly focused on how they keep themselves safe in terms of meeting regulatory requirements and making money," Biggs says. "They look to us to offer solutions to help make them safer and better, both in commercial terms and in terms of efficiency.
"For traditional asset managers, and hedge funds, that tends to relate to how we deal with regulatory requirements on their behalf and take on routine middle office operational functions to allow them to concentrate on their core business, investing. For asset owners, it is about regulatory compliance, and enhancing portfolio information so that they can optimise economic performance." This involves hefty (though unspecified) investment in technology on the part of Northern Trust.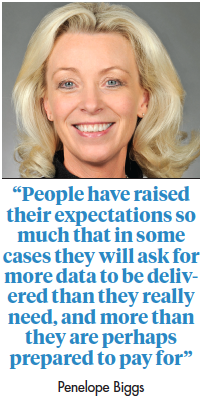 Biggs, too, pinpoints data as an important challenge. The aggregation, processing and re-delivery of data back to clients is taking place on a scale and at a speed never seen before, placing unprecedented demand upon securities services providers.
There is a clear sense that this is changing the relationship between the providers and their clients. "People have raised their expectations so much that in some cases they will ask for more data to be delivered than they really need, and more than they are perhaps prepared to pay for," says Biggs.
"We can deliver but there is an associated cost in asking for ABC when what they need is actually DEF. Part of our developing role is to provide guidance on the use of data, based on our experience with a broad range of clients."
Philip Brown, co-chief executive officer at Clearstream Banking in Luxembourg, agrees that the nature of the use of data is changing. "We've long provided clients with factual information, but there is a qualitative shift taking place, from information to insight, based on a services supplier's knowledge of an individual client, markets and other factors in the equation, to help improve the risk profile and investment performance," he says.
Sticking with the alphabet as a link, Penelope Biggs notes that the two Bs, blockchain and Brexit, need to be paid some attention. Northern Trust has made recent progress in both fields, she says. It can point to its working blockchain that is already servicing private equity clients, although a good deal of work remains to be done to capitalise on the opportunity.
"It is embryonic, yes, but it is working, and the team who developed it now has two US patents," says Biggs. "We're exploring a lot of options but, it's becoming real, but you need to kiss a lot of frogs to make a long-term strategy viable."
Bruno Prigent, head of Société Générale Securities Securities adds: "The evolution of the data landscape presents opportunities in, for example, fund distribution. "Blockchain could come into its own in this respect."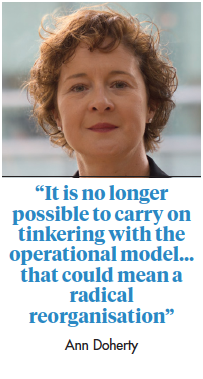 With regard to Brexit, Penelope Biggs points to Northern Trust's acquisition of the fund administration servicing units of UBS Asset Management in Luxembourg and Switzerland which completed at the start of this year, as a key part of its expansion in continental Europe. "We already had a significant business in Luxembourg but that acquisition has tripled our size in Europe," she says. The company announced it would create an EU-banking presence in Luxembourg, further establishing its commitment to the region.
Ann Doherty looks after JP Morgan's client management team in custody and fund services EMEA. She, too, says that pressure on fee margins – exacerbated by the imposition of layer upon layer of regulatory and governance requirements – has pushed asset managers to a critical point in their life cycle.
"For a growing number, it is no longer possible to carry on tinkering with the operational model," Doherty says. "They have to reassess it completely and that could mean a radical reorganisation."
This, she says, could involve not doing tomorrow what they do today, which could mean higher levels of outsourcing to custodians. Margins will continue to be squeezed at every point in the value chain, and clients are questioning the previously unquestionable. If an activity traditionally catered for in-house is not key to the brand, it makes perfect sense to find someone else to do it.
"This is driving work for companies like ours," Doherty says. It is essential, she says, to be able to meet client requirements across the entire range of asset classes, from traditional to alternative: "You have to be able to do everything or your client faces a jigsaw puzzle."
This does not come cheap, whether viewed in monetary terms or the quantum of effort involved. "Most things that need to be done are easy to say, they are just not easy to do," she cautions.
To be ready to service this shift, the reality of delivery is $1bn (€850m) a year of technology investment at JP Morgan alone.
Reporting rules could herald interesting times ahead
The EU's Securities Financing Transactions Regulation (SFTR) will, when implemented, require the reporting of all securities financing transactions, and any later modifications to them, to an authorised trade repository. At the time of writing, four repositories had indicated a readiness to add this to their product range.They are DTCC, Unavista, RegisTR and Abide. None has yet been authorised by the European Securities and Markets Authority (ESMA).
If there seems to be a lack of urgency surrounding preparations for SFTR, this can be attributed to a delay in implementation. The industry is still waiting for the European Commission to start the formal adoption of the technical standards that were published by the European Securities and Markets Authority (ESMA) in March 2017, as Andy Dyson, chief executive of the International Securities Lending Association noted in a video on the ISLA website earlier this year.
Val Wotton, managing director, product development and strategy, derivatives and collateral management at DTCC in London, says it will likely be the first quarter of 2020 before SFTR comes into force but that the volume of work required to ensure that firms are ready to meet SFTR requirements means that firms should not delay their preparations.
There is no room for complacency, if Mark Steadman, European head product development and change management, DerivSERV, at DTCC, is accurate in his assessment: "SFTR brings reporting requirements to an industry unfamiliar with trade reporting. If firms ignore best practices they will do so at their own peril and it will cost them in the long run," he warns. "Those who are not yet engaged with SFTR, really need to be."
Alex Lawton, the head of securities finance, for the EMEA region at State Street, says that SFTR implementation could have a significant unintended consequence – changing the market structure and practices.
"SFTR will bring forward the reporting of data relating to trades," he says. Then he adds: "But to when? Currently under SFTR this will be the next day but in the future who is to say this may not move to later the same day or at point of trade either due to regulations or market choice?"
However, the changes will have a knock-on effect on the chain, from trading to credit assessment to the allocation of capital. He argues that this could lead to a situation in which a borrower of a security could be prepared to pay a higher fee to a lender with a higher credit worthiness than one with a lower credit rating.
"Whatever happens, the next three years could be the most interesting times we have seen in the industry in the last 20 years," Lawton says.