MiFID II is already beginning to change the character of financial services
Key points
• The MIFID II Directive represents an evolutionary shift for securities services providers
• Investors are expected to benefit in several ways from the new set of regulations
• The eventual cost of full compliance will spur more large-scale mergers and acquisitions activity
• A change in the mindset of researchers and their customers might also emerge
Anyone expecting immediate and dramatic change in the international financial services industry landscape following the introduction of MiFID II will have surely been disappointed. To use a well-worn phrase in a way that for once is justified, evolution rather than revolution is the order of the day for most of the service providers affected by the EU directive.
"We have now come through the two initial stages, the first being comprehension and the second being compliance," says Gerard Walsh, head of business development, Northern Trust Capital Markets EMEA. He estimates that millions of working hours and hundreds of millions of euros have already been spent on complying with the directive, even though doubt persists about whether a significant number of people working in the industry yet fully understand it, its requirements and its potential consequences.
There is no doubt that there will be changes in the short, medium and long term, said Sarj Panesar, global head of business development, asset managers, Société Générale Securities Services, in a think piece penned for the SGSS website earlier this year.
But the earth did not move on 3 January, MiFID's formal implementation day. The decision by regulators to exempt ICE Futures Europe, the London Metal Exchange and Eurex from trading and clearing compliance for a further 30 months heightened a broad feeling of anti-climax on that day.
There was a similar reaction to the deferral awarded to Euronext's three derivatives exchanges. The rules will not apply to the trading venues in Paris, Brussels and Lisbon until July 2020.
The impact will be felt slowly, but it will be felt, states Panesar. Changes will affect investors, asset managers and their service providers.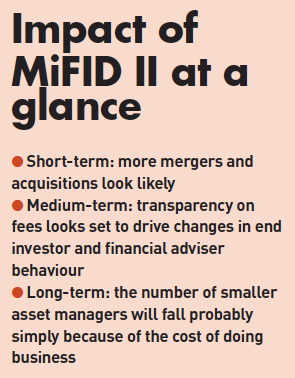 On the buy-side, investors can expect to benefit significantly from improvements in reporting; transparency in pricing and execution of trades; from the increasing independence of important financial research; and from the centralisation of operations on market infrastructures.
On the sell-side, management, administration and distribution fees will all come under growing pressure and those that cannot meet the new demands will find themselves encouraged to quit the industry.
Panesar predicts that the eventual cost of full compliance will encourage more large-scale mergers and acquisitions activity which has in the recent past created large investment managers such as Janus Henderson and Aberdeen Standard Life. Specialists will also continue to prosper, he says. If they prove they can provide returns as described they will be able to charge higher fees.
Returning to the shorter term, the next stage is a key part of the aims of the directive – to increase competition between service providers and to drive transparency into the fees they charge, and early evidence suggests that is already starting to happen, says Gerard Walsh.
"While we are still very much in the bedding-in phase, there has been a clear step-down in the quantum of commission being paid as sell-side agreements switch to unbundled research-based payment regimes away from the traditional commission model," Walsh says.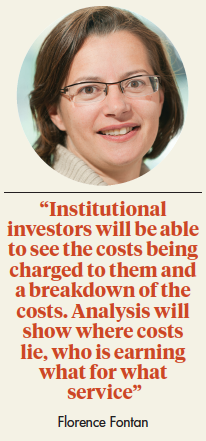 He estimates that there has so far been a reduction by, in some cases, as much as 40-50% year-on-year in the amounts being paid for research. One particular nuance to which he draws attention is the transition in perception of how research is acquired, now that it has become an identifiable item in the profit and loss account. This will switch from being seen as an additional chore for the fund manager to being a procurement department activity.
"There will be more emphasis placed on the value of research rather than just its cost," he suggests. To put it bluntly, on the purely quantitative side, research will come to enjoy the status of photocopier paper, electricity and toilet rolls.
"Institutional investors will be able to see the costs being charged to them and a breakdown of the costs," adds Florence Fontan, head of asset owners at BNP Paribas Securities Services. "Analysis will show where costs lie, who is earning what for what service." And, it is difficult to avoid concluding, what can be cut.
Looking at the context more qualitatively, Walsh also predicts a shakeout. Fragmentation and atomisation are possible as small research teams realise that they could carve out a comfortable living if they stay small and focused and relocate to lower-cost locations. Why pay for expensive serviced rooms in an expensive area rather than something similar somewhere in a cheaper location, is the unspoken question.
A change in the mindset of researchers and their customers might also emerge, with a potential premium being placed on contrarian thinking. A recurring complaint on the buy-side is that there is no shortage of research but there is a shortage of original ideas.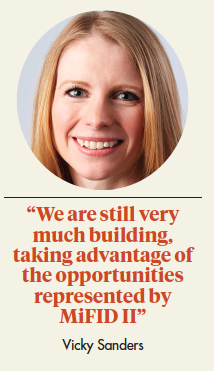 Walsh likens the expression of original contrarian ideas to a slave whose sole duty is to remind Caesar that he is mortal. "If you can advise zigging when your competitors are advising zagging, you might find that people are prepared to pay you for that ability," he says.
In the meantime, RSRCHXchange, for which MiFID II is its reason for existence, is in the vanguard of change. It was set up in 2014 by Vicky Sanders and Jeremy Davies as a platform through which both traditional and forward-looking research firms could sell their wares to traditional asset managers and other global financial institutions.
"In the beginning, we targetted independent research providers but now over a third are banks or brokers," says Sanders. "What has changed? Clients want their existing provision in the same space as the additional research they want to buy."
Less than four years since its launch in London, Farringdon-based RSRCHXchange has 350 research providers on the platform, including global investment banks (the number is well up from 150 a year ago, with 400-500 seen as a realistic target) and 1,200 asset managers.
"We are still very much building, taking advantage of the opportunities represented by MiFID II," says Sanders. For the record, she adds that the aggregate assets under management of the firm's client total $40trn (€35trn).
Securities Services: The evolution has begun
1

Currently reading

Securities Services: The evolution has begun

2

3