US securitisation is finally recovering from the global financial crisis while in the euro-zone the central bank is soaking up most issuance
KEY POINTS
Issuers and investors are regaining much of the ground they lost in the global financial crisis of a decade ago.
The European Central Bank has been purchasing securitised products through its Long-Term Refinancing Operations.
A lack of clarity on regulation is holding back securitisation in Europe.
The markets have learned invaluable lessons from their experience of the crisis.
The 2008 financial turmoil all but obliterated the alphabet soup of securitised products – RMBS, CMBS, ABS, CDOs and the other structures that precipitated the global credit crisis. But nearly a decade later, those markets have regained much ground. Progress has been faster in the US than in Europe but on both continents, issuers and investors are active again.
In the US, RMBS (residential mortgage-backed securities) volumes have risen to $20bn (€18bn) in the first four months of the year compared with $50bn for all of 2016. Compared with pre-crisis peak levels of $100bn, today's flows still look paltry, however. The composition of new issues has evolved too, driven by the risk transfer sector, as US government agencies Fannie Mae and Freddie Mac sell their bottom tranches to de-risk their portfolios. "Those now comprise about half of new issues. Investors are welcoming the higher quality collateral, with its clean performance history and credits cores. Pension funds, which seek yield, also like the lower volatility of non-agency RMBS," says Tracy Chen, a portfolio manager at Brandywine Global.
Europe, by contrast, saw in 2016 about €93bn in distributed securities (mainly securitised vehicle and consumer loans) and €135bn in retained paper (mostly mortgages). Gordon Kerr, senior vice president and head of EU structured research at rating agency DBRS, differentiates: "Issuance falls into two buckets, some distributed into the market, and some created and rated as eligible for ECB purchase. The latter might be retained on the issuers' balance sheet for later, or 'repo'd' with the ECB."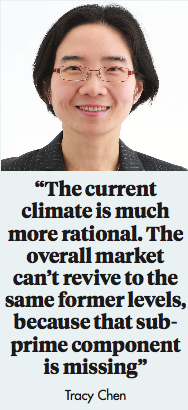 As a result, through its Long-Term Refinancing Operation (LTRO) funding vehicle, the ECB has been soaking up securitised products, as well as whole loans, for collateral that would have otherwise ended up on the market. Thus, the bulk of issuance is structured to be repo'd into the ECB. Will it ever become available again to investors? "It is expected to normalise eventually, but the ECB has not even fully tapered yet," says Kerr.
European banks now turn to the central bank for inexpensive funding, rather than trying to raise it themselves, but the banks barely even need the flood of free money, with European economies so slow. Securitisation will only fully recover when economies themselves pick up, and the central bank stops dispensing liberally. Securitisation is comparatively expensive and complicated; when central banks are massively accommodative, it becomes a heroic route. "We must take the whiskey bottle away from the alcoholic," says Ian Bell, head of the Prime Collateral Securities initiative, an independent non-profit body set up to reinforce asset-backed securities in Europe.
However, once the free money dries up, banks will next need to figure out how to deal with capital increases. Their future business model is also still unclear: how will financial institutions make profits, and what type of returns will they achieve? "With reduced free money, and demand recovering, securitisation will become attractive again," predicts Bell, but adds: "with the current regime so punitive, it may struggle to get back on its feet, even when demand resumes."
The other key factor hindering securitisation in Europe is lack of clarity on regulation. That uncertainty also explains some discrepancies in the pace between both sides of the Atlantic. "The US is now just moving back towards deregulation," says Michaela Ulrici, a partner at law firm NautaDutilh in Amsterdam. "Europe is still making more rules, and will be stricter. For example, in Europe, risk retention may increase above 5%," she explains, referring to the requirement that banks hold back a portion of structures they create on their own balance sheets. Banks may elect to take out a vertical slice, or a horizontal one, such as 5% of the first loss slice. The European Parliament has proposed 5% as a minimum floor, giving the European Banking Authority discretion to increase the amount up to 20%.
Kerr highlights the opposing elements within the system. On one hand, the ECB is providing support to help banks lend. On the other, financial institutions now face a thicket of regulation, which curbs the ability to lend, since they must adjust their capital structures to provide sufficient liquidity and equity. Banks, still bloated with abundant bad loans, and inundated with regulations to boot, are struggling to adapt to a more robust format.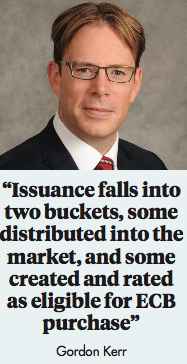 Another unknown factor is Brexit. Ulrici says: "A large part of the European market is driven from London, both for origination and investment. The consequences of the UK becoming third country could either be separate or included in Brexit discussions."
Yet the critical difference between European and American securitisation markets is one of necessity. Before the 2008 crisis, "it was never essential to the business model of any European bank, except possibly Northern Rock", says Bell. "But if you take it away from the US, you're left with a gaping, unfillable hole." European securitisation was always about a decade behind that in the US, where banks could not operate without it. "In Europe, it was suboptimal to do without, but not impossible," Bell concludes.
Covered bonds and whole loans are still more popular in Germany and the Netherlands than securitised product. Even so, "there is appetite here from pensions and other institutions, which seek safe investments. For securitisations, we're seeing non-bank originators like new mortgage lenders," says Ulrici. Pension funds are particularly interested in the mortgage side. Kerr attributes that to liability matching, in that pensions are paid out like drip feeding, akin to mortgages, which repay principal on a regular basis with steady cash flow.
In terms of product, the spectrum is broadening. German paper is produced by the auto loan sector, while French consumer loans have recently surged. Italian and Spanish issuers still come regularly to market, but are not originating new mortgages.
Among the highest profile transactions, some private equity groups have bought loan portfolios off the banks, structured and resold them into the market. Two conspicuous deals were the Northern Rock and Bradford & Bingley (B&B) portfolios, purchased from the UK government and then securitised. The latter, referred to as Ripon Mortgages, was sold last month by UK Asset Resolution, the holding company created to facilitate the orderly management of the closed mortgage books of B&B and NRAM.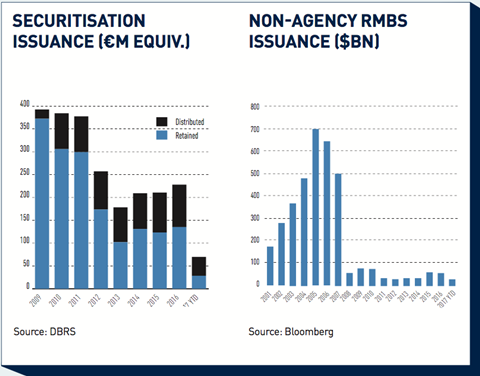 In continental Europe, however, some portfolios have been sold to private equity, albeit not yet structured. "European banking markets are still not yet normalised," Kerr says. Pools from those countries may contain a substantial portion of non-performing loans. Notwithstanding, in some cases, private equity buyers will have worked through the portfolios, to generate now reperforming loans. For example, a Spanish reperforming transaction, known as Prado III, was executed by UCI in 2016.
It must not be forgotten that, although securitisation markets have been slow to regain footing, invaluable lessons have been digested. Before 2008, huge volumes were driven by the quantity of sub-prime collateral. "The current climate is much more rational," Brandywine's Chen notes. "The overall market can't revive to the same former levels, because that sub-prime component is missing."
Another improvement is heightened transparency, especially at the European data warehouse loan level. In other words, participants can now obtain more clarity on what is buried within those receivables pools. While systems and analysis of the pools is nascent in evolution, issuers and rating agency are fine-tuning their methodologies. Securitisation has become a healthier industry and that clock cannot be turned back.
Credit: Opportunities despite challenges?
1

2

3

4

5

6

7

Currently reading

Securitisation: European recovery lags the US