Australian self-managed funds appeal to those who want to take personal control of their retirement savings
Key points
Self-managed funds account for 28% of Australia's pension savings
None of the big wealth management groups dominate the self-managed market
Self-managed super funds (SMSFs) trustees are venturing into international shares and alternative assets
SMSFs trail behind in performance
Over a million Australians manage their own superannuation. The collective pool – totalling more than A$700bn (€580bn) – is the largest proportion of Australia's A$2.5trn national pension savings.
Known as self-managed super funds (SMSFs), these have overtaken the not-for-profit sector (industry funds) and for-profit retail funds in terms of assets under management.
Statistics published by the Australia Prudential Regulation Authority (APRA) show that there were close to 600,000 SMSF accounts at the end of September 2017, holding assets totalling A$701.6bn.
This compares with A$590bn in the retail sector; A$560.8bn in industry super; A$430.2bn in public sector funds; and just A$53.1bn in corporate funds.
Super fund experts expect SMSFs, which have no more than four members, to continue to grow as baby boomers retire and move into pension phase.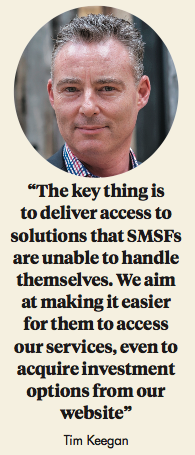 Deloitte , forecasts the amount invested in self-managed super funds to grow to A$900bn by 2035, but also expects the retail sector to regain its lead over SMSFs from 2028 – and to have assets totalling A$3trn by 2034.
It estimates that Australia's total pension pool will be about A$9.5trn by 2035.
SMSFs are not regulated by APRA, which has oversight of the super industry. Instead, they come under the purview of the Australian Taxation Office (ATO).
Industry experts told IPE that the SMSF market has evolved from what initially was seen as cottage industry, where the local accountant might manage 50 funds, or the neighbourhood financial planner 100 funds.
Even today, none of the big wealth management groups has cornered the market.
Martin Scott, a partner at Partners Group and head of its Australian solutions business unit, traces the rise in self-managed super to a government-mandated shift from defined benefit (DB) to defined contribution (DC) in the early 2000s, a decade after the introduction of universal superannuation in 1992.
Scott says DB members took the payouts from their schemes to set up self-managed super accounts.
Today, 90% of Australia's total pension pool is in DC schemes, with DB confined to a few remaining corporate and public sector funds.
Dugald Higgins, senior analyst with Zenith, says the philosophy of many SMSFs is not to be involved with pooled funds. Essentially, they want to determine their own investment outcomes.
Tim Keegan, head of SMSF at AMP Capital, agrees. The biggest driver of growth in the sector is the desire of older and more affluent Australians to take personal control of their retirement savings, he says.
According to Keegan, the average size of the SMSF account is A$1m, but, he adds: "For every dollar they have in SMSFs, they will have another dollar outside supers."
"The general consensus is that the right asset allocation will deliver between 70% and 90% of the return outcome of a portfolio"

Duglad Higgins
He also notes that, as the administrative costs come down, so does the age of those setting up SMSFs.
Technically speaking, every Australian with a super balance of about A$500,000 can set up his own account.
For a decade, Australia's largest non-bank wealth manager, AMP, has focused on building up capabilities to offer an ever-widening range of services – from administration to investment products – to support these small funds.
In 2013, AMP Capital recruited Keegan to head its newly-created SMSF division. And today, somewhat belatedly, Westpac Bank, one of Australia's big four banks, is starting to gear up for a slice of the SMSF market.
Zenith's Higgins says ATO figures show the bulk of SMSF investment is in domestic shares, cash and term deposits.
At the end of September 2017, ATO figures showed that SMSFs had invested A$206bn in Australian shares and another A$158bn in cash and term deposits, followed by non-residential property (A$79bn) and residential property (A$34bn).
SMSF trustees – described as sophisticated, well-read and well-researched investors – are now venturing into international shares and alternative assets – through fund managers, as they are unable to access these asset classes directly.
Partner Group's Scott has noticed an awareness of alternative assets from the SMSF and retail market, as evidenced by the inflows into Partners Group's multi-asset funds, but from a low base.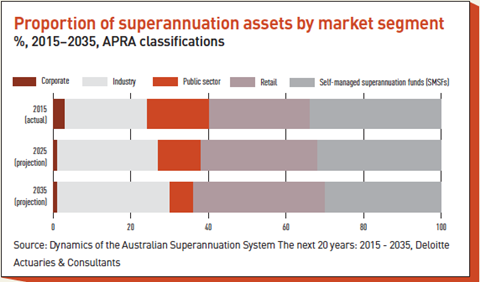 Partners Group, saw the opportunity to pitch funds offering both global and alternatives asset classes exposure – from infrastructure to debt, real estate and private equity - to the SMSF and retail market.
Scott says an important rider is liquidity to many of these investors due to the administration platforms employed.
Partner Group's Global Value fund has raised A$600m, with a significant amount coming from SMSFs. Its Global Multi Asset fund and the newly launched Global Real Estate fund have attracted A$60 million in a couple of months.
Charter Hall Group has the largest direct property funds platform in Australia open to SMSF and retail investors.
It has garnered more than 20,000 investors across its direct property funds – office, industrial and diversified – with combined assets of A$3bn.
"Our largest unlisted fund is the Charter Hall Direct Office fund with A$1.3bn invested in a diversified and growing portfolio of high quality Australian office properties," says head of direct property, Stephen Bennett.
Bennett says: "By leveraging the size and scale of our group we are able to offer institutional grade property to the SMSF market." On their own, they would be unable to access this calibre of commercial property investment."
Between 40-50% of inflows into Charter Hall's direct property division come from SMSFs. "In the last six months we have raised more than A$300m from this group of investors. This demonstrates the demand for commercial property investment offerings managed by a high quality manager," Bennett says.

"A key attraction is the six percent-plus income return that we can deliver. For most SMSFs in pension phase, liquidity and stable income are important."
Although Australians are fond of residential investment property, Bennett says SMSFs invest in commercial property through unit trusts. "You have flexibility. If you have 100,000 units in a trust, they can be transferred to beneficiaries when government legislation applying to the industry changes. Residential property is a lumpy investment, and investors have to deal with leasing and capital expenditure."
One legislative change came in July 2017, when the government put a cap of A$1.6m on SMSFs, prompting complex rearrangements to separate accumulation accounts from pension accounts.
"The key thing is to deliver access to solutions that SMSFs are unable to handle themselves," says Keegan. "We aim at making it easier for them to access our services, even to acquire investment options from our website."
Eighteen months ago, he says, AMP Capital launched several active exchange traded funds.
Generally, SMSFs tend to manage their own Australian share portfolios, Keegan says. Now, ETFs offer them another avenue to access equity opportunities.
Although, by definition, the SMSFs are do-it-yourself funds, at least half use professional advice from brokers, financial planners and accountants.
Higgins says that getting the portfolio right is vital. "The general consensus is that the right asset allocation will deliver between 70% and 90% of the return outcome of a portfolio."
Despite intentions, SMSFs trail behind other sectors in actual performance.
According to the ATO, SMSFs have consistently under-performed APRA-regulated funds. That, it seems, is the price of independence.
UK auto-enrolment: Good start, must do better
1

2

3

4

Currently reading

Self management: A popular model despite poor returns

5