Investment banks are cutting back on analysts but the top ones remain
Key points
• Investment banks are cutting back on analysts while retaining important staff
• Predatory pricing has crept into the landscape
• Some see MiFID II as an opportunity to review business models
There has been a great deal of speculation about the fate of sell-side research under MiFID II's unbundling requirements but predicting its demise may be premature. The analyst community will thin out but those that can adapt, tailor, digitalise and price products accordingly will not only survive but prosper.
A recent report by McKinsey estimates that the $4bn (€3.4bn) that European investment banks paid for research will fall by 30% as their asset managers become more discerning. This will accelerate the culling of analysts which has been slower than in the rest of the industry. Overall, the number of those involved in equity research on the sell-side has dropped 12% to 3,900 since 2011 compared with the 40% cut in sales and trading.
However, they are not shedding their top analysts. In fact, as Valerie Bogard, equity analyst of Tabb Group notes, sell-side firms are competing for the best talent at buy-side and independent firms. There have been high profile departures, most notably Huw van Steenis who left Morgan Stanley for Schroders, the UK's largest listed asset manager. This followed the departure of Royal Bank of Scotland's macro-credit strategist Alberto Gallo and Jeffries' head of sales trading Gavin Phillips, both of whom are now ensconced in New York-based hedge funds.
Ironically, this could see the resurgence of the star analyst culture that was prevalent in the boom years but shunned in the post-financial crisis era of lower compensation. "Investment banks are working hard to differentiate and produce quality research, but it could also become more oriented towards the individual, with superstar analysts being pushed forward," says Octavio Marenzi, founder and CEO of Opimas. "However, they are also investing in new data sources to fit into the research process, such as credit-card data, satellite imagery and other information that the buy-side does not have."
Many of the banks are also thinking innovatively. Although sell-side firms would not comment for this article, a report by Quinlan & Associates points to UBS and its engagement of psychologists to help revamp its research reports through identifying more precise and insightful questions. It also noted that the Swiss bank provides users with interactive tools that allow them to plug their own assumptions into models, generating dynamic results that are specific to each client's outlook.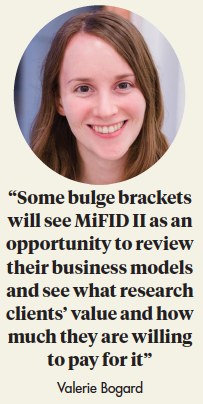 Pricing is – and will continue to be – a source of debate long after this month's implementation date. Banks are being forced to become more realistic and there are a variety of pricing structures under consideration. "There are still sell-side firms that fundamentally believe their research is worth more than the buy-side is willing to pay for it but market forces are now kicking in," says Rebecca Healey, head of Emea market structure and strategy at Liquidnet. "The questions being asked are over the costs of producing quality research but the reality is that we are entering a new era and they can't expect to earn the same kind of money they did historically."
Looking at the big picture, several sell-side models being have been mooted, ranging from pay-as-you-go based on cable TV subscriptions to all-you-can eat, 'buffet-style' access to platforms, which includes unlimited access to global research services, according to Quinlan. It also notes that quotes differ from millions per year being quoted to the largest global fund managers, to as low as $250,000-300,000 a year, with service levels varying according to the amount paid. For single market European players, pricing for waterfront coverage is about €50,000 plus.
However, in the past few months predatory pricing has begun, with JP Morgan announcing that it will charge as little as $10,000 a year for equity research – the lowest price to date. The fee encompasses read-only access to the bank's online analyst portal, known as Morgan Markets, which houses all of its stock reports. The US bank also reportedly floated $50,000 for a basic fixed-income research option, with prices increasing for tailored packages and better access to analysts.
By comparison, Barclays has reportedly proposed bronze, silver and gold packages. Market participants have said the premium service would cost about $350,000 and encompass unlimited reports, field trips and occasional one-on-one meetings. In general, there is talk of investment banks planning to charge asset managers up to $5,000 an hour for one-on-one meetings with star analysts. This outstrips the $2,000 hourly rate typically charged by senior partners at law firms, management consultancies and accounting firms.
While price wars will capture the headlines, Bogard says these announcements are just the starting point. "These are not the end of the conversations, but the beginning and the process will continue far into 2018," she says. "Overall, I think some bulge brackets will see MiFID II as an opportunity to review their business models and see what research clients' value and how much they are willing to pay for it. Once they have a better understanding they can better manage the pricing as well as invest in the research business with much more clarity."
Jeremy Davies, co-founder of research platform RSRCHXchange also expects it to take six months for things to settle down and that a variety of models will emerge. "Buy-side firms will have to be careful because buying the add-ons to a basic package may become expensive," he adds. "We could see what the German's call a floating wallet evolve, where buy-side firms take the basic package offered by the bulge brackets but then go to the specialists, teams or individuals."
"It is a Darwinian moment. Sell-side firms will have to adapt or die. Mediocrity will not survive"

Rebecca Healey
Other contend that the larger players will keep their lock on the market because they have the resources to refine and adapt their offerings. "The universal sentiment was that the bulge bracket banks would suffer the most under unbundling and the independents would thrive," says Sanford Bragg, principal at Integrity Research. "However, that does not seem to be the way it will play out as bulge firms maintain or gain wallet share despite a shakeout at the top from nine or 10 bulge brackets to four to or five."
The casualties, according to Benjamin Quinlan, CEO of Quinlan & Associates, will be the global tier-two waterfront houses, which are already exiting unprofitable businesses. His report points to Standard Chartered's withdrawing from international equities, Barclays cutting Asian cash equities, Nomura' axeing European equities and CLSA withdrawing from North American equities.
Quinlan expects that regional specialists such as Exane, Kepler Cheuvreux and Berenberg, which have strong research franchises as well as less complex internal cost structures to unravel, "may more easily leverage first-mover advantage and build market share in geographies where they have existing strengths."
As Healy succinctly says, "It is a Darwinian moment. Sell-side firms will have to adapt or die. Mediocrity will not survive."
Investment Research: A new regime dawns
1

2

3

4

5

Currently reading

Sell-side: Tougher competition