The chart data shows the sensitivity of the five largest emerging market debt (EMD) funds to changes in macroeconomic factors: emerging market default spreads; global term spreads; and emerging market dividend yields. IPE and PureGroup selected the largest domestic and cross-border funds registered for sale in the UK, in terms of assets, from the Morningstar database.
The selected funds are:
• Goldman Sachs Growth and Emerging Markets Debt;
• HSBC Global Emerging Market Bond;
• Julius Baer Multibond – Local Emerging Bond;
• Pictet Global Emerging Debt;
• Templeton Emerging Markets Bond.
The higher the sensitivity of each fund to the macro factors, the higher the probability that performance will respond to changes in that factor. The graphs show the sensitivity of the funds to the factors, while the bar charts below show the monthly year-on-year change of the factors over the past five years. The data was analysed using PureGroup's Forward Perspective Model, a macroeconomic factor model built for the investment industry, covering open-ended, closed-ended and exchange-traded products. The model analyses an investment product's positioning towards key macroeconomic factors.
EM default spreads
The default spread is the difference in yield between BBB and AAA emerging market corporate bonds. The emerging-market debt club got a new member this year, when Argentina issued bonds after an absence of nearly 15 years. Over the period, corporates in many emerging markets (EMs) took advantage of low interest rates in advanced economies to increase leverage. Indebted corporates in Latin America and further afield may now struggle to service debts because of downside risks to regional growth. There is also pressure from future increases in US interest rates, which may prompt a repatriation of monetary flows and Chinese domestic economic rebalancing.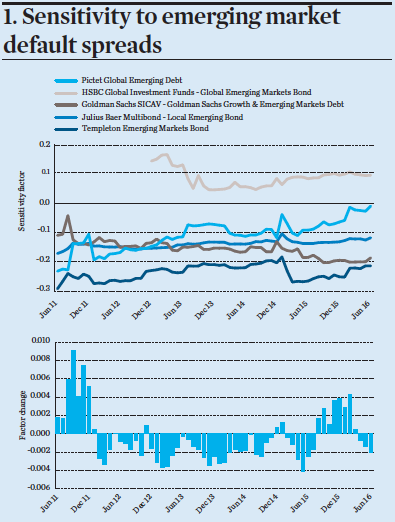 Most large EM economies, especially the commodity exporters, face challenges as demand from China cools and it rebalances its economy. A slowdown in China could also have negative regional spillovers, as China is an important trading partner of several countries in East Asia. Moreover, some economies may also be hurt by any turmoil in China's financial sector. While more likely to be range-bound in the short term, looking further there is potential for default spreads to widen, if this occurs then it is likely to be the most favourable for the HSBC fund, as it has a positive sensitivity to this factor. The Goldman and Templeton funds would both see a headwind to their performance owing to their negative positioning. The Pictet fund has a neutral position, having seen its strong negative sensitivity reduce over the chart period.
Global term spreads
The term spread is the difference in value between long and short-dated government bond yields. Overall, the outlook for global inflation is ambiguous, while these rates may trend upwards in emerging markets. In the absence of a wider spike in inflation, interest rates may remain at current levels. Global term spreads may not expand as world economic growth is unlikely to accelerate. Spreads may even contract if global growth trends lower, which may occur if there is stress in emerging markets from currency depreciations and capital outflows (as a result of US interest rate hikes). Furthermore, global growth might slow down if there is a hard landing in China, which could depress global economic activity and commodity prices. This could lead to fiscal tightening in countries that export commodities, which could hurt their growth rates.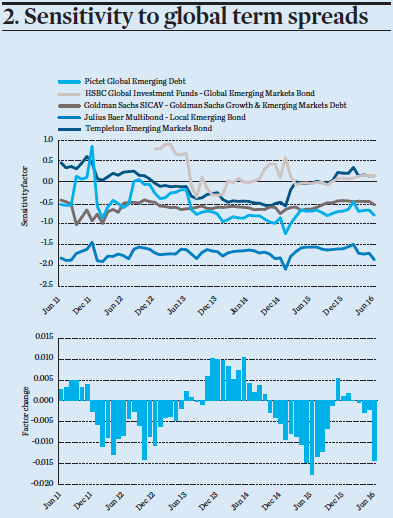 Given this backdrop, the relatively strong negative sensitivity of the Julius Baer fund in both absolute and relative terms is likely to advantageous, followed by the Pictet and Goldman funds. While, given their neutral sensitivity, the HSBC and Templeton funds would not benefit either way in absolute terms, if there is a continuation in contraction of term spreads they would be a relative headwind.
Volatility risk premium
The volatility risk premium is the difference between the implied volatility and realised volatility of the S&P 500. Given the potential significant risks within the global economy, if any of these downside risks to growth materialise, it could lead to an increase in the volatility risk premium and a withdrawal of funds from emerging markets. In this scenario the fund that would have the greatest impact is the Pictet fund with a strong negative sensitivity to this factors. On the other hand, the other funds within the peer group would be impacted to a lesser extent by significant changes in this factor.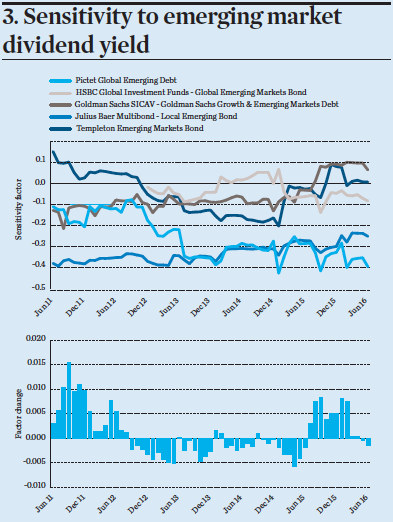 Emerging market dividend yields
Changes in dividend yields are likely to be predominantly driven by share prices in the short to medium term, rather than by the level of dividends. This is because most corporates prefer to pay out stable dividends over time and are slow to amend dividend policy. In the near-term crystallisation of any of the global risks already outlined may depress both domestic and international investors' appetites for emerging market stocks and lead to a correction in equity markets, which would push up yields. The HSBC, Goldman and Templeton funds would be less affected as they have a more neutral sensitivity to changes in dividend yields. The Pictet and Julius Baer funds' performance would be slightly impacted as they both have negative sensitivities.
Patrick Murphy, director, PureGroup puregroup.io/academic-research
Investing In Emerging Market Debt: Reasons for optimism
1

2

3

4

5

Currently reading

Sensitivity of selected EM debt funds to macro factors