Comparisons of the performance of listed smaller companies and private equity are fraught with difficulty
Key points
• There is an overlap between listed smaller companies and the private equity marketplace
• Studies of buyout performance often neglect key elements such as the extent of leverage and sector allocations
• Performance comparisons between listed small-cap equities and private equity returns are proving controversial
Listed small-cap companies and the private equity markets cover much of the same space and have danced a scintillating duet over many years. But private equity has always been seen as a separate asset class within institutional investor portfolios.
Some institutions such as the Yale endowment under David Swensen, its chief investment officer, achieved outstanding returns by shifting portfolios to high percentages of alternative assets including private equity. Proponents of private equity argue that private equity general partners can bring expertise and strategy to their investee companies, which in turn creates added value. But some argue that investors were left wrong-footed in their choice of vehicle to tap the small-cap sector.
The nature of the relationships between small caps and private equity varies with market conditions. At peaks of euphoria over private equity, taking listed companies private has been a regular phenomenon, with high-profile deals being undertaken often with large companies as well as smaller. In developed markets there has not been a huge amount of that activity since 2008.
Phil Lovett, head of structured finance and products EMEA at Silicon Valley Bank, says that when it occurs, it is usually fully funded by the sponsor owing to changes in the law. In the UK, for example, there have been modifications surrounding the takeover code and access to information when making an offer for a public company. As such, to boost its chance of success the sponsor needs to work fast and make its bid quickly and maximise secrecy.
In Germany, explains Marcus Ratz, a partner at Lupus Alpha, to make a public offer, an acceptance by 95% of shareholders is necessary. Getting agreement from the last few percent is difficult and may require going to court to decide on a price that is inevitably much higher. "What we see is that private equity firms really look for spin-outs and carve-outs from larger entities rather than taking listed companies private," Ratz says.
"We have the strong viewpoint that the fees that are part of the private equity investment model are well worth it because the returns in private markets are consistently above those seen in public markets"

Andrew Bernstein
Lovett speculates that stock market valuations need to fall before they become attractive again to sponsors. But, he adds, there are several smaller listed companies which would be likely to benefit from operating in a private environment. In such cases, investment decisions can be made with a longer-term horizon and the luxury of not having to focus on sustaining the short-term share price.
Andrew Bernstein, co-head of private equity at Capital Dynamics, finds that such opportunities to take companies private still occur regularly in smaller exchanges in less developed parts of the world such as central and eastern Europe.
If current market conditions mean that the two markets are behaving separately, are investors better off in private equity as an asset class, or should they take the alternative approach of just increasing weightings to listed small caps? "If you take the private equity market as whole, investors are not getting any extra return than they would get by just investing in listed small caps and at least with small caps, they get liquidity," says Daniel Banks, a director at River & Mercantile Solutions.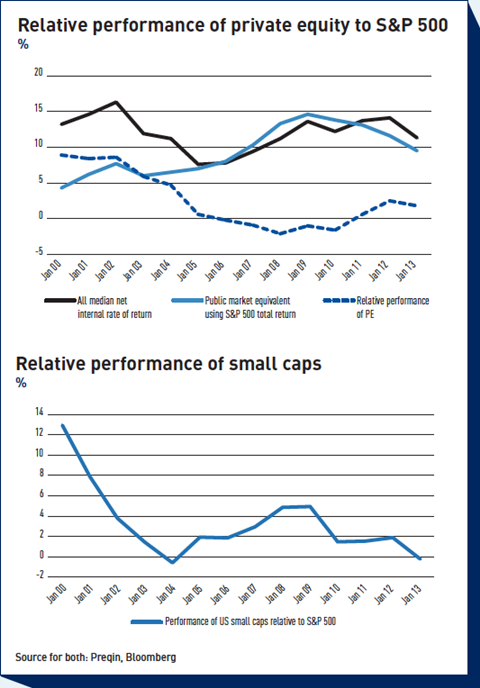 Academic evidence
While some academic evidence seems to indicate that, at least over long periods of time, the average buyout fund outperforms the S&P 500, Banks points out that such studies can neglect three key factors. First, the small-cap effect where there is strong academic evidence that small caps persistently outperform large caps.
Second, a significant distinguishing feature of private equity has been the extent of leverage used by private-equity firms.
Third, sector allocations vary enormously – overall, private equity databases have tended to be overweight consumer discretionary and underweight financials.
"Plenty of private equity funds were under water on a mark-to-market basis in 2009, but those same funds have recovered. It is rare to find private equity funds that have lost money"

Andrew Bernstein
Ludovic Phalippou, a professor at Oxford University's Saïd Business School, has focused his research on the private equity industry's performance and costs. He agrees that, overall, the private-equity model makes sense in terms of areas such as the corporate ownership, the focus on cash generation and the lack of the requirement to have continuous trading. But he argues that the private industry has a tendency to manipulate the internal rate of return figures by adjusting cashflows, analogous to the criticisms of listed companies on their stated earnings.
Phalippou's most recent analysis of the industry covered a total fund size of $2.2trn (€1.9trn) and 2,424 funds, and looked at the valuation as of March 2018 of the 10 vintage years from 2006 to 2015.
His conclusions attracted a lot of controversy. The carry was about 10% of the amount of money raised and the performance about that of the S&P 500 index. But that does not include fees. A management fee of 1.5% of the fund size for five years is a lower bound, which, as he points out, implies fees of $165bn and all the other fees and expenses have to be added on top of that.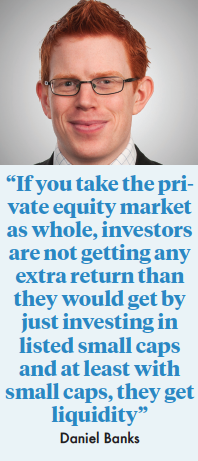 Private equity managers such as Bernstein would disagree with Phalippou's approach. "Anyone can slice and dice results to support the conclusions they wish to make," says Bernstein. "We have the strong viewpoint that the fees that are part of the private equity investment model are well worth it because the returns in private markets are consistently above those seen in public markets,"
He argues that the real opportunities lie in companies outside the main indices which are driven by massive flows from passive investors in exchange-traded funds and index funds. "There are plenty of sub-$500m market-cap companies that went public but probably shouldn't have been."
Bernstein goes on to argue that private equity returns are extremely resilient. "Plenty of private equity funds were under water on a mark-to-market basis in 2009, but those same funds have recovered," he says. "It is rare to find private equity funds that have lost money."
Liquidity has also increased in the private-equity market with a thriving secondary marketplace which has reduced the illiquidity premium the marketplace should demand. The key advantage of private equity that Bernstein sees is the much longer time frames that management can base strategy on without being subject to having to report quarterly earnings figures to external analysts.
Private equity firms today are also not reliant on financial engineering to generate return. But they all seek to add value through bringing in external expertise into companies they own. This is often achieved through their own in-house specialists who can introduce ideas from best-in-class companies within the same sector.
In the public markets, only activist investors can attempt such strategies. They may take an investment stake and have powerful arguments for their proposed new strategy. However, without a seat on the board they often end up with no choice but to eventually sell out without the chance to implement their ideas.
Small-cap companies represent the cutting edge of capitalism, with new companies born as private entities growing and usually at some stage listing in the public markets. The problem for investors is judging at what stage it is worth gaining exposure. Private equity is attracting huge inflows. They appear justified for some but performance comparisons between listed small-cap equities and private equity returns are proving controversial.
Small & Mid-Cap Equities: Small-cap effects
1

2

3

Currently reading

Small Cap Versus Private Equity: Separate arguments